A secondary school teachers' union has told the Special Covid-19 Committee that teachers must return to a Covid-19 secure workplace and that nothing else will be acceptable. 
General Secretary of the Association of Secondary Teachers in Ireland Kieran Christie told politicians that under the current medical advice schools would return on a restricted basis. 
However, in response to a question from People Before Profit TD Gino Kenny about what a classroom with 30 students, two SNAs and a teacher would look like in September, Mr Christie said it would look empty, because ASTI members would not be there under the current advice. 
He said the advice was that a return to a classroom was an impossibility due to the requirement to maintain social distancing and that was a reality that has to be faced.
He also said that yesterday's guidance on social distancing from the Department of Education means schools will not be back full-time for all students.
He said schools will only be able to open on a restricted basis because of sizes of schools.  
ASTI General Secretary Kieran Christie says a successful reopening of schools is predicated on achieving the confidence of all involved. He says teachers, like all workers, must return to virus-secure workplaces | More: https://t.co/xYLDbdKz6d pic.twitter.com/CPxNB4Kdyo

— RTÉ News (@rtenews) July 2, 2020
Meanwhile, the General Secretary of the , said there was no "magical immunity" for teachers and students and everyone must have confidence that they are being protected. 
He told politicians that the architecture of schools is based on congregating students which is what the current crisis demands that we avoid.
Mr MacGabhann said the budget available for cleaning to schools in "wholly inadequate". He said principals need support, and they needed it quickly. 
TUI General Secretary John MacGabhann says if the Government wants to approach the reopening of schools with realism it must provide additional resources, such as a proper budget for cleaning, which he says was inadequate even before the pandemic | More: https://t.co/xYLDbdKz6d pic.twitter.com/4cdDWqap10

— RTÉ News (@rtenews) July 2, 2020
The Irish National Teachers' Organisation General Secretary John Boyle said the opening of schools will be an "enormous challenge". 
He also told the committee that if the plan was to go back in September, then the pace of the engagement had to pick up. 
He said he had serious reservations about what happens after schools come back and he said it would be difficult to keep schools open when teachers are absent.
Mr Boyle called on the Government to address the issue of large classroom sizes - which he said will impact social distancing requirements. 
INTO General Secretary John Boyle says Ireland "in something of a national embarrassment" has the largest primary school classes in the Eurozone, which matters when it comes to applying social distancing in schools| More: https://t.co/xYLDbdKz6d pic.twitter.com/UYBCro4ik4

— RTÉ News (@rtenews) July 2, 2020
He said Ireland has the largest class sizes in the Eurozone, which he described as a "national embarrassment." 
Mr Boyle said primary schools in Ireland have more than thirty pupils, compared to other European countries which have an average of twenty.
He also said adequate resources must be allocated to schools to implement the comprehensive health and safety measures. 
We need your consent to load this rte-player contentWe use rte-player to manage extra content that can set cookies on your device and collect data about your activity. Please review their details and accept them to load the content.Manage Preferences
Meanwhile, the Minister for Education Norma Foley has said that public health advice will underpin the reopening of and operation of schools.
Speaking on RTÉ's Drivetime, Minister Foley said that her department "is planning in situation that is in a state of flux, but that it is planning on the basis of operating in line with the best public health advice available".
The Minister who was, until February, a working secondary school teacher in Kerry said her department will be working towards "as full as reopening as possible".
Minister Foley said the first four years in primary schools will not have to adhere to social distancing.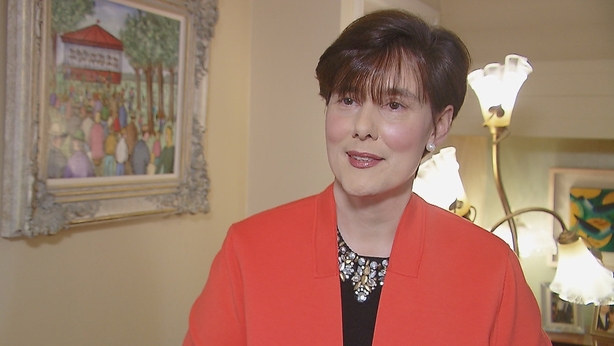 She said for pupils in primary schools over this age a class will be treated as a "bubble" and within one bubble there will be a series of "pods".
Social distancing will not be required within a pod, but should be maintained between pods, she explained.
 
The number of students within each pod would depend on class sizes, she said, but added that "finer details" will be clarified after full engagement with stakeholders.
At second level, Minister Foley said one metre distancing will be required "desk-to-desk or student-to-student".
She reiterated that further detail would be decided upon after full engagement with stakeholders.
The Minister said public health advice "has formed the basis of everything we have done over the last number of months", adding that "there would be no change to that".
When questioned about schools which are not in a position to adhere to guidelines Minister Foley said "that's where discussion comes in".
On the issue of the availability of substitute teachers she said her department is currently working on this requirement, and she is "confident that we are currently working towards a solution for that", she said.
She said that she has "flagged" that there will be budgetary requirements to cover the additional resources needed for schools to reopen.  
"I am confident that this will be made available to us", she said.