The Leaving Certificate exams should go ahead "if at all possible", a leading expert on the transition from second to higher level education has told RTÉ News.
Dr Áine Hyland, who is Professor Emeritus of Education at UCC and the author of several reports on the college entry system, has said that she believes that, given the circumstances, this is "the least bad option".
She was commenting after a survey carried out by the Union of Second Level students in Ireland found that almost half of students who participated wanted the exams cancelled and replaced by predicted grading.
The online survey, however, was not conducted scientifically.
Rejecting this suggestion, Professor Hyland said Irish teachers had no experience at all of running a predicted grades scheme.
She said there would be no way of ensuring coherence from school to school. Any predicted grade system would not be "meaningful" and it would not serve students even if teachers felt that they could get involved.
Asked if it would be possible for third level colleges to run entry exams - as many did until the early 90s under the 'matric' or matriculation system - Professor Hyland said this was a system that had operated when very small numbers entered third level - fewer than a tenth of today's numbers - and would not work today.
Professor Hyland told RTÉ News that the Leaving Certificate exam was the best selector for third level entry.
"It's also the qualification that students who are not going to go on to third level will need. It's the qualification that employers will look for," she said.
Mr Hyland said the exam had shown itself to be the best predictor of subsequent academic performance.
She said that Leaving Certificate English and Mathematics were "the two subjects that are the best predictors of subsequent university and higher education performance".
Ms Hyland acknowledged that many students would be disadvantaged in the exams this year.
"None of us is in favour of that but any of the alternatives in my view will disadvantage them even more," she said. "So we are talking about how can we minimise the level of disadvantage.
"We should try and have the exams if not in June then in the autumn, and delay third level entry."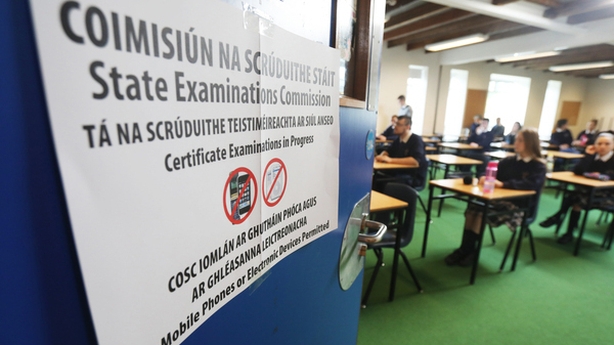 Ms Hyland, who is the author of several reports including a 2011 Higher Education Study into the transition from second level education to college, said she could not see any other alternative.
"We have to plough ahead with all the disadvantages, and recognising that it will widen the gap between those who have and those who have not."
Speaking to RTÉ News from the garden of her home where she is cocooning, Ms Hyland suggested that the third level institutions could increase the number of places available for disadvantaged students this year.
According to Ms Hyland currently about 6% of third level students come in without the points required by others through special schemes that support students with disabilities or from disadvantaged backgrounds. She has suggested that that proportion should this year be increased.
Referring to a number of legal cases taken in recent years by Leaving Certificate students, and acknowledging the difficulties that will be faced by the Higher Education sector, Professor Hyland asked whether it would be possible for decisions made this year to be binding.
"No appeals, just get on with it, do the best we can, and recognise it is not going to be perfect, no matter what we do," she said.
"I have full sympathy for students, but we have to do the best we can in a situation which is anything but perfect, and it is not going to be perfect no matter what we do."
Ms Hyland said she believed that the Junior Certificate exams should be cancelled to allow for a fuller focus on Leaving Certificate students.