An expert review of the use of iPads at one Co Meath school has identified a litany of problems associated with the manner and extent of their use.
Distraction among students and difficulties around monitoring online activities were highlighted as key issues.
The review, which recommended that the school abandon its iPad-only policy, has also identified problems around affordability, teaching and learning, and student revision.
The study, which is the first in-depth review of the use of such devices in Irish schools, was commissioned following concerns raised by parents of children attending Ratoath College.
It recommended a return to the use of printed schoolbooks, in conjunction with continued but more limited use of technology for learning.
Last month, after receiving the findings of the study, Ratoath College announced that it would revert to the use of books and that incoming first years would not be required to buy iPads.
The study was carried out by a former school principal, Cora Dunne, Dr Ann Marcus-Quinn, who is a lecturer in Technical Communication and Instructional Design at UL, and by Dr Carl O Dalaigh, a former chief schools' inspector with the Department of Education.
A draft copy of the unpublished review has been seen by RTÉ News.
In findings that are likely to reignite debate around the use of technology in schools, student distraction is identified as "one of the key themes that emerged".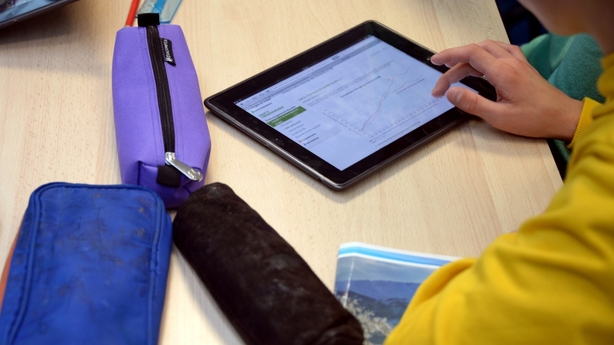 The report found "the majority of parents and teachers reported that monitoring iPad use in class was an ongoing challenge". The study states that this is in line with the findings of international studies on the topic.
Teachers expressed concern that students were able to switch from schoolwork to online gaming or shopping, or social media during class time, without the teacher's knowledge.
The study quotes one teacher who said that it was "impossible to monitor if they are on games or social media" during a class.
Of students who completed an earlier survey, 36% also stated that distraction was an issue.
"I find people getting distracted is the most difficult part as you could be trying to focus and someone is playing games in front of you," one student said.
As well as the survey, the authors of this review met teachers and parents at Ratoath College. They visited other schools that were using iPads, and one school that had discontinued their use.
Quality of resources
Their review also raises concerns around the quality of some learning materials. Students at Ratoath College did not have eBooks for most subjects.
It has found that when teachers were asked to create their own resources instead of using textbooks, this was often done in "a piecemeal manner" and meant students were receiving information "without the context afforded by a textbook".
"The students wanted books when we surveyed them. The kids wanted something concrete in front of them" - Teacher
"It's harder – harder to study from and some notes can only be found in poor quality" - Student
The review quotes international research that found that where material has not been professionally designed "it offers a poorer learning experience for students".
The review finds that teachers were of necessity "handing out copious amounts of photocopies and notes".
It noted: "Where the iPads are used as a delivery point for the use of high quality digital resources they function well. However, for some teachers there was little material available.
"In the absence of textbooks and professional time and resources teachers have had to resort to synthesizing material from textbooks.
"This has been particularly onerous on newly qualified teachers in a still expanding school."
Revision difficulties
According to the report "a strong concern" was voiced by parents regarding the difficulty of revision for students.
They complained that the absence of textbooks had led to a lack of organisation in collating and managing notes. Parents complained of children feeling "overwhelmed" by this.
"When trying to find notes on a particular topic, he had to scroll through pages and pages of Powerpoint presentations to find some notes related to what he was trying to study" - Parent
"When revising, all her notes look the same, making it harder, in my opinion, to distinguish the important facts ... My daughter is generally very organised but even she found it stressful trying to figures out how to organise her vast array of notes" - Parent
This parent was among a number who stated that they had bought a set of schoolbooks for use at home.
The review notes that recent international studies that looked at memory and recall have found that it is easier to retain information that has been handwritten compared to material typed up on keyboards.
The review found that the late uploading of homework material contributed in some cases to increased screen time at home for students, and undermined efforts by parents to impose a digital curfew on their children.
Some parents and students also expressed concern around physical issues, such as neck pain and eye strain.
"Late at night my neck and back gets sore from looking down for so long" - Student
"I also get migraines from using my iPad" - Student
The review said it would be "useful" for the school to have an Occupational Therapist consult with parents and students on such issues.
Inappropriate content
The reviewers express "surprise" that the use of iPads to access inappropriate content did not arise as a major concern for the majority of parents.
It states that while "popular media may suggest that age inappropriate material is accessed regularly on student school-based iPads ... the survey did not yield this type of information". Nor, it says, did teachers raise concerns in this regard.
The reviewers say they came across just one instance of the accessing of inappropriate content and that this information was passed on to school management.
When asked specifically about accessing inappropriate content, the review says that many students responded by saying that they played games on the device.
In the anonymous surveys that they completed, students did not report any incidents of cyberbullying. However, "a small number of parents commented that their children had been cyberbullied on their iPads", the review states.
The review also found that the cost of the iPad placed a financial burden on some families and was "particularly financially demanding for young teachers" at the school.
It cites anxiety among students about managing their iPad. Some were afraid of breaking the iPad while others expressed worry around having it sufficiently charged.
"Keeping it charged, not getting water in it when it's raining and the water is going through my bag" - Student
Technical issues also emerged as a problem with teachers and students reporting that connectivity to the internet was not equitable across the school building.
"Wi-fi problems!!! There is always a student who cannot connect to Wi-Fi or Wi-Fi is not fast enough for all 30 iPads in the class" - Teacher
On a more positive note, the study found that students did report benefits to use of iPads.
Some said it was a convenient way of contacting teachers, and of accessing class materials.
Some cited having folders to organise work as a benefit, while others were happy to have a less heavy schoolbag.
However, the report noted that "none of these functions are exclusive to an iPad device".
A parent who was among those to first raise concerns about the iPads at the school has told RTÉ News that they feel vindicated by the findings of the review.
While welcoming the non-continuance of the use of iPads for incoming first years, they said however that this was "too late" for their own children, who are currently attending Ratoath College.