€40 million has been spent by the State so far on remediation works in dozens of schools where fire safety breaches and structural defects were discovered, RTÉ News has learned.
RTÉ News understands that this includes the cost of structural investigations of the buildings, the installation of precautionary measures such as scaffolding and fencing at a number of the schools, fire safety remediation works, and actual structural repairs.
RTÉ News also understands that the the cost to date is less than originally budgeted for.
It is just over a year since engineers first discovered structural defects in a number of schools built by Co Tyrone-based company Western Building Systems in recent years. Engineers went on to identify defects in all 42 school buildings built by the company.
The Department of Education is not looking for additional funds to meet the cost.
The money to cover the works to date has come from contingency funds contained within the department's capital budget. Those contingency funds would be part of the €941m allocated to the Department of Education for capital works, including an extensive school building programme, in 2019.
This afternoon, Minister McHugh said remedial works on 14 schools were completed over the summer.
He said 13 out of the 17 schools that did not initially need remedial works will now need some and a work plan is being put in place.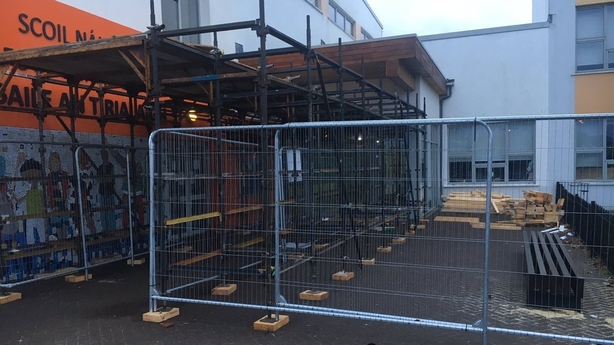 ---
Read more
17 schools found to have structural defects that warrant works
Remaining schools in structural assessment can reopen
---
The department's capital funds were further boosted by the sale of a former DIT (now TU Dublin) building on Dublin's Kevin Street, which netted €60m over the guide price.
While the proceeds of that sale are ring-fenced for the development of a new campus for TU Dublin at Grangegorman, the windfall means that other exchequer funding could be redirected.
Legal proceedings by the Department of Education against Western Building Systems are under way in the Commercial Courts in the case of two schools, Ardgillan Community College and Tyrrelstown Educate Together.
Work to bring 14 of the schools up to standard has been completed.
However, the €40m bill will rise over this year and next. Work on structural repairs to eight more schools is due to begin in the New Year.
Plans are being drawn up for repairs to a further 17 schools, where work is expected to begin next summer.
Plans for repairs to one other school building, at Ardgillan Community College, have yet to be finalised. (Two additional buildings, also built by WBS, are no longer used as school buildings.)
Commenting last month on the ongoing controversy, Western Building Systems said that it would "vigorously contest" the legal actions being brought by the department. It said it was "regrettable" that the matter was before the courts.
In a statement the company said that it would legally pursue the department for outstanding payments relating to ten schools previously certified by department appointed inspectors.
WBS also criticised the department for not publishing evidence of defects, and for failing to hold an independent inquiry. It said its attempts to engage and seek clarity had been rebuffed.
Meanwhile, Fianna Fáil's education spokesperson has criticised the pace of the department's response.
Thomas Byrne said "hardly any" remedial work has taken place, and that legal actions the department was pursuing were "slow off the ground".