Twenty-four-year-old Rashmi has lived in Ireland since she was eight years old.
She is one of an estimated 2,000-3,000 children and young people who are living in Ireland as "undocumented".
Just like the Irish undocumented living in the US, these children and their families cannot become citizens as they have no right to residency here.
Even though many have grown up here and feel just as Irish as anyone else, they live with the constant threat of deportation hanging over them.
As a child in primary school, Rashmi says she felt happy that she was "the same as everyone else".
It was only as she became older that she began to feel different. "When I was 15 or 16 I began to see it as an obstacle", she says in her Dublin accent.
"When my school friends began going on school trips, when it came to the Leaving Cert and filling out the CAO, I went through that process but I knew it would lead me nowhere."
Because she is undocumented Rashmi has no right to go to college here. She has no right to work either.
"I feel stuck in the same place," she told RTÉ News. "I see my friends being able to go through the normal adult transitions that I have not been able to participate in".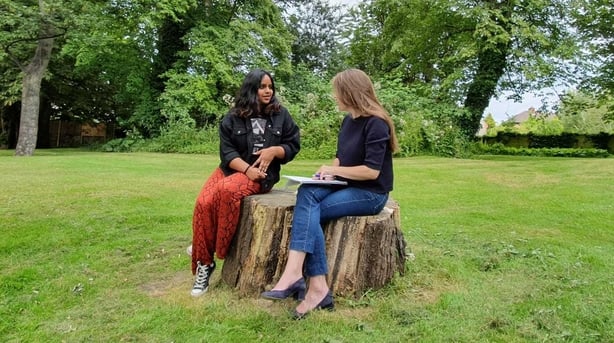 Rashmi did her Leaving Cert in 2013.
"Most of my friends have finished college now. I know that I have potential and I want to be able to contribute in the same way that they are."
It is impossible to know for sure, but the Migrant Rights Centre Ireland (MRCI) estimates that 2,000-3,000 children and young people in Ireland are living as undocumented.
The organisation says that one third of those who avail of its drop-in information service in Dublin for advice and support are undocumented.
An MRCI survey of more than 100 undocumented families, published today, has found that more than two thirds - 68% - of undocumented children were born in Ireland.
But even these children are in limbo, with no automatic entitlement to citizenship or residency.
A referendum held in 2004 removed the automatic right to citizenship for all children born in the Republic of Ireland.
Now, only children with an Irish parent have that entitlement. It is the one key difference between the undocumented here and in the United States.
In the US, the children of illegal immigrants are automatically entitled to citizenship if they were born there. 
Of the remaining one third of undocumented children in Ireland, those who arrived as children, almost 80% have been here for more than five years.
Helen Lowry of the MRCI says the survey confirms that these children are here to stay. The centre is calling on the Government to end what it calls this "legal limbo" for these young people.
It is calling for a pathway to be created so that they can gain the right to be here. The Children's Rights Alliance is supporting that call.
Rashmi knows what it is like to grow up in this kind of "illegal" existence.
"When you are young there is this huge burden," she says. "This secret that you cannot share.
"Then there is the fear of the knock on the door, that the gardaí will come and tell you you have to leave".
Rashmi's mother - also undocumented and originally from Sri Lanka - works in the healthcare sector.
She has tried again and again to get a work permit. The family applied for residency two years ago, but they are still waiting.
Rashmi is ambitious. She wants to become a human rights lawyer. She has been offered a place in Law at both UCD and at DCU, but, because she is undocumented, she cannot take up those offers.
"I am Irish. I belong here," she says.
She says she is speaking out not just for herself but for all young people in her position, especially those younger than her who are still at school.
"I don't want them to have to spend six years of their lives, as I have done, not being able to progress," she says.
For Rashmi, there is no end in sight. It is six years, and counting.
MRCI Community Work Co-Ordinator Helen Lowry said many undocumented children have passports and birth certificates, but they have no legal status in Ireland because their parents do not have regularised Irish residency.
Speaking on RTÉ's Morning Ireland, she said there is no pathway to residency for people in this situation.
She said the situation is untenable and the only way to try and regularise status is to trigger a deportation order, which most families are reluctant to do.
We need your consent to load this rte-player contentWe use rte-player to manage extra content that can set cookies on your device and collect data about your activity. Please review their details and accept them to load the content.Manage Preferences
The Department if Justice said Minister Charlie Flanagan and Department officials met with the MRCI last week and indicated to them "a willingness to explore all legal solutions". 
In a statement this evening the Department said it was important to emphasise however, that when it comes to people living here illegally, the only option for regularisation was on a case by case basis. 
It said people have to engage with the authorities if they wish to be permitted, legally, to remain here.