A row has erupted after the parents of pupils of two Dublin Catholic primary schools were sent letters saying a proposed change to patronage would mean children could not celebrate Christmas, St Patrick's Day and Shrove Tuesday.
There are plans for one of eight schools in the Portmarnock-Malahide-Kinsealy area of north Dublin to change patronage.
The change would be to either multi-denominational Educate Together, multi-denominational Community National Schools or An Foras Pátrúnachta, which has a choice of a Catholic, multi-denominational and interdenominational ethos.
Schools run by all three organisations celebrate events such as St Patrick's Day.
They also celebrate festivals such as Christmas, as well as Eid, and dates that are important in a variety of religions and cultures.
Two schools in north Dublin have written to parents warning them that Christmas celebrations and those of St Patrick's Day and St Brigid's Day will no longer be possible if the schools cease to be Catholic.
Both multi-denominational patronage body Educate Together and the country's Education Training Board have said that their schools of course celebrate important festivals such as Christmas and St Patrick's Day.
The patronage change plan is part of the wider Department of Education initiative to reduce the dominance of the Catholic Church in primary education and to provide greater diversity in school choice to reflect changes in society.
The schools, Scoil Naomh Mearnóg and Scoil an Duinnínigh, are among eight that have been asked by the Dublin Archdiocese to consider a change of patronage.
Meanwhile, parents have told RTÉ News they are concerned about a lack of information and claim they are being asked to vote on something that is "unknown quantity".
They also say that the need for change has not being explained "or justified", while parents at St Marnock's School say their school has been unable to obtain answers to questions.
They say neither the Department of Education, nor the Archdiocese of Dublin, have "been forthcoming" with information And they say that as a result of this "rumours have been running rampant".
We need your consent to load this rte-player contentWe use rte-player to manage extra content that can set cookies on your device and collect data about your activity. Please review their details and accept them to load the content.Manage Preferences
It comes after a department survey of preschool parents found a desire for non-Catholic primary education in the area.
The department wants one of the schools to change its patronage, in a process known as divestment.
In a letter sent to parents, the board of management of Scoil Naomh Mearnóg have warned that "celebrations such as the Nativities, carol services, stories of the First Christmas, Easter, Irish Saints would no longer be possible in our school".
The letter states that parents at the schools will be asked to vote on whether or not they wish to change patron, but it warns that parents will not know who the new patron might be as they vote, because that decision will be made by the Department of Education only if a vote favours divestment.
The letter advises that the move would mean a change in "the entire management, culture and ethos in St Marnock's National School".
It advises that should parents choose to divest then parents would have to assume full responsibility for preparation for First Holy Communion and Confirmation "at a cost to parents".
The letter advises of "a huge amount of parental involvement required" in such a case.
Scoil an Duinnínigh's letter to parents says "in the Irish language the link between faith and culture is very marked".
The school warns that greetings such as Dia Dhuit and phrases such as Buíochas le Dia (thanks be to God) may no longer be permitted if the school transfers to multi-denominational patronage.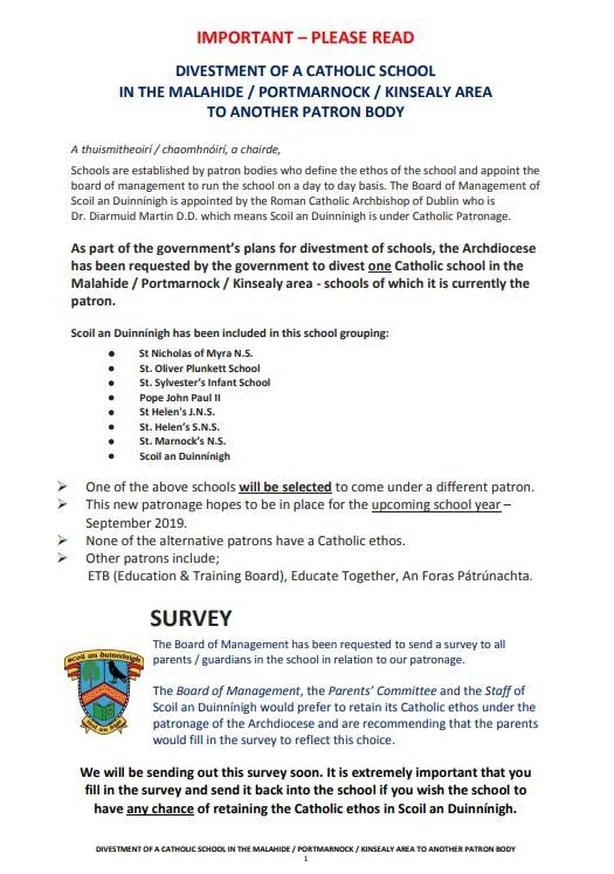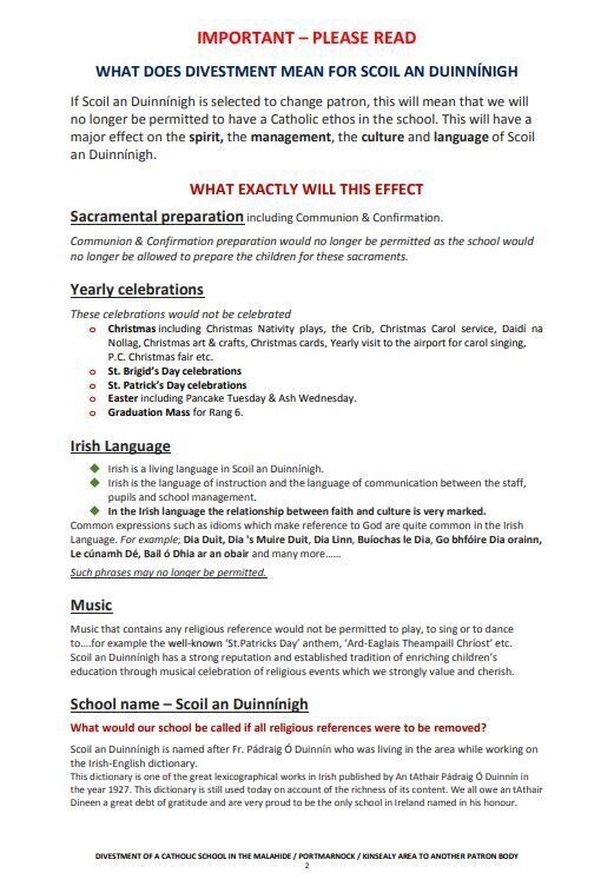 Educate Together has called the assertions in the letters "misleading and inaccurate."
The Department of Education has been attempting to divest schools from Catholic patronage for a number of years now, but with very little success.
While a number of empty buildings have been made available for use by multi-denominational schools, there has been no live transfer of a Catholic school to other patronage.
Portmarnock-Malahide-Kinsealy is one of a number of areas where parents of preschool children have been surveyed.
While the results have not been published, a spokesperson for the Archdiocese of Dublin said there were indications of a movement for change.
Four parishes were asked to consult school staff and parents of existing pupils, and schools have held meetings for parents.
More than 90% of primary schools in the country are Catholic.
Paddy Monahan, chairperson of a group campaigning for more choice in education called Education Equality, has accused the schools of using "scare tactics".
Speaking on RTÉ's Today with Sean O'Rourke, Mr Monahan said children should learn about different religions in school, but faith formation and preparation for Communion and Confirmation in publicly funded schools should take place outside of school hours.
He added that preparations for these ceremonies takes up a lot of school time and segregates those who are participating from those who are not.
Tom Finnegan, Lecturer in Theology at Mary Immaculate College, said there should be opt-outs for children in schools where they do not share the school ethos.
Mr Finnegan said that there are certain parts of the country, particularly in Dublin, Kildare and Meath, where schools have a duty to divest patronage in order to allow for greater plurality of choice.