Multi-denominational schools' body Educate Together has been appointed patron of four new second level schools that are due to open next September.
The schools will be in counties Dublin, Wicklow, Galway, and Meath.
The Department of Education chose Educate Together as patron of the schools following a process that involved gathering the views of local parents.
The four schools are all being established to meet demographic need.
The department has also announced that Irish language schools' patron body An Foras Pátrúnachta will be patron of a primary school that is due to open next year in the Drumcondra/Marino area of Dublin city.
The school will be a Gaelscoil and multi-denominational.
This school is among 13 primary schools due to open in 2019. The patronage of the remaining 12 has yet to be decided.
Announcing patronage of the four new second-level schools, the department said that its current focus was to ensure that accommodation solutions were put in place as soon as possible for all the new schools due to open.
A project manager has been appointed to assist with this work and potential interim accommodation options have been identified for the majority.
The department said it expected that the schools would be established in September 2019 in suitable interim accommodation, pending delivery of permanent school buildings.
These new schools will provide significant additional pupil places in the areas they will serve. Between them they will have capacity to cater for up to 3,200 additional post-primary pupils when fully developed.
A post-primary school to serve the Donaghmede/Howth/Dublin 13 area is expected to cater for 1,000 pupils. A similar size school is to be established in Wicklow.
The Galway city and Oranmore area is to get a 600-student school, while a new post-primary school in the Laytown/Drogheda area will also cater for 600 students.
In a statement, Minister for Education Joe McHugh said that the establishment of the new schools formed an essential part of plans to ensure that sufficient new school places were available to cater for the growing cohort of pupils at post-primary level over the coming years.
The minister said additional places would also continue to be provided by extending existing provision, as included in the Six Year Programme of Capital Investment in Schools 2016-2021.
Mr McHugh said that parental preference had become a key determinant in deciding the patronage of new schools.
---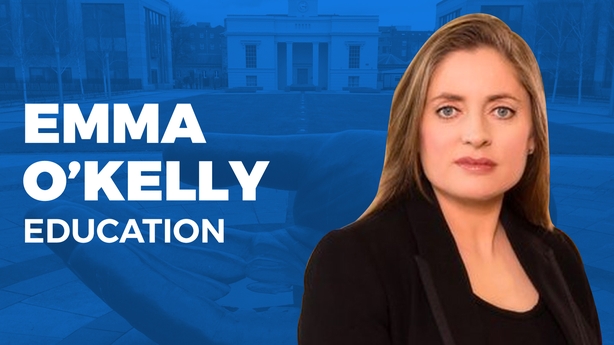 Emphatic endorsement of Educate Together schools
The four new schools whose patronage has been announced today are among 42 new post primary and primary schools due to be established over the next four years, in all cases to meet demographic demand.
All four schools will be run by multi-denominational body Educate Together.
The Department of Education surveyed parents in the four areas in order to determine who should be granted the right to run these publicly funded schools.
The results in all four cases are emphatic. The strong majority of parents who responded want multi-denominational as opposed to Catholic education for their children; and a strong majority of them want patron body Educate Together to run their new school.
Taking the four surveys together, a total of 70% of parents said they wanted Educate Together to run their child's new school. Just 13% said they wanted a Catholic school, while 14% opted for their local ETB, which was also offering multi-denominational education.
The surveys were open only to the parents of children who are due to start secondary school within the next five years. Those children had to be resident in the catchment areas that the department had defined. Parents had to submit their Eircode to verify their eligibility.
In the Donaghmede/Howth/Dublin 13 area, 78% of parents who completed the survey opted for Educate Together as patron, while 15% chose their local Education and Training Board (ETB), which was also offering a multi-denominational schooling.
In the Galway/Oranmore survey, 75% of parents chose Educate Together, 19% chose a multi-denominational school to be run by their local ETB, and just 3% opted for a Catholic school to be run by the diocese.
In the case of Laytown/Drogheda, 68% of parents opted for Educate Together, 16% for their local ETB, and just 10% for a Catholic patron, in this case the Loreto Education Trust.
In Wicklow, 59% chose Educate Together, and 33% chose a Catholic patron, in this case the Le Chéile trust, which was established by a number of the Catholic religious orders.
The Le Chéile Trust had initially also applied to run the new school to be established in Dublin's Donaghmede area, but it withdrew from the process early on.
The results have been strongly welcomed by Educate Together, which sees them as a landslide endorsement of the kind of education that its schools offer.
The results also show a strong preference among parents for non-religious educational provision.
The number of parents opting for a Catholic patron is extremely low - just 3% in Galway and 10% in Meath.
In mitigation, it is certainly the case that families in all of these areas are currently very well served when it comes to Catholic educational provision.
Many parents who would want a Catholic education for their children may not have bothered to fill out the survey because they will have known that their children will already be able to attend their local Catholic school.
Given the predominance of Catholic second level schools one would wonder why the Catholic Church put in applications to run these schools in the first place.
A fourth patron body, called Scoil Sinéad, also applied to run these schools. It was also offering a multi-denominational education. The relatively unknown Scoil Sinéad patron body scored very low scores in all four areas.
---