More than 50,700 applicants have received a third-level course offer from the Central Applications Office.
This year sees fluctuation in the points requirement for many courses.
While around half of all courses have seen a points drop, points have risen for more than 40% of options.
Points have risen strongly for Arts in UCD following changes made to how students enter the college.
Some who were hoping to study Arts at the college may be disappointed as a result.
The university's omnibus Arts course (DN500), which last year had a points requirement of 326, has this year been split into three different strands with separate CAO entry routes.
Points for two of these strands have risen by 55 and 72 points as a result, while points for a third strand have fallen by 25 points.
The newly-created entry routes are Arts (DN520) at 381 points, Humanities (DN530) at 301 points, and a new course called Social Sciences (DN700), which requires 392 points.
This last course is a four-year course as opposed to a three-year one, and includes subjects such as economics and philosophy, which are not available through the other entry routes.
Arts at UCD used to offer 1,200 places to students each year.
This year, the number of places allocated across the three courses has been reduced by more than 150.
Elsewhere, a combination of demand from students and the number of places being offered by colleges has led to further fluctuations, though not as notable as that of Arts at UCD.
Arts
Points have fallen for a number of other Arts degree courses, by 46 to 300 at UCC, and by seven points to 320 at Maynooth University, whose general entry Arts course is the largest in the country, catering to 1,400 students.
UCD has acknowledged that there will be students who will be disappointed as a result of the points increase.
The college's Associate Dean of Arts Dr Fionnuala Dillane said the change had been driven by student demand and that it increased students' choices.
She urged students who are disappointed to look at Humanities, which has lower points and offers the opportunity of a year studying abroad.
She also urged students to wait for the CAO's second round of offers, which will be made on 29 August.
Teaching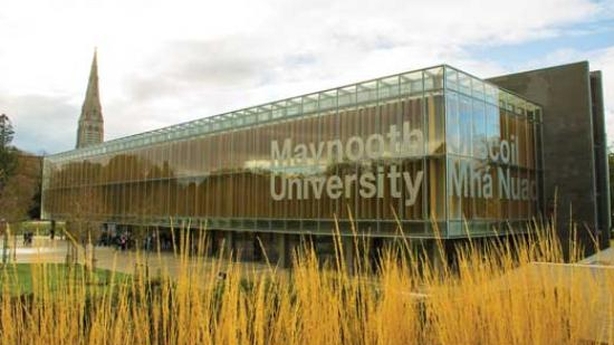 Teaching is one area that has seen an increase in the points required. Primary teaching at Maynooth University is up by 14 points. At Mary Immaculate College in Limerick it is up by eight.
At DCU, formerly St Patrick's College, the main primary teacher training entry route has risen by two points to 464, while a separate entry route reserved for Protestants has seen points fall by 54 to 366.
Nursing
Some nursing courses have also seen a rise in their points requirement.
Nursing at UCD and at UCC is up by two points, while the University of Limerick course is up by 12.
Other courses
In other areas, such as science, law, engineering and commerce, points fluctuations vary depending on the college, with some courses up and others down.
Computer Science courses at UCC, Dublin Institute of Technology and at Trinity College have all seen points fall.
Application numbers fall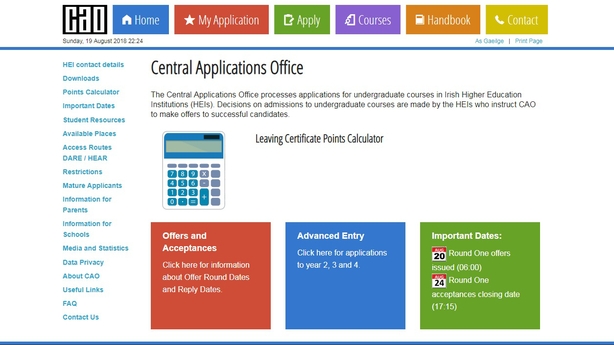 The overall number of CAO applications this year is down by 4% compared to last year.
A 3.6% drop in the number of applications from this year's Leaving Certificate students is explained somewhat by a 2.5% fall in numbers taking the exam.
It is also likely that more students, and potential mature students, have decided to enter the workforce directly or take up vocational training, such as apprenticeships.
But the decline in applications has not had an impact on the points required for many courses.
Maths bonus points
A DCU study on the impact of the introduction of CAO bonus points for maths has found that the percentage of Leaving Certificate students opting for higher level in the subject has more than doubled, from 15% to 31% of all students, since their introduction.
A total of 8,600 more students sat the higher level maths papers this year compared to the number in 2011.
More than half of these were female.
The 25 bonus points for those who get a H6 or higher in the paper were introduced in 2012.
The aim was to encourage more students to opt for the higher paper in order to meet skills needs in the economy.
The DCU analysis points out that 92% of students sitting the papers this year received the 25 bonus points.
Commenting on the findings, Professor Lisa Looney, lead researcher and Executive Dean of the Faculty of Engineering and Computing at DCU, said: "The bonus points are clearly serving their purpose and it is fantastic to see a significant increase in the number of female students doing well in higher maths.
"However, the challenge remains to attract more female students to build on this, by choosing science, technology, engineering and mathematics (STEM) courses at third level."
Timeframe for acceptances shortened
Speaking on RTÉ's Morning Ireland, CAO Communications Officer Eileen Keleghan said 52% of applicants are getting their level eight first preference course and 88% are getting their level seven/six first preference course.
Ms Keleghan said the timeframe for round one and round two acceptances has been shortened this year.
This was done to allow applicants to have received and accepted their offer in advance of registration at colleges, which for most is the first week in September.
The reply date for round one is this Friday, 24 August, and for round two the following Friday, 31 August.
She said it was important to remember that if you accept an offer in this round, it is not going to prevent you from receiving an offer of a higher preference course in a later round if you are deemed eligible.
She said students who received two offers, for example a level seven/six offer and a level eight offer, must choose between them.
Ms Keleghan said applicants who have not received an offer will get a statement of application in the post from the CAO. She invited students to check these carefully to check if there were any errors.
She emphasised there could be an offer in round two on 29 August.
A facility also opens on the CAO website tomorrow that advertises colleges that have places available on courses after all of the offers have been issued.