Building subcontractors have gone to a school construction site in Carlow and removed equipment they installed and have not been paid for.
Men used angle grinders to remove large railings from the perimeter wall of Tyndall College's new school building and placed them on a flatbed truck to take away.
A van from Kilkenny company, Peter Walsh Furniture, also entered the site but the company did not manage to remove equipment.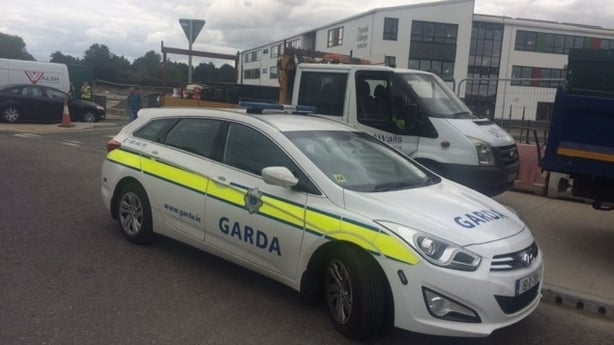 Earlier this month Tina Walsh of the company told the Oireachtas Finance Committee that the 70-year-old family business was owed €250,000 for chairs, desks and other school furniture that it had delivered to five schools, all being built as part of a Public Private Partnership.
Three of the schools are scheduled to open in late August.
A company representative told RTÉ News they had initially been given permission by gardaí to remove furniture from the site but that this was later rescinded and they were escorted offsite. 
The representative said Walsh Furniture was also there to "show solidarity" with other subcontractors.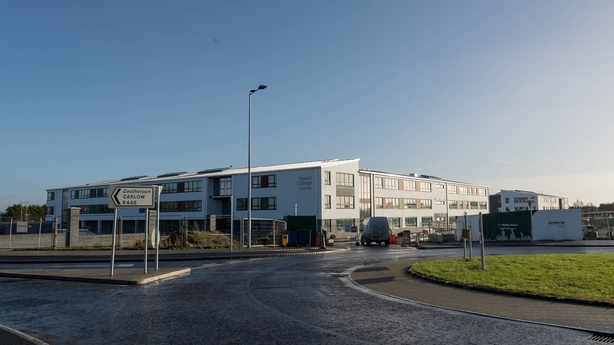 Gardaí have told RTÉ News that no offences were disclosed at the scene. 
Work on the five schools stopped last January after UK construction company Carillion collapsed.
The Irish company Carillion had subcontracted the work to, Sammon Construction, has since gone into liquidation, leaving an unknown number of subcontractors beneath them owed significant sums of money.
Yesterday some of these subcontractors began picketing three school sites affected, at Bray in County Wicklow, and in Wexford town. These three schools are virtually complete.
The pickets are continuing today.
At Tyndall College in Carlow, gardaí stopped the subcontractors from removing more equipment.
Meanwhile Minister for Education Richard Bruton was next door to Tyndall College. He was turning the sod on a new sports campus that is to be constructed for the Institute of Technology Carlow.
"This is a hugely disappointing situation," he said.
"Both for families employed in Sammon, and subcontractors. The difficulty is that the contracts between Sammon and subcontractors, the Government wasn't party to these commitments."
A new contractor will be "moving in" to complete the school projects left unfinished, he said.
"Hopefully it will be possible for some of those subcontractors to build a relationship with the new contractor that will see the completion of these assets. They're really important for our students of the future but, unfortunately, the Government is at a remove for this.
"We did, three years ago, introduce new legislation to improve the position of subcontractors but it would seem that that hasn't protected the in this case. We may need to revisit the terms of that legislation to see are there ways that it can be improved or is it being properly applied in the sector. These are questions I think we do need to ask."
Subcontractor Patrick Smith told RTÉ News that gardaí had told them they must apply for a court order. He said the men were repossessing goods that they owned.
"It's our property until it's paid for in full," Mr Smith said. "It hasn't been paid for so we're going to take it back".
Earlier this month Tina Walsh told politicians at the Oireachtas committee hearing that they had been told by the state's National Development Finance Agency that they could not enter the buildings to remove their equipment, because they would be trespassing.
"I'm only going to be getting something that's actually mine," she said. 
She asked how children could sit on furniture that they had supplied and had not been paid for.