Around 2,000 people have taken part in an anti-abortion march from St Stephen's Green to Molesworth Street in Dublin.
They also listened to speakers at a stage set up beside Buswell's Hotel.
They are hearing calls for "a restoration of the culture for life" in Ireland and for the Minister for Health to meet the pro-life movement and pro-life members of the Oireachtas as part of his review of abortion legislation.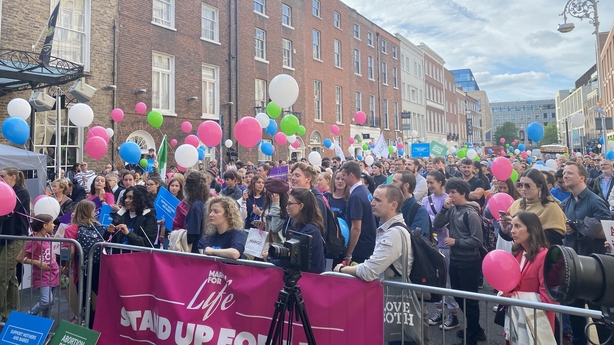 Mairéad Toíbín, speaking on behalf her brother Aontú leader and TD Peadar Toibīn, led the crowd in a chant of "hear both sides" and called on them to elect more TDs and senators to represent the one third of voters who supported retaining the Eighth Amendment.
She was followed by keynote speaker Autumn Lindsey, spokesperson for Students for Life of America, who told the audience that the US has just put "Roe V Wade in the ash heap of history" and said "we can never give up, we can never let go the momentum".
Organisers said today's event was the fourth in a series of regional marches organised by the Pro Life Campaign this year with the previous events taking place in Cork, Galway and Co Donegal last May.