A Shamrock Rovers fan and former mascot who was arrested in Bulgaria on suspicion of travelling on a false passport said he was relieved when he was released from custody this afternoon.
Shamrock Rovers said there was no question about the validity of the passport that Daniel Fulham was travelling on and they described his detention as an unfortunate incident.
The football club said they have arranged for the Rovers member, who was the Shamrock Rovers mascot 'Hooperman' for a number of years, to fly home later this evening and describe the incident as an "extremely unfortunate incident".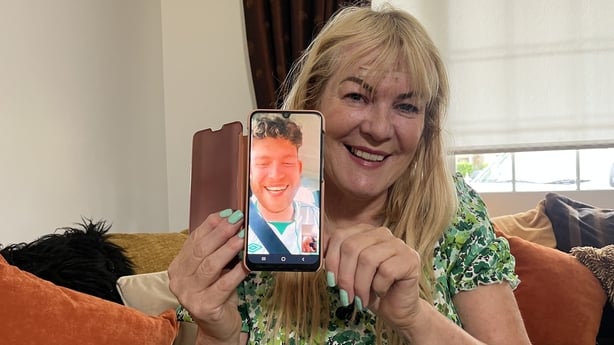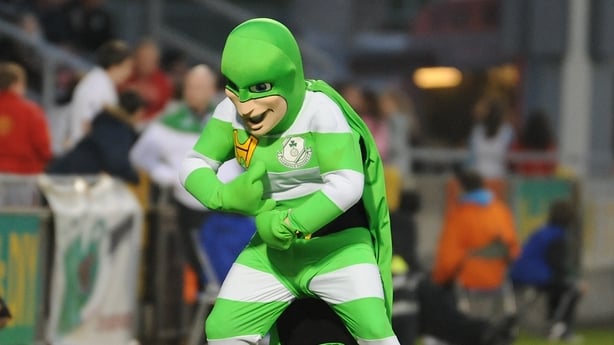 The 28-year-old Tallaght man was in Bulgaria to watch Shamrock Rovers Champions league tie on Tuesday, but he was detained by immigration officials as he attempted to cross the border to neighbouring Romania where he and a group of other supporters were travelling to take a return flight to Ireland.
Bulgarian officials said they were were not satisfied that the photograph on Mr Fulham's passport was his and they took him into custody and later arrested him.
Mr Fulham said he explained to them that he looked different because he had jaw realignment surgery shortly before the picture was taken in 2019.
Yesterday, the Passport Office and gardaí sent confirmation of Mr Fulham's identity to Bulgarian authorities.
However it took around 36 hours and some intense lobbying before Bulgarian authorities decided to release him from custody this afternoon.
His mother, Noleen, responded to the news of his release, saying the first thing she would tell her son on his return is "I told you so".
"The first thing I'm going to do after I give him a hug is I'm going to kill him because I remember when he had that photo and i said, 'Would you not wait until the swelling goes?'. But like most young people I'm only his mother, sure what would I know. So he will be getting a new photograph in the morning for his new photograph."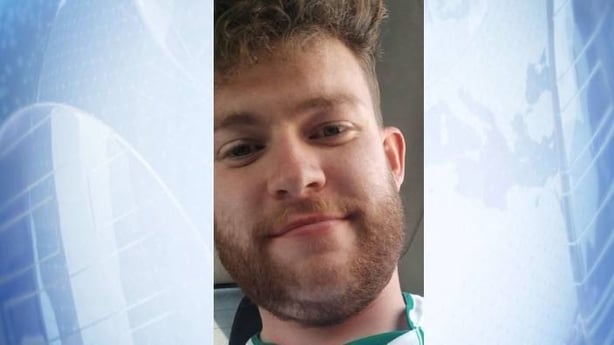 Speaking to RTÉ News as he crossed to the border into Romania to take his flight home, Mr Fulham said that he was relieved to be returning to Ireland and grateful for the support he had received.
"The last think I expected was to find myself in a prison cell in Bulgaria," he said.
"I'm not too bad, there was a couple of times through the whole process where there was a lot of unknowns and there wasn't a lot of certainty to know what was going to happen. Until I'm literally on the road now, making my way to Bucharest when I passed the border that was the first real time that I can say that, I should be home.
"But literally up until that point there was no certainty so its nice to be where I am now."
In a statement, Shamrock Rovers described this as a terribly unfortunate incident and the club say they have arrange a flight to bring Mr Fulham back to Ireland.
They said that it has been a difficult 36 hours for his family and friends, but that they are delighted that 'Hooperman' is on the way home.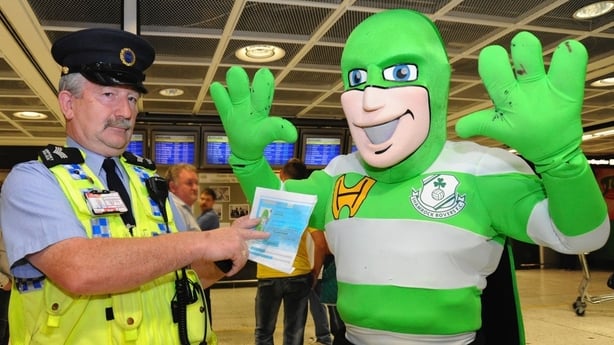 Local Fianna Fáil Councillor Charlie O'Connor, who assisted the family, along with the local Fine Gael TD Colm Brophy to lobby for the Shamrock Rovers fan's return, welcomed Mr Fulham's release but said Bulgarian authorities had questions to answer about his detention.
"Its a big concern," Mr O'Connor said. "People should be able to go away to support their team and to be safe and to have the protection their entitled to by their Irish passport."
Mr Fulham has now left Romania on a flight back to Ireland.
Shamrock Rovers have at least two more legs of European games to play over the summer and may have more depending on their progress.
Mr Fulham has already travelled to Malta and Bulgaria to watch the club play in the Champions League, but will this episode put him off travelling to the next fixture which is likely to take place in either Macedonia or Croatia?
"Emmmm, I think I'll be getting a new passport and a new passport photo just to rule anything out," he said. "But will I be in Macedonia? If you ask me that question and you ask my Mam that question you'll probably be getting very different answers."