EirGrid has confirmed that it will not connect new data centres in Dublin for the foreseeable future.
It says the greater Dublin area is constrained and any new data centre applications will only be considered for other parts of the country on a case-by-case basis.
There are concerns about energy security and the large electricity consumption of data centres.
EirGrid issued seven amber alerts in a recent 12-month period warning of issues with energy supply.
New connections to the grid will be evaluated using the assessment criteria set out by Commission for Regulation of Utilities (CRU) and available capacity.
Data centres already in the pipeline will be progressed.
The CRU decided in November that it would not impose an explicit moratorium on data centre connections.
It set out conditions for new data centres including a preference for those generating their own electricity.
The development comes as it has emerged that a Government department has urged consideration of the value of data centre investment in Ireland as underpinning the digital economy and providing jobs.
In a joint submission to EirGrid, the Department of Enterprise, Trade and Employment and the IDA said it remains their view that data centres bring substantial capital investment and new export service and subsupply capabilities.
"The presence of some of the world's leading data centre providers raises our visibility internationally and in turn lead to other equally strategic and complementary employment intensive activities," the submission said
"Data centres should be considered as a core enabler of a technology-rich, innovative economy, which, in turn, places Ireland on the global map as a location of choice for a broad range of sectors and activities that are increasingly reliant on digital capabilities including manufacturing, animation, retail, medical devices and financial services."
The document was released to RTÉ News under freedom of information.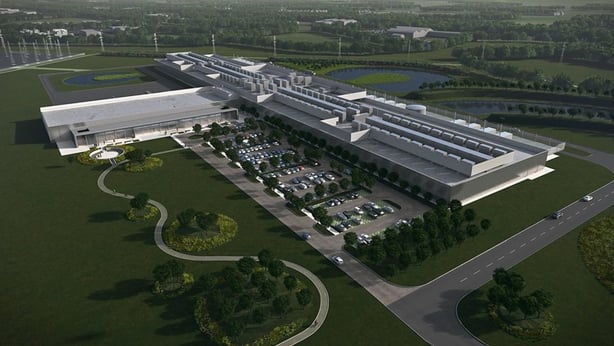 The submission also says that it is notable that all the large multinationals with data centres in Ireland have committed to becoming 100% renewably powered.
It says: "Data centres can play a hugely important role in driving new investment in and utilisation of renewable energy in Ireland in their drive to net-zero, and in turn helping Ireland to reach its target of 70% renewable energy by 2030 and net-zero by 2050."
RTÉ News has also learned that the Department of Enterprise, Trade and Employment requested that a reference to "regionally balanced" data centres was removed from the Government's Climate Action Plan.
An email dated 29 September 2021 from the Department to the IDA released under freedom of information discussed the plan's actions to align data centres with emission reduction targets.
It requested that the below paragraph be removed from the final version of the Climate Action Plan.
"Implement energy actions under the Government Statement on the Role of Data Centres in Ireland's Enterprise Strategy to ensure that large demand connections are regionally balanced to minimise grid reinforcements".