The comfort a dog brought to a 15-year-old Co Longford boy during his treatment for cancer has inspired a new charity initiative, that will allow sick children to see their pets while they undergo treatment.
Building work is getting under way at Children's Health Ireland at Crumlin, which will see the construction of kennel facilities, along with a seating area for families.
The charity was set up by Evelyn and Enda Neary from Killashee in Co Longford.
Their son Cian died from a rare form of Lymphoma, having undergone treatment at Crumlin.
"Our world fell apart when Cian was diagnosed with Hepatosplenic T-cell Lymphoma in September 2018 and, while in hospital in the early days of diagnosis, we asked him if there was anything we could get him to make him feel better. We already knew the answer" said Evelyn.
"A few weeks later Cooper, a gorgeous golden Labrador puppy joined our other dog and cat as part of our animal family," she explained.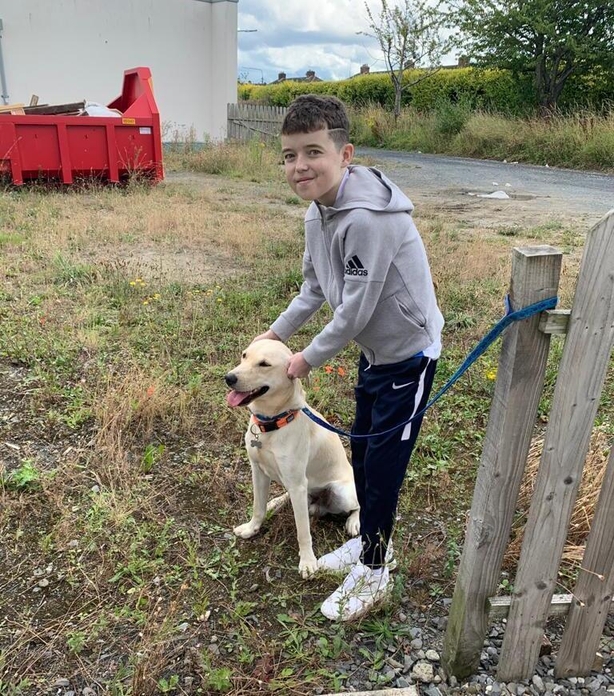 Cooper had a hugely positive impact on Cian and in the summer of 2019, when he became very unwell and had to spend three months in hospital, he pined for his dog.
The family managed to find kennels nearby and most days during his treatment, Cian was able to spend time with Cooper.
"For us as a family, these outings and the time Cian spent with Cooper became the basis of lasting, precious memories when Cian sadly lost his battle for life in the early hours of September 23, 2019," Mr Neary said.
"We experienced first-hand the joy Cooper brought Cian and us during the most difficult days," he added.
After Cian's death, the family pledged to continue that journey in his memory by bringing pets closer to sick children and their families.
It is hoped that the services provided by Cian's Kennels will enhance the hospital stay experience for sick children and their families.
"I saw first-hand the very positive influence that Cooper's visits had on Cian during his prolonged hospitalisations.
"The provision of this new service will undoubtedly bring comfort to many more children and teenagers at a very difficult time for them," said Professor Aengus O'Marcaigh, Consultant Paediatric Haematologist, at CHI Crumlin.
Shane Neary, brother of Cian, cuts the ribbon on the site where new kennels and a family area will be built at the CHI Crumlin @CiansKennels pic.twitter.com/clHDpu0Wct

— Sinéad Hussey (@SineadHus) January 10, 2022
Cian's family now want to get the message of awareness out to other parents and children around the country.
"We want the word to go out to every child heading into hospital in Crumlin that, right now, you can avail of most of our services, and we expect that the holding kennels will be up and running by mid to late February," Ms Neary said.
The new service will include full veterinary checks including vaccinations for the visiting pets before they arrive at the hospital.
Transport from home to and from the kennels will also be covered.