Dubliners have been given a chance to inspect the progress of Tallaght's pilot District Heating Scheme as part of the Dublin Climate Action Week.
The pipes which will carry hot water to buildings around the centre of Tallaght are still being laid but South Dublin County Council says it expects the system to be up and running by the end of March next year.
Most of the heat will come from an Amazon data centre close to the centre of Tallaght.
It will provide heat for the council headquarters at County Hall, the local library and to TU Dublin's Tallaght campus.
It will also service 133 affordable apartments to be built on public land in Tallaght and a 3,500 sq/m innovation centre hosting tech start-ups on the same site.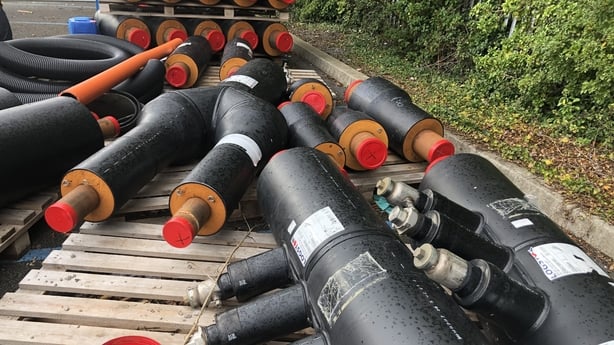 "Over the lifetime of the scheme there could be two to three thousand apartments served by this district heating scheme," South Dublin County Architect Eddie Conroy said.
The heat will be low carbon but not free, and people will have the usual heating controls in their homes. The charge will be around the same per kilowatt hour as gas, but it will become cheaper than fossil fuels as carbon taxes increase.
Mr Conroy said the scheme will save around 1,500 tonnes of carbon emissions in its initial phase, but that will ramp up as the scheme expands.
The project costs around €9m. Just under €5m has come from the Department of the Environment, another €1m from European Interreg funding, and €2.5m from Finnish company Fortum, which is also providing much of the expertise in building the network.
Finland's Ambassador to Ireland Raili Lahnalampi explains that: "We say in Finland that we have 'snow-how' and in district heating we do have, in terms of the decades long experience we have been able to not only do this in Helsinki or in Espoo, we have also done in Oslo in Norway and in Sweden."
Codema, Dublin's Energy Agency, is working to help Ireland catch up with the Nordic countries.
Heat generated by a huge Amazon data centre in south-west Dublin is to be used in homes in the area - the first scheme of its kind in Ireland. pic.twitter.com/bXNPuEgKJ8

— RTÉ News (@rtenews) September 13, 2021
Chief Executive Donna Gartland says there is enough waste heat in Dublin to heat 1 million homes. The national target is for 10% of all heating needs in the state to be met by district schemes by 2030.
"At the moment in the Dublin region 65% of all our heat demand is feasible for district heating, so if we could get half of that connected to district heating it would be a big success," Ms Gartland says.
"In cities such as Copenhagen and Stockholm they have 90% of their buildings connected to district heating systems."
District heating systems can take heat from any source but Codema is talking to other data centres in Dublin about taking some of their waste heat, and says the companies involved are very open to the idea as they seek to reduce their carbon footprint.
However some warn that connecting to district heating schemes will not turn data centres into low carbon facilities.
Dr Patrick Bresnihan, a lecturer at the Department of Geography in Maynooth University says "if you take Amazon web services, for example who have the data centre in Tallaght, they have another data centre in Mulhuddart in West Dublin, and when that complex is built out to full capacity it is estimated it might consume around 4% of Ireland's total electricity, so really these district heating systems are positive, but they're a bit of a drop in the ocean."