President Michael D Higgins has welcomed His Serene Highness Prince Albert II of Monaco at Áras an Uachtaráin.
The visit takes place 60 years after the visit by the Prince's parents, Prince Rainier III and Grace Kelly, in 1961.
Their visit was the first official visit to Ireland by any Head of State since the foundation of the State.
Prince Albert II was three-years-old when he met President and Mrs de Valera at Áras an Uachtaráin.
Both President Higgins and the Prince took time during the reception at the Áras to look at photos of the 1961 visit and a letter from Grace Kelly to the de Valeras thanking them for their hospitality.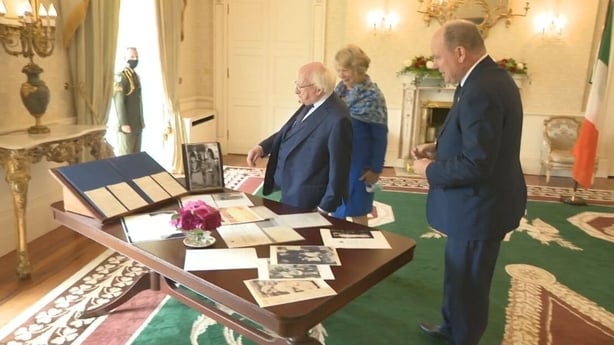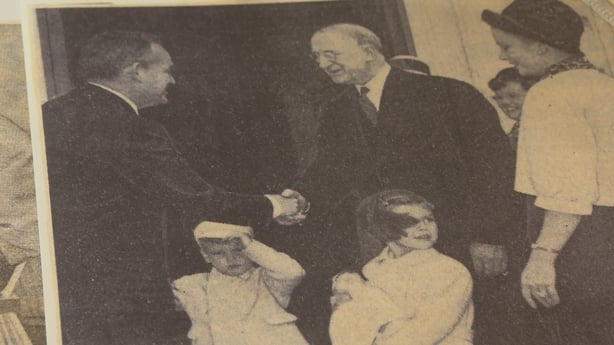 Monégasque Prince visited Trinity College Dublin this afternoon for an unveiling ceremony to mark a donation to the preservation of the Old Library.
A frieze containing the name of HSH Prince Albert II will be unveiled on the Gallery of the Long Room of the Old Library.
The names of Their Serene Highnesses Prince Albert II & Princess Charlene of Monaco have been marked on a frieze on the University's Benefactors Wall at the entrance to the Trinity College Dining Hall.
Meanwhile, Princess Charlene is in a stable condition after collapsing and being hospitalised in South Africa, her foundation said.
"Her Serene Highness (HSH) Princess Charlene of Monaco was rushed to hospital by ambulance late Wednesday night after collapsing due to complications from the severe ear, nose, and throat infection she contracted in May," the statement said.
"The Princess' medical team is currently evaluating her but have confirmed that the Princess is stable," it said.
"She has been released. She was released this morning," Chantell Wittstock, director of the Princess Charlene of Monaco Foundation, told AFP.
"Doctors are still establishing exactly what happened," she said.
The 43-year-old South African-born princess underwent surgery in August, but few details have been publicly released.
Her latest health scare was "part of the recovery," Ms Wittstock said. "She has been in a lot of pain."
The former South African Olympic swimmer Charlene married Prince Albert II in 2011. Their son Jacques is now next in line to head the 700-year-old House of Grimaldi.