Dublin City Council's chief executive has criticised his own officials over a "one-sided" campaign to make 30km/h the default speed limit in the city area.
Owen Keegan admitted that the council could be accused of trying to "unduly influence" the current public consultation process and that it may have to be cancelled.
The council had begun a non-statutory public consultation process on the lower limit, while at the same time running the 'Loving 30' campaign in favour of it.
Following a query by Independent councillor Damian Farrell, the council's chief executive replied by email to say that the council could be accused of trying to "unduly influence the public consultation process".
"It is one thing to respond to criticism of a project during a public consultation process. However, to campaign actively on one side of the argument, I accept is questionable," Mr Keegan said.
Mr Keegan also stated that he accepts that a 30km/h limit will only deliver benefits if most drivers comply and the evidence is that current compliance is low.
Opponents of the new law point out that the Department of Transport has found that when limits are set at an unrealistically low level, drivers tend to lose respect for all limits and choose their own speed.
Mr Keegan stated he will ask for a report from officials on whether the consultation should be cancelled or if the "one-sided" nature of the campaign should be taken into account when assessing the response.
Mr Farrell stated in an email to fellow councillors that he believes the integrity of the consultation is "totally shot".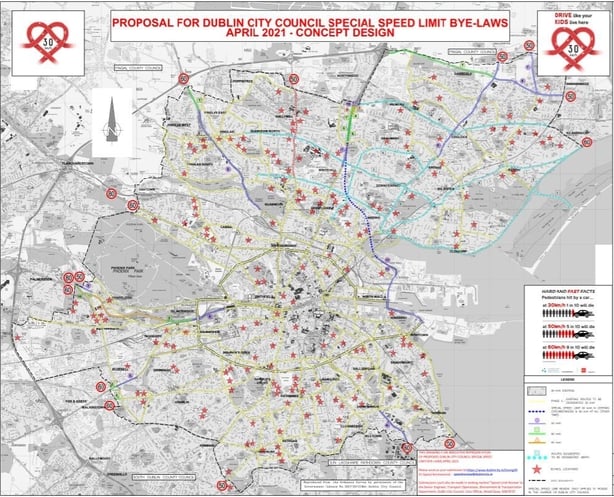 "There's not one councillor in the chamber who doesn't wish for drivers to slow down and our city to be safer, the only issue was that we would have a proper public consultation and an engaged public consultation, and all views would be respected."
The present consultation follows councillors' rejection of the 30km/h default limit last September after most public submissions in the first consultation were against the idea.
The proposal would have made the 30km/h limit the default limit, including on main arterial routes such as Dorset Street and Harold's Cross Road for the first time.
Some Northside councillors proposed a 40km/h limit in areas such as Artane, Clontarf and Glasnevin for roads including Griffith Avenue and Collins Avenue and these changes have been included in the new proposal.
In its campaign the council pointed out that one in ten pedestrians will die when hit by a car driving at 30km/h, while 90% will die at 60km/h.
The new default limit was also being introduced as a Covid-19 mobility measure to help cycling and walking.
Meanwhile, representatives of 19 residents' groups, disability groups and business organisations have combined to call for a suspension of the roll-out of new cycle lanes across the city as part of the new Covid-19 Mobility Plan.
The statement by the Cycle Lane Action Group is supported by residents in Ringsend, Fairview, Malahide, Booterstown, Sandymount and Ballsbridge.
Spokesperson and Independent councillor Mannix Flynn said local communities wanted greater consultation and proper planning procedures for the mobility measures which he claimed are being introduced "using Covid-19 as a cover".