The statue of singer Luke Kelly, located near Sheriff Street in Dublin, has been vandalised for a seventh time, the North Wall Community Association has said.
The statue, located near the singer's birthplace, was unveiled on the 35th anniversary of his death by President Michael D Higgins in January 2019.
The statue is a 1.8m-high marble bust, with copper wire used for Kelly's trademark beard and hair.
It is one of two sculptures of the singer in Dublin city centre - the other one is located near St Stephen's Green Shopping Centre. Both these statues were vandalised last month.
In a statement, the North Wall Community Association said that while the latest incident is very frustrating it was "not unexpected".
"Following the last six times it has happened, we have consistently said Luke should not be moved but protected," it said.
The association said there had been "no deterrent action taken by authorities".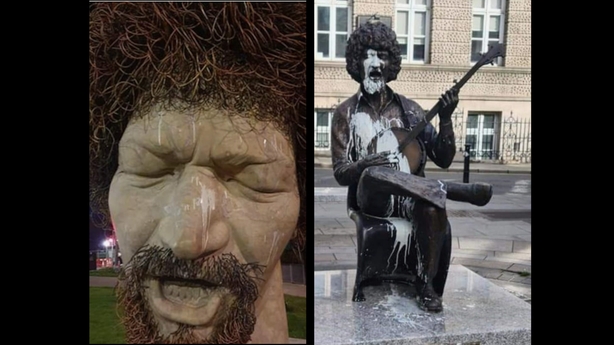 It said that this is despite repeated calls for the raising of the plinth upon which the statue sits, as well as for the installation of a 5ft spiked railing around the structure.
It added that if this was done right, the statue would be properly preserved and further damage to it would be prevented.
The association has called for authorities to immediately protect the statue, or else a further incident "will surely happen".
It has apologised on behalf of the people of the area to Luke Kelly's family for the distress the incidents are causing.
"We are very proud of the fact that Luke was born and raised in the North Wall and ask that these terrible attacks stop and that this mindless stupidity is ended once and for all," said the statement.