Two statues of musician Luke Kelly on both sides of the Liffey in Dublin have been vandalised.
The bust of the singer on Sheriff Street in the north inner city was vandalised for the sixth time in 18 months.
White paint was found splashed across it early this morning.
The statue, designed by Vera Klute, is a 1.8-metre-high marble bust with copper wire used for Kelly's trademark hair and beard.
Local independent councillor Christy Burke has appealed for an end to the vandalism, which he has described as an outrage and an attack on the entire local community.
The statue was vandalised in April when red paint was daubed across it. It was targeted again last Month.
CCTV is due to be installed within two weeks to help protect the statue, according to Dublin City Council. The council said the camera will be directly monitored by gardaí.
Another statue of Kelly, which is located near St Stephen's Green Shopping Centre, was also vandalised overnight, apparently for the first time.
It was donated by the late Gerry Hunt and sculpted by John Coll.
The two statues were unveiled on either side of Dublin city last year to mark the 35th anniversary of Kelly's death.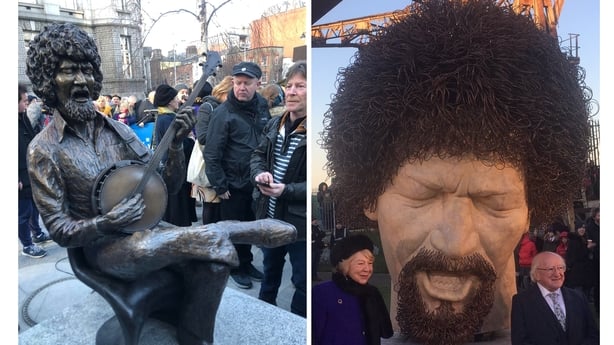 Cllr Burke said the attacks are being orchestrated against the memory of Kelly.
The sculptor who created the Kelly sculpture on South King Street, John Coll, said he is resigned to it being vandalised.
Speaking on RTÉ's Today with Sarah McInerney, Mr Coll said he feels there are a lot of young people out there who are frustrated and have nothing better to do.
He said he felt "we were dodging the bullet for the last couple of weeks" but he was half expecting it.
Mr Coll said the incidents are "pure copycat stuff".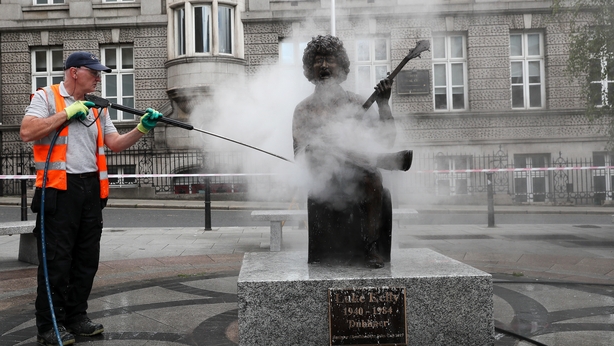 Making a public sculpture, he said, you have to take into consideration that anything can happen to it and "graffiti is part of the urban thing".
He said he would be opposed to moving the statue.
One of the great things about bronze, he said, is that it is indestructible. He said the paint is just on the surface and easy to clean off.
Both Luke Kelly statues were vandalised last night. 😟 Thanks @pmacdublin who are currently on site cleaning Luke on Sth King Street.👏🏻👏🏻 #lukekelly pic.twitter.com/FbyFuysia4

— Dublin City Council (@DubCityCouncil) June 24, 2020
Gardaí have said they are pursuing a definite line of inquiry in relation to two of the attacks.
A file is being prepared for the Director Public Prosecutions in relation to one incident and a particular suspect.
The city council has described the attacks as senseless vandalism and appealed to anyone with information to contact gardaí.
The musician John Sheahan has said he is "saddened" by the continued vandalism of the statue of his late friend Luke Kelly and he is sure "all the people who loved Luke feel likewise".
Speaking on Drivetime, the only surviving member of The Dubliners said "it's hard to comprehend such an act of vandalism".
He said Luke, who died 36 years ago, has no enemies that he was ever aware of and "these vandals are very unlikely to have known him."
He said "if these people could articulate their dislike of the statue, it would be interesting to hear what they have to say".