Business recovery in the Grafton Street area of Dublin is lagging behind other areas of the capital according to the latest footfall figures.
At weekends footfall around Grafton Street is still only 20% of pre-Covid-19 levels compared to 50% for Henry Street.
Dublin City Council is now proposing to pedestrianise streets around Grafton Street to allow more pedestrians, and businesses, to use footpaths for tables and chairs.
The streets to be partly pedestrianised between 11am and 7pm for four weekends from 25 July are;
- Anne Street South from the junction of Dawson Street
- Duke Street from the junction of Dawson Street
- South William Street from the Brown Thomas car park exit to Chatham Row
- Drury Street from Fade Street to the Drury Street car park
- Dame Court from Exchequer Street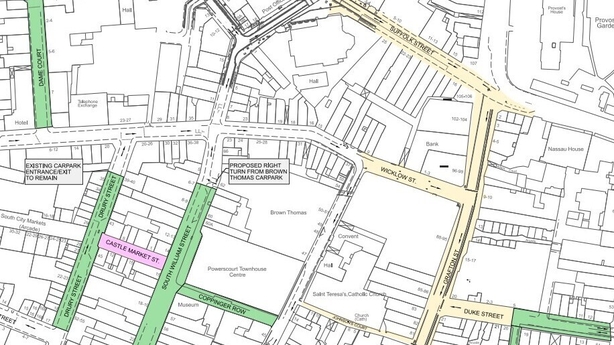 The changes were contained in an update to councillors on Covid Mobility measures which give extra priority and space to cyclists and pedestrians to allow for social distancing.
The report noted that 65% of the requests for these measures were coming from the Dublin 2 area consisting mainly of businesses around Grafton Street.
Meanwhile, traffic is still around 75% of pre-Covid levels.
Cycling is also at 75% for weekdays overall but morning peak cycling levels are still only a third of pre-Covid levels, while off-peak cycling volumes are 50% above.