An archaeological dig near Dublin Castle has uncovered some of the city's earliest landscape, including the original course of the River Poddle.
According to archaeologist Alan Hayden, the dig at Ship Street has revealed that the Poddle originally ran through a deep ravine before becoming the Dubh Linn – or 'black pool' – that gave the city its name.
The excavation works have already revealed that the Dubh Linn was significantly bigger than originally thought, and it's now believed it extended further westwards into the current dig site.
Mr Hayden said the River Poddle was first diverted by the monks of St Thomas in the 1170s to create mills, and when the land dried out it was used as a quarry.
The earliest parts of Dublin Castle and the city walls are thought to have been built from this stone.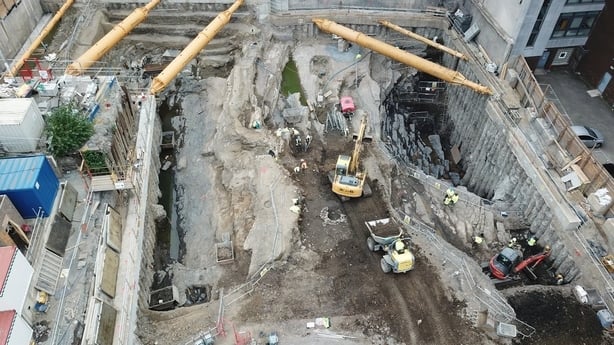 Finds from this part of the dig include a Norman longbow arrow shaft, which was preserved in the water of the ravine and is considered rare.
There was also a hunting arrow head, shoes, and a 12th century candle holder.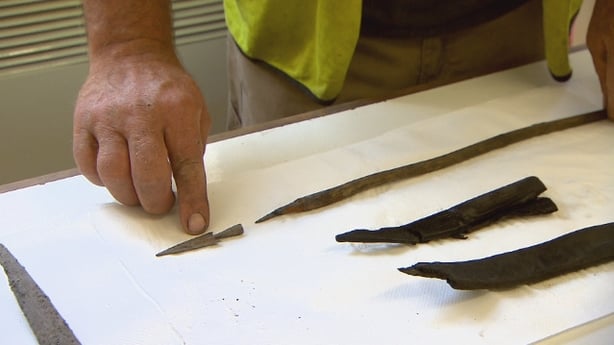 The excavation is being carried out on a site that is to be developed as the One Le Pole Square office development.
This part of the excavation has been completed and will now be taken over by the developers, with the archaeological investigation now moving to the edges of the Dubh Linn.
We need your consent to load this rte-player contentWe use rte-player to manage extra content that can set cookies on your device and collect data about your activity. Please review their details and accept them to load the content.Manage Preferences