Bye-laws to regulate busking in Dublin city centre are being hailed as a success, with the latest figures showing breaches of the rules have dropped by over 60% since they were introduced five years ago.
Musicians themselves say the system has created a better environment.
Each performer is required to have a permit, they have to perform in specific spots and must finish up on the hour with the length of time allowed varying between one hour and two hours.
Musicians like Scott Carey and Paul Jenkinson say the system means there are fewer arguments between busking acts and it has created a sense of community.
Regulation of buskers in Dublin city centre was debated for decades before bye-laws were finally introduced by the city council in 2015. A voluntary code had failed to work.
The new bye-laws initially caused controversy with organised protests outside city hall and bands like Key West announced they would no longer busk in Dublin, complaining in particular about the ban on amplifiers in Temple Bar and the complete ban on backing tracks.
However, the latest figures from Dublin City Council who have enforcement officers inspecting permits and monitoring decibel limits show the compliance is increasing.
When the laws were first introduced in 2015 there were 125 warning notices and 36 fines but his has dropped to just 43 warning notices and 11 fines last year. Only three of the €75 fines were actually paid.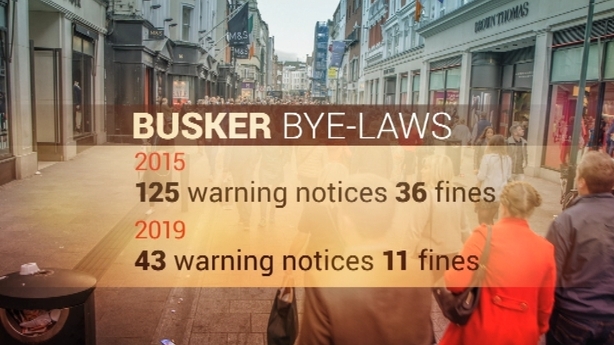 Meanwhile, the number of permits was 501 last year compared to 522 in 2015 although the number did drop to 297 in 2016.
There are also visitor permits for musicians from overseas.
Kevin Meade, senior executive officer responsible for licencing with the council, said permit numbers can fluctuate with the weather during the summer but are holding steady in recent years.
He said the city council wants to promote a "vibrant and lively" city but also wanted to avoid the "chaos" that had occurred with buskers nearly fighting each other over the most popular spots.
A special YouTube channel has been set up posting videos of each act and links to their own social media sites. Creator Seán Leahy said the Dublin City Today channel started with 62 subscribers but when it focussed on buskers it grew to 291,000 with 63 million views.
He said the street performance permit system in Dublin could be a model for other European cities where busking has died out.
Many of the original complaints about busking came from city centre residents - particularly in Temple Bar - and businesses with employees in shops fronting onto the main streets.
The new regulations require an average noise level below 80dB - and 75dB for Temple Bar - but acts must also have a repertoire meaning that no song is repeated within 30 minutes.
They have to stay away from doorways and stop immediately if the crowd becomes big enough to block the street.