Dublin City Council has said an investigation is under way into an illegal dump on the city's northside which residents say has been accumulating for years.
A significant volume of construction waste and household rubbish remains at Darndale Park, despite prosecutions for dumping.
Residents whose homes overlook the green space say trucks arrive at the site and deposit significant volumes of construction waste.
"I started noticing it in the last four years. The hill started forming and was getting larger and larger," one woman living close to the site said.
"You can see the arm of the digger lifting up the soil or rubbish and turning it. It is not a bother to them.
"This is not just local residents dumping rubbish, this is like a well established business," she added.
The large mound of garden and construction waste is now as high as many of the homes which overlook the green.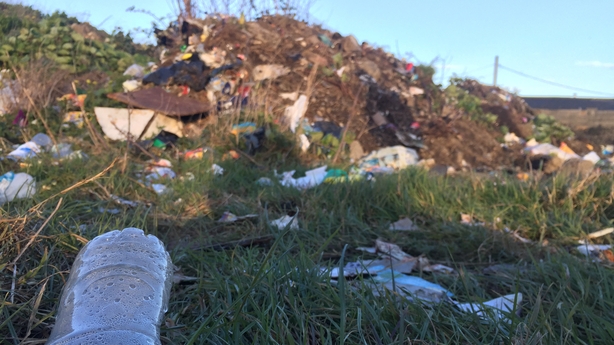 The field, which faces the Belcamp Green and Moatview Court estates, is also strewn with household waste including nappies, plastic bottles and cardboard.
Residents say they have complained about the site to its owner, Dublin City Council, but the dumping has continued.
Local Sinn Féin councillor Larry O'Toole, who has also raised concerns, said that fresh waste had been dumped in the last two weeks.
"The mountain of waste has vegetation growing on it because it has been there for so long. There is a tree on the top."
Dublin City Council said there have been criminal convictions for waste related activities in the area and that waste enforcement officers were patrolling the area.
However, Mr O'Toole said enforcement measures had been ineffective.
"There has been nothing serious done to deal with this. It is going to cost a fortune to clear."
Conor Horgan of Irish Business Against Litter described the site as "extraordinary".
He added that enforcement measures in local authorities across the country had "plummeted" in recent years.
"We know that people are much more likely to litter and dump in a dirty area than in a clean area. The site needs to be cleaned up completely."