The investigation into the 2013 murder of Detective Garda Adrian Donohoe became one of the biggest in the history of the State. There was very little evidence left at the scene of the murder and gardaí had to pursue over 6,000 lines of inquiry. Here, retired detective inspector Pat Marry tells North East Correspondent Sinéad Hussey how he oversaw the complex and lengthy investigation.
The investigation
Over 3,500 statements were taken in this long and complicated murder investigation.
Over 6,000 lines of inquiry were made and 40,000 hours of CCTV were examined. 68 people were traced down and questioned in America. This, according to the lead investigator Pat Marry, was the biggest murder investigation in the State.
"The scene revealed very little for us, there wasn't much evidence left. We had to start at basics and work hard. The average murder investigation will take 250 lines of inquiry, Adrian's has now topped 6,000" he said.
"You can see the vast of volumes enquiries that were made to cover every angle of potential evidence," he said.
Gardaí from all over the country offered to help with the investigation. Well over 100 gardaí were working on the case in the early days. Detectives knew they had to act quick to garner as much CCTV as they could.
"There was a lot of ground to cover," Mr Marry said.
"We had to get the route Adrian Donohoe and Joe Ryan took the night. The getaway car found across the border in Armagh, there was that route to be taken. The car was stolen in Clogherhead, that had to be followed too.
"We had eight to ten people viewing CCTV in the early stages. It was hard graft. We had so much CCTV that if one garda was to sit down and view the CCTV gathered, it would take him or her 40 years."
The border
The border had always been a trouble spot. "Once the border was there, there was always criminality," says Mr Marry.
"From 1998 and the Good Friday Agreement, there was no doubt terrorist activity decreased but the reduction left a network of manoeuvrings that the criminal fraternity moved into. We had to keep an eye on it all," he explains.
"There was counterfeiting of goods, clothes and perfume, illicit distilling of alcohol, the counterfeiting of cigarettes. You had diesel laundering, VAT fraud, illegal dumping and human trafficking."
In the months before Adrian Donohoe's murder, there was a spate of armed robberies north and south and gardaí and the PSNI were investigating a number of armed criminal gangs.
"Forkhill Credit union was robbed twice, two Spar supermarkets were robbed, Morgan Fuels in Ravensdale was robbed, the Racecourse was robbed and Lordship credit union, in August 2011."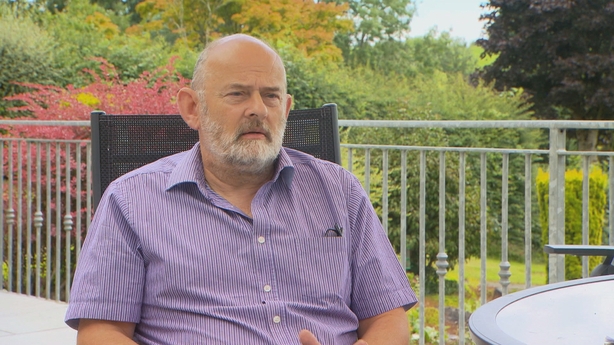 Mr Marry said he had written to senior management, requesting that the Uzi submachine gun be given back to detectives on the border.
A decision had been taken in March 2012 to withdraw the Uzi after a review by garda authorities. One of the reasons was that it was deemed unsuitable for incidents that might occur in a confined room, like in a bank for example.
At the time An Garda Síochána said the Sig Sauer handgun was "identified to best meet the policing needs" of the force and that specialist units such as the Emergency Response Unit and Regional Support Unit had the MP7 submachine gun at their disposal.
However Pat Marry said he had concerns.
He said: "I mentioned the resurgence of dissident activity under the umbrella of the republican network for unity which were a group set up in 2007.
"They had gathered in strength and were always wary of their ability to improvise with explosive devices and we were collating and keeping them under wraps as best we could. I was hurt and disgusted that my application to protect the welfare of my own men was rejected."
Two gardaí in the Louth division have been killed in the line of duty in recent years, Detective Adrian Donohoe and Garda Tony Golden who was based in Omeath.
Phone evidence
Like in most murder investigations, phone evidence played a role in this case too.
Edward McGoey, a mobile phone analyst, spent five days of the trial giving evidence.
He detailed contacts between the phones of those suspected of involvement in the robbery, in the hours and days before and after the shooting.
He used graphs and charts to illustrate the activity of numerous phones.
It showed that from 8.01pm on the evening of the robbery until 10.45pm, a period of just under two hours and 45 minutes, there were no outgoing calls or texts on Aaron Brady's phone.
Suspect A's phone records showed no activity from 7.58pm to 10.37pm. Suspect B's phone showed no activity from 8.29pm until 10.48pm.
The Lordship robbery took place at 9.30pm.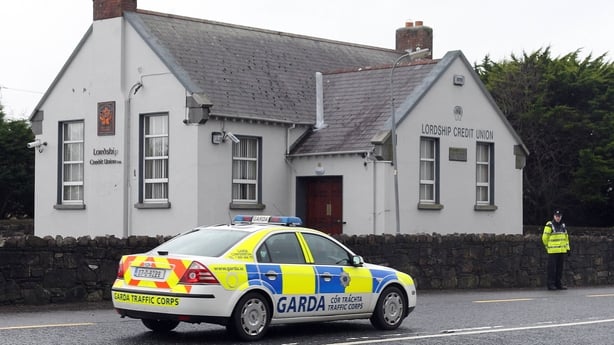 "Here is the night of the armed robbery and they were turned off for around two hours so what's going on? And one of the witnesses in the car park said that one of raiders had a walkie talkie. So then we were able to establish they were communicating via walkie talkies" said Mr Marry.
The trial also heard details of 31 interactions between phones belonging to Mr Brady and the two suspects from 7pm and 8.30pm that evening and 19 interactions between 10.30pm and 11pm that night.
Detective Garda Kenna also analysed the phone data to see if there was a difference in the number of calls made by Mr Brady's phone on the day of the shooting compared with previous days in the same month.
He found that from 1 January to 25 January he made or received an average of 22 calls per day.
On 26 January he made or received 48 calls, more than double the average for the previous 25 days.
Aaron Brady maintained that a number of calls between himself and various named individuals on the evening leading up to the robbery were about fuel laundering.
He also pointed out that he texted his girlfriend Jessica King to say that he would be loading a trailer that night for about two hours.
Brady said he was not at Lordship Credit Union that night and that he had never been to Cumson's Lane where the Volkswagen Passat used in the robbery was found burned out and he denied that a series of phone calls he made to various people the following day had anything to do with what had happened at the credit union and he said that his phone's inactivity before and after the robbery was of no significance.
The jury did not accept that and although the evidence was complex and circumstantial, for the prosecution it helped build a case.
The role of Homeland Security
68 people were traced down and questioned in America as part of this investigation. A number of witnesses gave evidence in the trial.
Homeland Security was also involved in the arrest and detention of Aaron Brady in May 2017.
He had left Ireland for America in April 2013, about two months after the robbery. He was extradited home within days of his arrest in May 2017.
"Homeland Security were very focused and very helpful" said Pat Marry.
"Some of the witnesses that came forward wouldn't have come forward unless they were spoken to first by Homeland Security. I dealt with special agent Matthew Katske and I can't speak highly enough of him. He was just superb. He knew what we needed.
"When we flew over to the US, he'd have his team ready and they would bring us where we needed to go. Mary Ann Wade, another special agent, she was superb," he said.
"They told me they looked on it like the death of one of their own colleagues."
We need your consent to load this rte-player contentWe use rte-player to manage extra content that can set cookies on your device and collect data about your activity. Please review their details and accept them to load the content.Manage Preferences
Justice
Retired detective inspector Pat Marry said he never believed Aaron Brady was at a diesel laundering yard in south Armagh on 25 January 2013, but that he was at Lordship Credit Union where Detective Garda Adrian Donohoe was shot dead.
"Every murder has its twists and turns but by far Adrian's was the most challenging. We had to start from scratch essentially" said Mr Marry said.
"I'm glad we got justice at the end of the day. It's down to honest to God hard work and proper thinking. Adrian Donohoe deserved nothing less than us giving 100% to bring about justice for him, for Caroline and the children.
"I hope Caroline can take solace from the conviction and a degree of comfort from the fact that the person who killed her husband is now serving time in jail," he said.
---
Friends and community recount time of 'great pain and sorrow'