Is Daddy coming home soon?
Asks a precious little face,
It's late, he should be here,
Is he working on a case?

Your Dad's not coming home pet,
He's working late tonight.
He's a garda up in heaven,
Making sure we're all alright.
This poem was written by Caroline Donohoe following the murder of her husband Adrian, the love of her life, on 25 January 2013.
He was 41 years old, a detective garda based in Dundalk; a father, a husband, a son, a brother and a friend.
"They went to sleep that night, everything was perfect. They woke up the next morning to their whole life being changed."
Séamus Savage, from Lordship, counted Adrian Donohoe among his closest friends. "The first thing you'd see is the big smile," recalls Séamus.
The pair first met in 1996 when the young garda moved to Dundalk after finishing in Templemore.
Originally from Kilnaleck in Co Cavan, Adrian Donohoe was a handy footballer and the club was delighted to see him and his colleague Darren Kirwan join their set-up.
"They just fitted in straight away, the two of them ended up settling here, they built their homes here. They just knitted in so easily," says Séamus.
At 1.93m (6ft 4in) tall, Adrian Donohue dominated midfield. His number 8 jersey has been framed and hangs just inside the door of St Patrick's clubhouse. He played for his local club Crosserlough in Kilnaleck growing up. He also lined out for Cavan at U-21 level.
"He was a big man, well over six foot, loved the craic, he loved playing around here. He was the sort of man who could talk to anyone. But when it came to the football, he was dead serious. He gave it 100%, be it a game or training, he gave it his all."
Séamus recalls exactly where he was when he heard that Adrian had been shot outside Lordship Credit Union.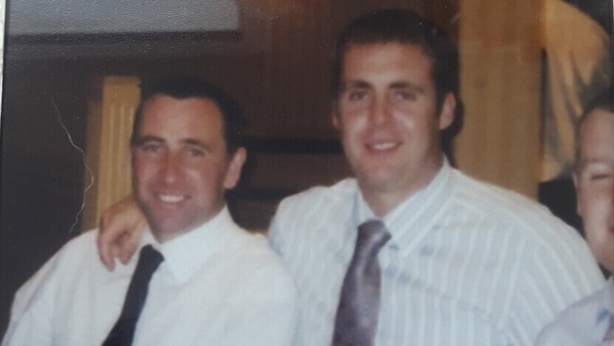 "We were at home watching television, a friend of ours had rang Teresa and she told her there had been some commotion at the credit union and she thought Adrian was injured," he explains.
"A bit of a panic set in so we rang Darren Kirwan, a friend of ours and a colleague of Adrian's and I asked him was it true? He barely got the word 'yes' out."
Séamus and his wife Teresa made their way to the Donohoe family home, a night they will never forget.
"It was an awful sight in the house. There were tears everywhere and the worst of it was his two kids, Amy and Niall, were upstairs asleep in bed. They went to sleep that night, everything was perfect. They woke up the next morning to their whole life being changed."
The community of Lordship was now at the centre of what would become one of the biggest murder investigations the State has ever seen. For days and weeks, the media spotlight was on the small Cooley village where Adrian and Caroline Donohoe had made their home.
The couple met in garda college in Templemore. They started their garda training in July 1994 and were in the same class. It was 15 months later, as fate would have it, when they were both sent to Dundalk.
"The two of them got posted to Dundalk so from day one it seemed to be heading in the right direction," laughs Séamus.
In 2002, Adrian and Caroline got married in Kilkee in Co Clare, a wedding that was attended by many of their friends from Lordship.
"Most of us were down in Kilkee for the wedding. He was the happiest man alive that day, when he married the love of his life," he says.
"There is no replacement; there is no prison sentence or punishment that fits somebody coming out and taking a young father, a husband, a son, a brother, away from his family."
The couple's two children were both in primary school at the time of the murder. Their father was shot dead directly across the road from their school.
"The fact that it happened across the road from where he dropped the kids to school and the fact the family have to drive by it every day, it's just horrific," says Séamus.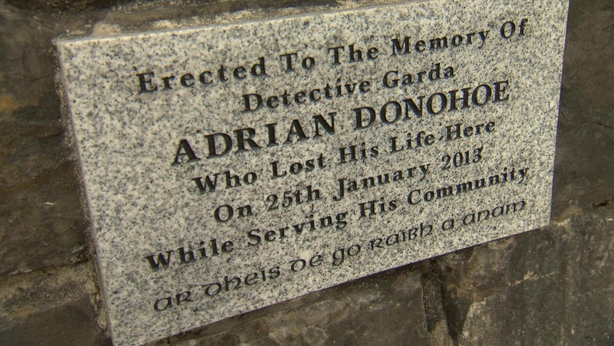 A plaque has now been erected outside Lordship Credit Union, a reminder of what happened there at 9.30pm on 25 January 2013. It's clear that although time has passed, the community of Lordship hasn't forgotten Adrian Donohoe.
All you have to do is look around and there are reminders everywhere. A football pitch has been named in his honour at St Patrick's GAA Club and an annual football tournament means his memory will always live on.
"He was over the whole Óg sport section of the club at the time of his untimely death. He was just brilliant with kids and we really miss him," says Séamus.
Fr Michael Cusack, a Redemptorist priest based in Dundalk, was in London, en route home from a holiday, when he got the dreaded news.
"It was shocking. I'm from a garda family and we're that bit extra connected when you hear someone in the garda family has been so cruelly taken out and the tragedy of the two young children and Caroline. There's something really, really unpalatable about the whole thing," he says.
Thousands turned out for the State funeral on 30 January. It was a wet and miserable day as gardaí from all over the country gathered to pay their respects.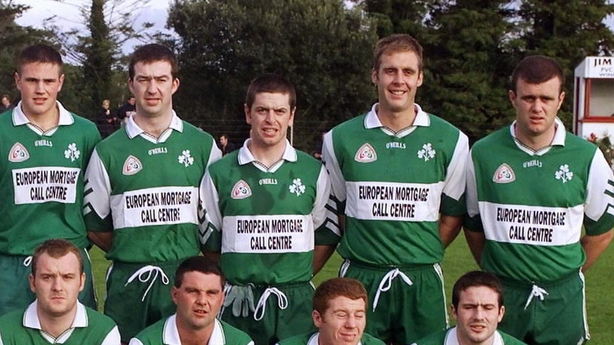 "It was a time of great pain and great sorrow. The State funeral was here in St Joseph's Redemptorist church, the likes of which people don't often witness. A huge crowd gathered here and it was such a sorrowful time for the family, the gardaí and the whole community."
In his homily that day, Fr Cusack didn't hold back as he called for reflection on the need for further policing across the country.
"We've seen it in so many walks of life … evil creeping in, slow acceptance, gentle movement, until there is contamination all round."
Raising the issues of drug gangs and paramilitary activity along the border, Fr Cusack said policing the community can be a "thankless task" that involves "incredible prices".
"Adrian Donohoe deserved nothing less than us giving 100% to bring about justice for him, for Caroline and the children."
It's a price that Adrian Donohoe paid for with his life and his family were left behind to deal with the devastating consequences.
"Ever since then I often wonder, can there ever be justice for somebody who loses someone so dear? There is no replacement, there is no prison sentence or punishment that fits somebody coming out and taking a young father, a husband, a son, a brother, away from his family."
Seven-and-a-half years later, Aaron Brady from New Road, Crossmaglen in Co Armagh, has been found guilty of the murder of Adrian Donohoe.
While it won't bring the detective garda back, it's hoped it will bring some comfort to those who knew and loved him.
Detective Inspector Pat Marry oversaw the investigation. Now retired, he still remembers clearly walking into Dundalk Garda Station the night Adrian Donohoe was murdered.
"I saw huddles of people, men and women crying. This wasn't part of the script," he recalls.
He explains how gardaí from all over arrived at the station in the hours after the killing, all wanting to offer their help with the investigation.
"I went down to the incident room and was surprised at how many gardaí had gathered waiting for direction. A lot of them had come from stations outside the division and they had come in on their days off. They just wanted to help. It shows the family element of An Garda Síochána and police all over the world. When one of your own is taken, everyone is there to help," he says.
Adrian Donohoe had 19 years' service in the gardaí, all of which were spent in Dundalk. He was an appointed detective at the time of his killing.
"He was a very good work colleague and an extremely good detective. Really quiet about his work, always done to perfection. A genuinely nice guy, you couldn't get nicer. He didn't deserve what he got. He just didn't," says Pat.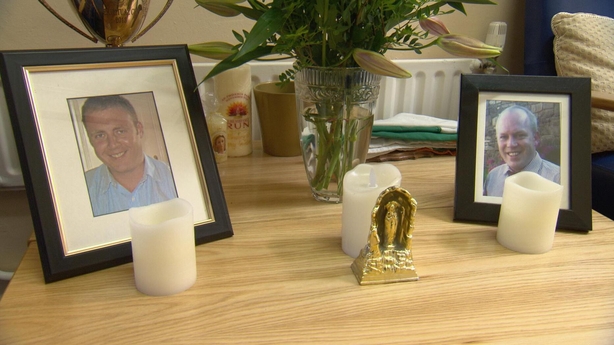 Around Dundalk Garda Station, there are photos of Adrian Donohoe. At a small table upstairs in the station, they have a framed photograph of their colleague.
Beside it, there is another framed picture. It's of Tony Golden, the garda based in Omeath, who was killed in 2015. Their killings are a stark reminder of the loss gardaí in the Louth division have suffered in such a short space of time.
However, detectives have been undeterred in their investigations.
We need your consent to load this rte-player contentWe use rte-player to manage extra content that can set cookies on your device and collect data about your activity. Please review their details and accept them to load the content.Manage Preferences
In the Adrian Donohoe case, more than 3,500 statements were taken. More than 6,000 lines of inquiry were made; 40,000 hours of CCTV was examined; 68 people were traced and questioned in the US. The scene revealed little evidence so gardaí had to start at the basics and work hard.
"There were really professional members of Garda Síochána, really top class. I couldn't praise them enough for the hard work they put in. Everyone was always focused on getting it solved," adds Pat.
"Adrian Donohoe deserved nothing less than us giving 100% to bring about justice for him, for Caroline and the children.
"He was one of my detectives and it was big pressure on the guys in the station to work on the case. I'm glad we got justice at the end of the day. It's down to honest to god hard work and proper thinking.
"I hope Caroline can take solace from the conviction and a degree of comfort from the fact that the person who killed her husband is now serving time in jail."
The poem that Caroline wrote ends with these poignant lines:
Be proud of who your Dad was
And how he earned his pay
For it's people like your Daddy
that keep us safe each day
"Mammy when we get bigger
and if it's ok with you
We're going to be like Daddy
and be a garda too".
Eighty-nine gardaí have been killed in the line of duty, yet day after day they continue to protect and serve to keep all our communities safe.
In Lordship and around the country, Adrian Donohoe will always be remembered for the sacrifice he made on that cold January night.