A 41-year-old Cork man was sentenced to seven years in prison for raping his younger sister over a three-year period in the 1990s.
Waiving her right to anonymity, Nora Hegarty, who is now 35, told the Central Criminal Court sitting in Cork that her brother John Paul Hegarty, of Castleview, Little Island, took her childhood from her, which she can never get back and "destroyed her whole life."
Ms Hegarty was aged between 9 to 12 years at the time of the assaults, which took place at multiple locations at the family home at Upper Glanmire in Co Cork.
Her brother was aged between 15 and 18 years at the time.
A jury of nine women and three men found John Paul Hegarty guilty of 24 counts of rape and sexual assault last October.
We need your consent to load this rte-player contentWe use rte-player to manage extra content that can set cookies on your device and collect data about your activity. Please review their details and accept them to load the content.Manage Preferences
Sentencing him today, Ms Justice Deirdre Murphy said Nora Hegarty could not remember a time in her childhood when she was not being abused and that he only stopped when there was a fear of her getting pregnant.
Justice Murphy said the victim came to view the abuse as an intrinsic part of her childhood.
Mr Hegarty, who does not accept the verdict of the jury, had "a devastating effect on her life, and stole her childhood," Justice Murphy said.
She expressed sympathy with all those damaged by his actions, noting in particular the "awful" position his mother found herself in, to give evidence in a trial where her daughter was the victim and her son the defendant.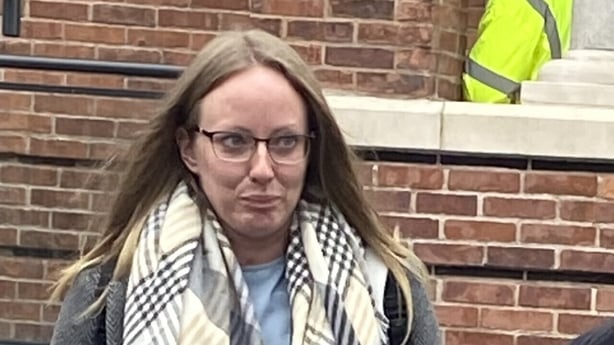 Today, Ms Justice Deirdre Murphy sentenced John Paul Hegarty to eight years in prison on all the charges of rape, and three years for the sexual assaults with both sentences to run concurrently.
She suspended the final year of the sentence to reflect that he had led a crime-free life since these offences, and bound him to keep the peace for 12 months following his release.
'He destroyed my whole life' - victim
In her victim impact statement, Ms Hegarty said her brother took her childhood from her and she can never get it back.
"In fact, he destroyed my whole life," she said.
"Everyone born into this world should have the right to live it free and choose their own path in life. I didn't get that chance. John Paul took this all away from me and left me so damaged that all I could do was try and survive day by day."
She said she told her family when she was 18-year-old but said it "was swept under the carpet for years."
Ms Hegarty suffered from depression and ill health all her life, but decided when she turned 30-years-old, that as a birthday present to herself, she would report it to the gardaí, whom she says have been very supportive.
"I could no longer keep this shameful secret," she said.
"I was a child who was raped and sexually abused by my brother John Paul. I did nothing wrong. I needed to do this for myself and that little girl who was silenced for years."
She said she waived her right to anonymity because having kept "this secret and shame for so many years, I no longer wish to carry it."
She did it also for all the people in the same position as her, to give them the courage to speak out and not to be afraid.
"I did it for all of them so they might have the courage to speak out. I know how hard it is to go about it. I did it without no support. I told no-one I was reporting it. I thought this would break me but it made me stronger," she said.
"I want to say to people in my situation, don't be afraid, you will have people that love and support you.
"You will never know what strength you have until you actually need it."