A teenager has been jailed for two years for his role in the violence outside a house in Cork last year during which a 20-year-old student was murdered.
19-year-old Scott O'Connor of Churchfield Square, Churchfield, Cork was waving a large kitchen knife above his head on the night outside a student party on the Bandon Road on 16 January 2020, when another teenager he was with stabbed Cameron Blair to death.
Mr Justice David Keane said today that there was no doubt that O'Connor's actions contributed to the "febrile atmosphere in which the murder occurred."
He described Cameron Blair as steadfast, cheerful, open hearted, courteous and conciliatory who was the victim of an unprovoked attack even though he had shown the teenagers nothing but kindness and hospitality.
Two other teenagers have already pleaded guilty in relation to the events that night, one has been sentenced to detention for life to serve a minimum of 13 years, the other was in also in court today and is awaiting sentencing.
Cameron Blair was a sportsman, a rugby player, a second-year student and a black belt in Karate.
The 20-year-old went to a student party at a house on the Bandon Road in Cork on 16 January this year and agreed to watch the door.
The 17-year-old who killed Cameron arrived along with Scott O'Connor, now 19, a 14-year-old and a drunk homeless man, and although the others in the house did not want to admit them, Cameron said they were "sound" and let them in.
The homeless man fell asleep outside in a doorway but Cameron became concerned and brought him in.
The three drank inside with the students but subsequently armed themselves with knives from the kitchen, left and later tried to force their way back in.
We need your consent to load this rte-player contentWe use rte-player to manage extra content that can set cookies on your device and collect data about your activity. Please review their details and accept them to load the content.Manage Preferences
Cameron stood at the door acting as the peacemaker and trying to keep the situation calm.
He also said to one of the three "will you tell your friends to relax" and shook his hand.
However, the 17-year-old became increasingly agitated, "paced up and down" outside and "tapped the knife on the back of his leg" a number of times before lunging forward with a large kitchen knife and stabbing Cameron Blair in the neck.
Witnesses said the 20-year-old didn't realise he had been stabbed and laughed it off before he collapsed and died.
His final words were, "Don't worry lad, I don't want to be fighting" before he smiled and closed his eyes.
'One of the nicest people'
The 17-year-old boy was sentenced at the Central Criminal Court in April of last year to detention for life to serve a minimum of 13 years with a review in 2032.
Cameron, he said, "was nothing but nice to me on that night. He did nothing wrong to me."
Scott O'Connor also said that Cameron Blair was "one of the nicest people at the party."
He was the intermediary between students at the party who wanted to buy drugs and two others who arrived with "a bag of weed."
The students wanted 3 grams but the bag only contained 2 grams, so when they were challenged, they handed over another 2-gram bag and told the students to return 1 gram.
This, Mr Justice Keane said today, appears to have been "the root cause" of the violent disorder, a row over drugs.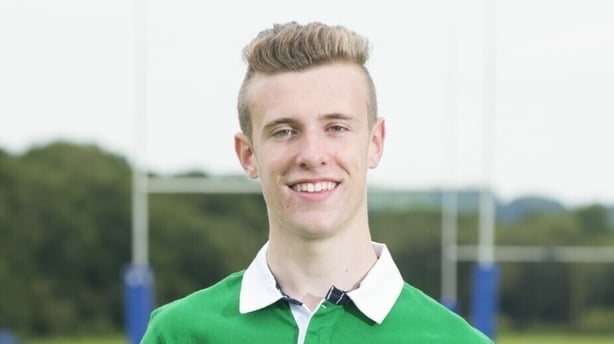 The three teenagers were asked to leave the party but tried to get back in. Cameron Blair stood at the door but the judge said he steadfast, cheerful, open-hearted, courteous and conciliatory and was the victim of an unprovoked attack.
"The utter senselessness" of the incident, the judge said: "magnifies the utter tragedy of his death."
O'Connor, he said, had a large kitchen knife with a six-inch blade, which he held high above his head and pointed forwards and backwards that night. When the other teenager fatally stabbed Cameron Blair, both ran away and O'Connor threw his knife away.
He armed himself with a knife, the judge said, he threatened others in a calculated and deliberate manner in a public street in a prolonged fashion, persisting for about five minutes.
The judge accepted that O'Connor had no intention to kill, but noted he fled the scene and did not offer to help Cameron.
Scott O'Connor pleaded guilty to violent disorder and production of a knife and expressed his remorse for what he had done.
He was sentenced today to five years in prison with the final three suspended.
Mr Justice Keane also offered his condolences to the family of Cameron Blair on the "tragic and irreplaceable loss" of a fine young man.
'A pariah' in the community
Earlier today another teenager appeared before the same judge in the Central Criminal Court in connection with the same events that night.
The Central Criminal Court heard today that a now 16-year-old boy who was involved in the incident has become "a pariah" in his community.
The boy, who was 14 at the time, pleaded guilty to violent disorder.
The court heard the incident has had "a monumental effect" on the boy's life and his family have moved house by swapping homes with his grandparents to keep the boy out of trouble.
The then 14-year-old drank vodka from a bowl that night, because there were no glasses or cups left, and the court heard his memory of the events that night are "a bit hazy" although he does get "flashbacks."
Inspector Martin Canney told the court the boy was involved with the Garda's Juvenile Liaison Service on four occasions but has no previous convictions.
His defence counsel Timothy O' Leary says he accepts he had the butter knife and punched a girl and is extremely sorry for what he has done. He asked the court to give the boy a chance.
"What is the purpose of jail," counsel said, " when he has a change to be a functioning person."
The boy he said got caught up "in this awful maelstrom" which led to the tragic death of Cameron Blair. Everyone in Cork knows he was involved he said and on a daily basis in school he has found this very difficult to live with.
Mr Justice David Keane adjourned the case for mention on Friday when he's expected to finalise a date for sentencing.