An inquest into the death of a Dublin man who was shot dead seven years ago in Co Meath has returned a verdict of unlawful killing.
26-year-old Paul Gallagher was murdered and his body later found in a field near Collon in July 2014.
Today the jury concluded that he died on 28 July 2014.
The inquest heard evidence from pathologist Dr Muna Sabah, who appeared at the inquest for former State pathologist Dr Marie Cassidy, who was unable to travel due to Covid restrictions.
Dr Sabah said Mr Gallagher had died as a result of gunshot wounds to his back, abdomen and thigh and she said his death was instantaneous.
The inquest also heard evidence from Mr Gallagher's sister, Marie Gallagher.
In her statement which was read to the inquest she recalled how she saw her brother lying face down in the field at Ballymacan.
She was with her brother Alan Gallagher when they made the discovery. She told the inquest she could see no sign of life.
Ms Gallagher also told the inquest that she remembers her brother being in great form in the days before his killing and he had helped her load a van as she was moving to Drogheda.
Geraldine Gallagher, Mr Gallagher's mother, was also called as a witness at the inquest. She recalled her son leaving their house in Donaghmede on the night of the killing.
She said Paul had told her he was going to Drogheda to help a friend. She said he left in a car driven by Sean Barrett, a man who was later convicted of withholding information in relation to the case.
Ms Gallagher said two days later, Sean Barrett told her that he had left her son in Drogheda and had heard gunshots and ran.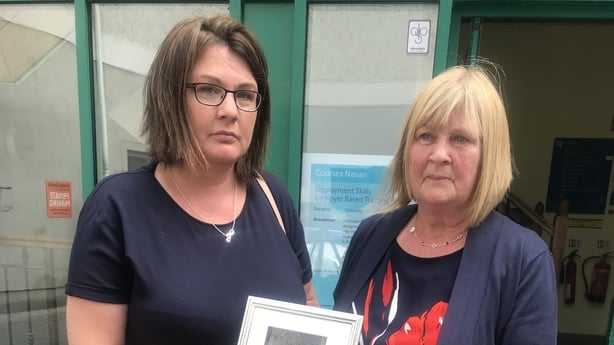 Sean Barrett was also called as a witness and he told the inquest that he recalled very little as he was traumatised and was trying to put what happened behind him.
Mr Barrett said he had known Paul Gallagher for years and was close to him. He said Mr Gallagher would often ask him for lifts.
He recalled driving Mr Gallagher to Dundalk on the day he was killed. He said Paul Gallagher had made contact and asked for a lift that afternoon.
Mr Barrett said they drove up the M1 and at one point he exited the motorway and Mr Gallagher asked him to pull up.
He was parked up on the side of the road and Mr Gallagher got out and was talking to someone. He said he later got back into the car and they returned home around 7pm.
Later that night Mr Gallagher made contact again and asked Mr Barrett to bring him back to Drogheda.
He said he collected him at this house but Paul Gallagher did not say why he was going back again.
Mr Barrett said later on the journey and close to Drogheda Paul Gallagher asked him to stop the car and "two fellas got in".
Mr Barrett recalled, in the garda statement, that one of the men had a crowbar. He told the inquest he did not know who the men were.
They drove to the lane where they had been earlier that day and Paul Gallagher and two men got out, he said.
Mr Barrett said Paul Gallagher asked him to go with him.
He said they walked up a field, over a rusty gate and towards a barnyard. He said he later heard gunshots and a scream and he started running.
Mr Barrett said he did not know what to do but he saw a house and knocked on the door and the window. A woman answered, he said, but then went back inside.
Mr Barrett returned back to his house. He said he was panicked and told his girlfriend and the following day they returned to the site.
However he said they asked a man had he noticed anything suspicious and he said he hadn't.
On 30 July, he spoke with Paul Gallagher's mother Geraldine and explained how he had heard gunshots. He brought the family to the field 60 kilometres and the discovery of a body was made.
Under cross-examination today, Mr Barrett said a lot of time had passed and he could not remember what happened.
The 33-year-old from Donaghmade in Dublin was convicted earlier this year of withholding information in relation to the case.
Detective Sergeant Raymond Smith told the inquest that 198 statements had been taken and 150 lines of inquiry had been followed.
He said nine people had been arrested in relation to the case but no one has ever been charged with the murder.
Detective Sergeant Smith said no evidence had been recovered from the scene.
Meath County Cornoner Nathaniel Lacey expressed his sympathy to the Gallagher family. He said they still had unanswered questions but they are not for his inquiry.
He recommended the jury return a verdict of unlawful killing, to which the jury agreed.
Afterwards Geraldine Gallagher appealed for information on her son's killing.
"This hasn't brought closure. It's another step in the process and hopefully now another review of the case will take place," she said.
"Paul was brutally murdered. We're left with so many unanswered questions. No one has been charged with Paul's murder and there's lot of people out there with more information," she added.
Ms Gallagher made a direct appeal to anyone out there who has information:
"Come forward. If anyone has any bit of information, please come forward, even confidentially, with whatever information they have to assist the gardaí," she said.