Former England footballer Ian Wright has said he is "disappointed" and "tired" after an 18-year-old Kerry student was spared a criminal conviction for sending racist messages to him last year.
Judge David Waters this afternoon decided to apply the provisions of the Probation Act in the case against Patrick O'Brien, of Sycamore Court, Ashleigh Downs, in Tralee.
It means the case against Mr O'Brien has been proven, but no conviction will be recorded against him.
Mr O'Brien had pleaded guilty to harassing Mr Wright and to sending him messages by phone that were obscene and menacing. The case was before the court today for finalisation.
In response to the sentencing, Mr Wright, who had forgiven O'Brien, said the case was not about revenge but about "consequences for acts of racism".
He tweeted: "My forgiveness of this young man was for my own deeply personal need and desire to move forward without further anguish.
"I'm a 57-year-old man that has experienced racism throughout my life. I wasn't expecting my forgiveness to be an invitation to lighten a sentence.
"Seeing this judgment, I can only wonder what deterrent there is for anyone else who spouts this kind of vile racist abuse.
"An individual wished death upon me because of my skin colour. No judge's claims of "naivety" or "immaturity" will ever be acceptable to us.
"The supposed immaturity and naivety of our attackers is never any comfort. So yeah I am disappointed. I'm tired. We are all tired."
We need your consent to load this rte-player contentWe use rte-player to manage extra content that can set cookies on your device and collect data about your activity. Please review their details and accept them to load the content.Manage Preferences
Earlier, Judge Waters said many of the questions he had about O'Brien's behaviour in sending the messages were answered in a five-page report from the Probation Service that was compiled for the court.
He said he wanted to know if O'Brien had sent the messages arising out of under-lying beliefs, or if the messages were "mindless comments", which had been uttered by a naive, young man.
"I believe this was the unthinking behaviour of a young, naive man who put things on social media which were absolutely reprehensible," Judge Waters said.
O'Brien sent a string of 20 private messages to Mr Wright on the Instagram social media platform after he lost a FIFA tournament on Playstation, in which he was playing against a friend.
Sergeant Eoin Donovan, who investigated the case, previously told the court that O'Brien had selected Mr Wright as one of his players on the virtual FIFA game, and he was angry after Mr Wright's FIFA representation in the game had not performed as well as he had hoped.
He said the messages on Instagram were the equivalent of sending Mr Wright text messages, and described them as crass, racist and threatening.
The messages included racist names and terms of abuse.
Mr Wright published the comments on social media when he became aware of them the following day.
Judge Waters said the comments "took on a life of their own" and had rebounded on O'Brien and on his family.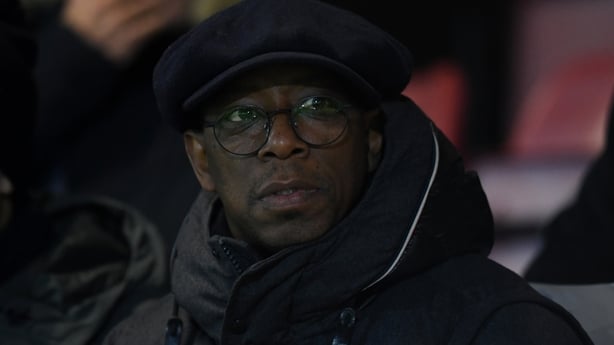 He said Mr Wright had rightly pointed out the seriousness of the remarks, but had forgiven O'Brien. Judge Waters said O'Brien had reason to be thankful to Mr Wright.
Applying the Probation Act, Judge Waters said: "I don't see anything to be gained by imposing a criminal conviction."
In his plea of mitigation earlier, O'Brien's solicitor Patrick Mann said the Probation Service report reflected the teenager's "non-stop contact" with the service. He said he was extremely co-operative.
He said O'Brien came from a decent, law-abiding family. He said that, from his own pocket money, O'Brien had made a €500 donation to the Irish Network Against Racism.
Mr Mann said O'Brien was getting on well as a student at the Munster Technological University, and had achieved great results in his last semester.
Mr Mann reminded the court that O'Brien had come to Tralee Garda Station voluntarily. He said he was horrified and now had a good insight into the effect of his actions. He said he had also written a letter of apology to Mr Wright.
Mr Mann said O'Brien's family had received a lot of negative commentary on social media, as a result of which they were serving a sentence of their own.
Pleading for Judge Waters not to record a criminal conviction, Mr Mann said: "He's a very good boy; it was a once-off glitch."
A previous hearing of the case heard Mr Wright had made two victim impact statements in which he described his complete shock at the racial abuse.
O'Brien had pleaded guilty to two charges.
The court was told he pleaded guilty, at the earliest opportunity available, to a charge of harassing Mr Wright and to a second charge of sending a message by telephone which was grossly offensive, obscene and menacing.
"If I get coronavirus I will cough in your face. If I see you, I will put you on your death bed," O'Brien is said to have written in the messages on 11 May 2020.
Sergeant Donovan said Mr Wright became aware of the messages the following day and published them on his social media, while expressing his disappointment.
At the same time, O'Brien awoke that morning to find his social media accounts "inundated" with messages from Ireland and abroad, Sergeant Donovan said.
He said O'Brien's mother also received messages, and she brought him to the garda station to account for his actions.
Interpol was contacted and a statement of complaint was taken from Mr Wright.
February 3, 2021
Sergeant Donovan said O'Brien made "full and frank admissions" when he was questioned by gardaí.
In victim impact statements read to the court by Sergeant Donovan, Mr Wright said he was emotional and shook up by the intensity of the attacks
"I experienced racism years ago, but I am in complete shock to experience it now," he said.
Mr Wright was not present in court.
He also addressed O'Brien directly, saying he hoped he or those who taught him or "enabled this hate" would learn from this and change for the future.
"Patrick, I forgive you. I believe in redemption for everyone," Mr Wright had said in his statement to the court.
The court was told that O'Brien has no previous convictions.
Mr Mann said he had never been in trouble before and was unlikely to be in the future. He said O'Brien's social media pages have since been deactivated.
Speaking at a previous hearing, Judge Waters praised Mr Wright for the action he had taken. He said Mr Wright was "perfectly correct" to publish the messages that were sent to him privately, because he was calling out racist behaviour.
Judge Waters described the messages as vile and unacceptable. He said it was an aggravating factor that O'Brien had sought out and targeted Mr Wright to message him.
Judge Waters said 100% of responsibility and of the consequences rested with O'Brien.
Mr Wright, 57, was a prolific goal scorer, most notably with Arsenal, where he won the Premier League title in 1998.
He earned 33 caps for the England national team, scoring nine goals.
After his retirement from professional football, he became a popular pundit appearing on the BBC, ITV and BT Sport.
Additional reporting PA