Sentencing of a former Irish international showjumper for deception in relation to the sale of a pony has been adjourned after Sligo Circuit Court was told that he had been thrown from a horse.
Prosecuting barrister Dara Foynes SC told the court she had been informed yesterday that Michael Kearins had suffered a head injury in the incident in the US and would not be in court today because he could not fly.
She said the documentation supplied suggests he suffered a minor head injury and was treated in Palms West Hospital, Florida on 9 November and was restricted from flying for a week.
He had a flight booked for 18 November via Amsterdam and had been due to arrive in Ireland this morning, she said.
Kearins, with an address at Knockbeg, Collooney, Sligo, had pleaded not guilty to deceiving Sean Ewing in relation to the sale of a skewbald pony in 2012 but was convicted of the offence on 1 April.
Ms Foynes said the court had accommodated him to return to the US where he was making a living and he was to put a compensation package in place but regretfully, she said, there was no money in court.
In the course of the five day trial, Mr Ewing and his wife Terry said they understood they were buying a pony called Buddy from Kearins for their daughter.
But when it was delivered to Majorca, where they were living at the time, it turned out to be a different pony called Spot.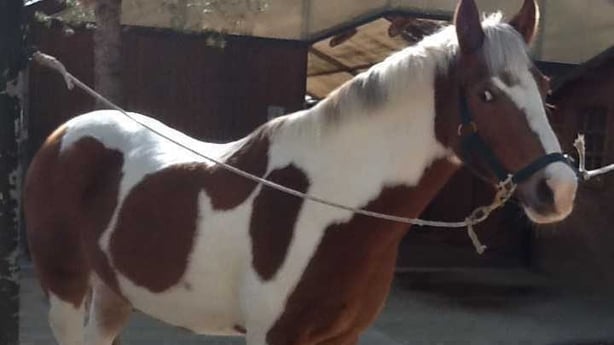 Mr Ewing said he was flabbergasted when the pony arrived and said it was sick and an inferior and smaller pony with different colouring to the one they had viewed in Sligo.
Kearins had claimed that the Ewings were aware that a different pony was being sent out to them, which was smaller and costing them €4,000 less.
Mr Ewing was in court today when Kearins was due to be sentenced.
Kearins barrister Pat O'Sullivan said the situation was regrettable but no fault of Kearins who had his ticket booked.
He said it is his understanding that a figure of €20,000 was to be in court and that Kearins was going to transfer it from a US account to his Irish account and withdraw it when he got here.
He said it was a legitimate situation and asked that sentencing be adjourned to the next court sessions.
Judge Francis Comerford said the medical report indicates Kearins suffered a minor injury and he could not see why the case could not be dealt with during these sessions.
He said Kearins would not want the court to form the view that he was being elusive.
Mr O'Sullivan said he was quite confident his client was not being elusive; he had always showed up, he said.
Judge Comerford adjourned the sentencing to Thursday 5 December. It will also be mentioned in court next Tuesday.