Two Dublin men have been jailed at the Central Criminal Court for helping a criminal gang to murder a man as part of the ongoing Hutch-Kinahan feud.
Vincent Ryan was shot dead outside his partner's home in Finglas in Dublin in 2016.
Paul O'Beirne, 36, from Colepark Drive, Ballyfermot, was sentenced to nine years in prison and Jeffrey Morrow from Burnell Court, Coolock, was jailed for 11 years.
Mr Justice Michael White said both men were very close to the callous murder and got involved with a criminal organisation that had no respect for human life.
Mr Ryan pulled up outside his partner's home in Finglas on 29 February 2016. Kelly Smyth brought their five-week-old baby daughter into the house.
However, as Mr Ryan moved to park the car, 13 shots were fired at him, which ricocheted around an area where children were coming home from school.
The 25-year-old was hit three times, once in the head.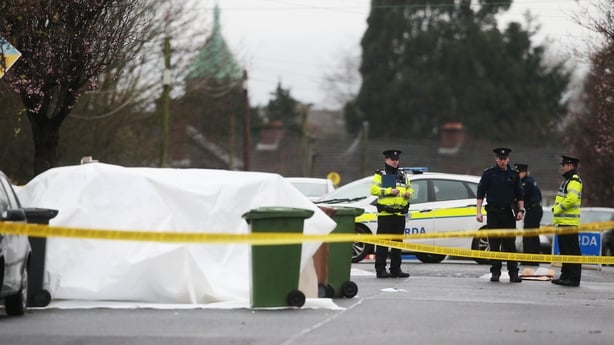 Detectives compiled vast amounts of CCTV footage and mobile phone evidence, which linked O'Beirne and Morrow to a silver Volkswagen Golf that they believe was used by the gunman in the murder.
The officer leading the investigation, Superintendent Colm Murphy, said the two men knew of the criminal gang's plan to murder Mr Ryan, they knew the car was going to be used in the murder and they provided and destroyed the car, which was vital to the plan.
Both gang facilitators are well known to gardaí.
Morrow has 120 previous convictions for drugs and firearms offences and conspiracy to rob €1m from a cash-in-transit van. O'Beirne has 26 previous convictions, including one for assault.
Mr Justice White said it was striking how two men who were committed to their children could help a gang to leave a five-week-old baby without a father for life.