A 20-year-old man who admitted helping a criminal gang to carry out one of the murders in the ongoing Hutch Kinahan feud has been sentenced to six years in prison.
Nathan Foley, from Rosary Road, Maryland in Dublin drove one of the cars used in the murder of David 'Daithi' Douglas, who was shot dead in Dublin in July 2016.
Mr Justice Tony Hunt described Foley as "a gilly" or "a runner" for the senior gang member Freddie Thompson, who is already serving life in prison for the feud murder.
Following today's sentencing, the garda leading the investigation, Chief Superintendent Paul Cleary, thanked the community for their invaluable assistance.
Chief Supt Cleary said it was still a live investigation with more people before the courts and further arrests expected.
Douglas, 55, was shot six times as he took a meal break at his partner's shop Shoestown on Bridgefoot St in Dublin on 1 July 2016 as part of the ongoing feud between the Hutch and Kinahan criminal gangs.
Thompson was the strategist and organiser for the murder.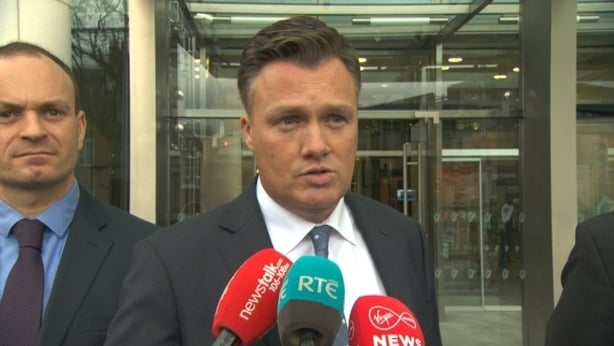 Foley, who was a friend of Thompson's son, drove one of the four cars used during the murder.
He also scouted around the area before the killing and put a petrol can into the Mercedes getaway car, which was burned out after the murder.
He also bought two phones that were later found in the car and went with the gunman and Thompson to a restaurant in Dublin city centre that night.
The court found he played a significant role in "the pre-planned execution style murder".
Mr Justice Hunt said a particularly heinous aspect of the murder was that Douglas was shot in circumstances where his young daughter would quickly find his body.
The exposure of a child to the murder of her father, he said, was a risk the criminal gang was prepared to take.
The court took into account Foley's guilty plea, his vulnerabilities and susceptibility to the malign influence of Thompson.
It sentenced him to six years in prison.
Speaking outside the Central Criminal Court in Dublin, Chief Supt Cleary said that he had spoken to the Douglas family and they were satisfied with the outcome of the case.
Foley is the second person to be jailed in connection with the murder.