Former Anglo Irish Bank chief executive David Drumm has been sentenced to six years in prison for conspiracy to defraud and false accounting.
Drumm was found guilty earlier this month of dishonestly authorising a €7.2 billion conspiracy to defraud and of false accounting.
Judge Karen O'Connor said people were entitled to trust their banks and this was grossly reprehensible behaviour.
She said Drumm was in a position of trust in the bank.
Judge O'Connor sentenced him to six years and ordered that he would get credit for the five months he had spent in a prison in the US before being extradited to Ireland in March 2016.
She said that she felt "the appropriate headline figure is eight years imprisonment in relation to both counts", but imposed a six-year sentence after considering mitigating factors.
Drumm conspired with others to make Anglo's deposits look much better than they were as the financial crisis hit in 2008.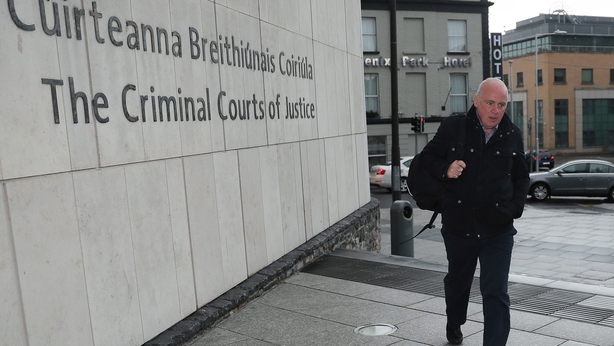 He was the man who called the shots in a series of transactions in September 2008.
Money was sent around in a circle from Anglo to Irish Life & Permanent, and back again to Anglo, via Irish Life Assurance, until a total of €7.2bn was reached. 
It was presented as a customer deposit in Anglo's preliminary end of year accounts.
---
Read More:
Gardaí want more powers to investigate white collar crime
Former Anglo Irish Bank CEO David Drumm guilty of fraud
The long road from Anglo collapse to conviction
David Drumm: The co-conspirators
David Drumm: The trial
---
The jury took just over ten-and-a-half hours, after an 87-day trial, to find Drumm did this dishonestly and deliberately.
Drumm was given bail for two weeks as his wife and children were away and to allow him to get paperwork in order.
His lawyers told the court he accepted he authorised the transactions.
Defence Counsel Brendan Grehan told the court that with the benefit of hindsight, Drumm acknowledged he had made a huge error of judgement. 
He believed the transactions were legitimate balance sheet management, carried out with the tacit if not the actual approval of the regulatory authorities. He could not admit to having a dishonest intention he never had.
Mr Grehan said the motivation for the offences was assuredly to save the bank during the worst financial crisis in living memory. 
He said Drumm's sentence would reverberate not just in Ireland but further afield. His future options were restricted and he would carry this notoriety with him for the rest of his days.
Mr Grehan said this would have an impact not just on him but on his family. He asked the court to be as lenient as it could.
The court heard Drumm was married with two children and had worked his way up from humble beginnings to the dizzying heights of CEO of what was described as one of the world's best banks.
Detective Sergeant Michael McKenna of the Garda National Economic Crime Bureau confirmed he had no previous convictions.
His co-conspirators, John Bowe of Anglo's treasury department, Denis Casey, former group chief executive of Irish Life & Permanent and Willie McAteer, Anglo's former finance director, received sentences of between two years and three-and-a-half years in 2016.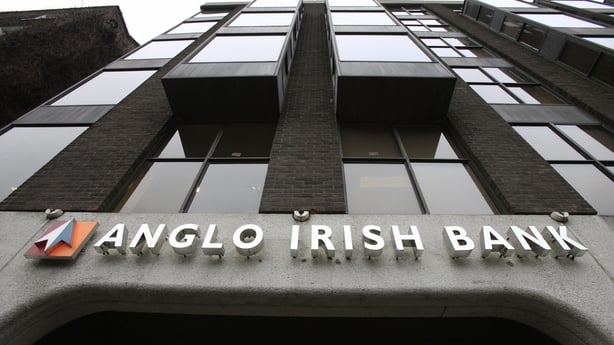 Judge O'Connor said the offences took place in challenging and difficult times.
However she said the court was not sentencing Drumm for causing the financial crisis, nor was she sentencing him for the recession which occurred. She said this offending did not cause the bank to collapse.
She said Drumm was in a position of trust in relation to the bank, its depositors, lenders and investors.
In this case two blue-chip, publicly-quoted companies conspired to manipulate the public accounts of Anglo Irish Bank.
Drumm, along with others, put together a dishonest scheme she said to inflate Anglo's customer deposits.
She said he authorised, directed and was actively involved in it. The fact that the scheme did not ultimately succeed was irrelevant, she said.
The judge said the offending was premeditated and significant planning went into it.
In mitigation she said Drumm was a person of previous good character with no previous convictions, who had a supportive family. She said he had lost his reputation and this would encroach on any future employment opportunity.
This was difficult for him on a personal level, she said, as he had been respected in the banking industry.
She also said he had been the subject of much opprobrium which had no doubt been difficult for Drumm and his family.
However, the judge said the most significant form of mitigation in a case like this would have been a guilty plea. 
She said fraud cases by their nature demanded considerable State resources, time consuming investigative work and court resources. She said Drumm was perfectly entitled to fight his case, but could not avail of that mitigation.
She said the financial crisis did not provide any excuse for fraud and dishonesty. Judge O'Connor added that inaction, weakness, ineptitude on the part of the financial regulatory authorities provided no excuse.
She said there was no evidence that the Financial Regulator or Central Bank directed criminality. The public had to be able to trust its banks, citizens place their trust in a bank and need to be able to believe and make decisions on foot of the information published by their banks.
The judge said she considered the appropriate headline figure for the sentence to be eight years, but reduced it to six years, taking into account the mitigating factors.