Minister for Health Stephen Donnelly has said the advice he has received is not to consider bringing in any new public health measures, even though the number of coronavirus infections in Ireland is likely running into hundreds of thousands a week.
His comments come as the Department of Health announced a further 5,962 PCR-confirmed cases of Covid-19 today.
As of 8am, 1,605 Covid-19 patients are in hospital, of whom 50 are in intensive care.
Yesterday, 8,587 people registered a positive antigen test through the HSE portal.
Mr Donnelly said the health advice is to re-emphasise to people to use face masks at the "appropriate times", and to stay at home if they are symptomatic until 48 hours after symptoms have passed.
"There still is an important role for masks even though the legal requirements have been taken away," he said.
He added that it was critical for the approximately 700,000 people who have had two vaccine doses to get their third booster jab as quickly as possible.
The minister said nearly 60% of Covid patients in hospital have not yet been boosted.
He said that the hospital system is under severe pressure with an increasing number of patients with the virus.
Around half of patients in critical care are there because of Covid, and about half of those patients have received three vaccine doses, Mr Donnelly said.
"When you look at the numbers who are in critical care because of Covid and who have had their booster vaccine, it's likely in the late teens," he said, adding that this was a "very serious situation for them and our thoughts are with them and their families".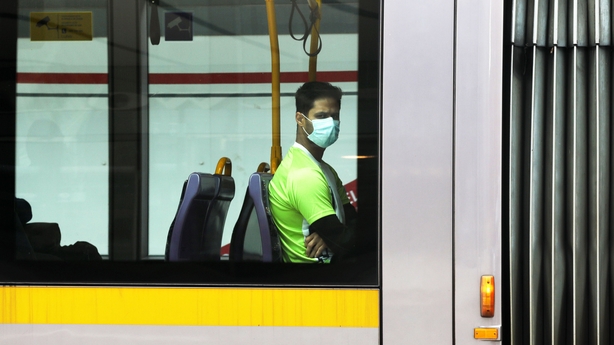 Following a meeting of the HSE's Emergency Department Taskforce yesterday afternoon, it decided to send letters to Mr Donnelly and the Chief Medical Officer requesting the reintroduction of public health measures.
Mr Donnelly addressed a meeting of Fianna Fáil party members online last night, when he said that the number of positive cases of Covid-19 is likely to be hundreds of thousands a week.
Mr Donnelly said that while the daily number of PCR and antigen tests can reach 15,000 a day - the true figure is likely to be two or three times that.
Despite the rise in the number of cases, he said that the "very firm advice" remained that no restrictions need to be introduced.
Minister Donnelly said that the BA.2 variant of Covid-19 now accounted for about 95% of cases in Ireland, and was far more transmissible.
However, only half the people requiring critical care in hospitals is as a result of Covid-19, he added.
We need your consent to load this rte-player contentWe use rte-player to manage extra content that can set cookies on your device and collect data about your activity. Please review their details and accept them to load the content.Manage Preferences
---
---
Sinn Féin health spokesperson David Cullinane said he is worried about the pressure Covid cases are placing on hospitals but public health advice has to be trusted.
He spoke to Mr Donnelly last night who told him that a full lockdown would be the only effective way to deal with the latest Covid surge and this would not be justified.
'Very contagious' variant disruptive to healthcare - Henry
The HSE's Chief Clinical Officer Dr Colm Henry said there are new cases of people who have not been infected with Covid-19 before, as well as people who already had the coronavirus being reinfected.
Speaking on RTÉ's Morning Ireland, he said that both situations are equally disruptive to healthcare because of the need to implement infection prevention control measures to stop ongoing transmission of the virus "towards somebody who may be vulnerable, who is a high risk".
The BA.2 variant is "a very contagious" variant but "due to the vaccination programme and the booster programme, to some extent we see less severe illness associated with this," he added.
"If we'd seen these numbers back in January '21 before the vaccine programme, we would have seen our hospital and wider healthcare services completely keel over.
"As it is, they're under huge pressure. That's absolutely the case. We see disruptions of services. We see a widespread absenteeism. We see slow flow of patients through the hospital settings and out into residential care settings because of the impact of outbreaks, and we see perhaps over 6,000 staff now absent on Covid-related leave."
Dr Henry said there are two healthcare stories to the current Covid surge - one of reduced harm among those who are vaccinated and boosted, but also one of considerable disruption across the whole span of healthcare because of the impact of staff absenteeism and the need for healthcare staff to adhere to infection control measures - even with those patients who are not sick with Covid.
He added that a further rise in cases is expected over the coming weeks with a plateau and slow decline to follow, as has been the case previously.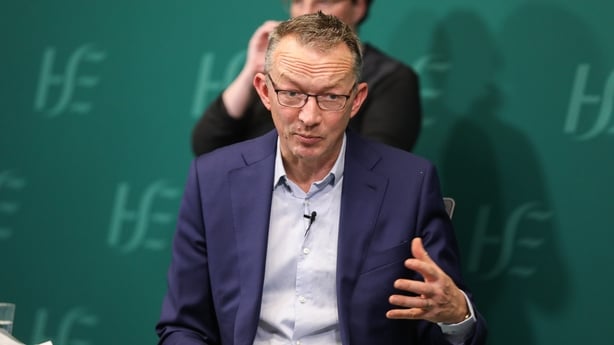 Dr Henry urged people to carry a mask and wear it on public transport and in indoor settings.
"You never know who beside you may be vulnerable to the virus or who's not been vaccinated. And you're not just protecting yourself, you're protecting other people so that advice remains very strong," he said.
"In the month of January 2021, we had nearly 1,500 deaths from Covid and last month in February, we had about 170 Covid-related deaths..... I would ask anybody who hasn't been vaccinated - it's not too late. Anybody who has been boosted, please get the booster it will give you protection against severe disease."
The unvaccinated are still disproportionately represented in ICUs, he said.
Restrictions may not be enough to stop spread - McConkey
Infectious Disease Specialist at RCSI University of Medicine and Health Sciences Professor Sam McConkey said he does not know if tough restrictions, including imposing a 2km travel zone, may be enough to combat the spread of the new Covid-19 variant.
He told RTÉ's Today with Claire Byrne that we should all still be wearing masks in indoor areas and even in crowded places outdoors.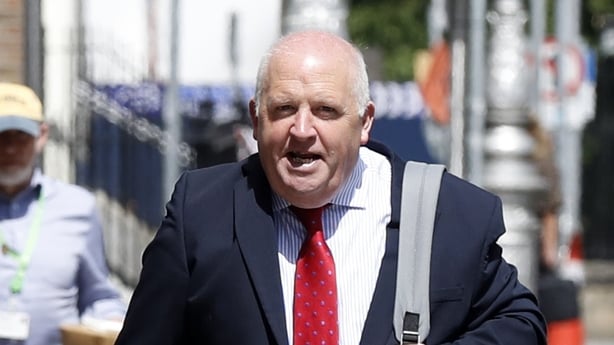 Separately, the CEO of Nursing Homes Ireland said that up to 65% of nursing homes are experiencing outbreaks of Covid-19 but the majority of residents are not very ill and the profile of illness is much, much lower.
"At this point in time, we understand there's in excess of 320 to 330 open outbreaks across all nursing homes - public, private and voluntary."
Tadhg Daly said that the number of infections in each home is generally low, but that staffing is challenging as large numbers of staff are contracting the virus.
He said he did not know if a fourth vaccine would be made available but urged the National Immunisation Advisory Committee (NIAC) to make a decision as soon as possible, pointing out that it has been introduced recently in the UK.
Mr Daly said a recent report by HIQA found a quarter of nursing homes inspected were in breach of three or more healthcare regulations, including in some cases infection control, should be put in context.
He said that there are 600 nursing homes across the country and homes are not hospitals but social care settings.
HSE issues delay warning over high demand for ambulances
The HSE has said there is a high demand for ambulances in the Dublin region and that non-urgent or non-life threatening cases may experience delays in getting an ambulance.
It said that the emergency ambulance services of the Dublin Fire Brigade and the National Ambulance Service operate a priority dispatch system to ensure that paramedics and ambulances are dispatched to the most seriously ill and injured patients first in order of their priority.
The HSE said that patients who no longer require an ambulance should contact the service to let them know, so that it can ensure the limited resources can be diverted to other life-threatening calls.
Additional reporting: Paul Cunningham, Micheál Lehane, Fergal Bowers