The National Public Health Emergency Team has agreed that the requirement to wear masks in most areas, where currently regulated, should end.
If accepted by Government, it would mean mandated mask wearing will no longer apply in schools, on public transport, taxis, in retail premises and in public offices.
It would also no longer apply to staff in customer facing roles, such as restaurants and pubs.
However, mask wearing will still be required in healthcare settings, such as hospitals and nursing homes, given the nature of these settings and that some are still experiencing Covid-19 outbreaks.
The NPHET recommendations were given to Government in a letter from Chief Medical Officer Dr Tony Holohan.
It follows a meeting of NPHET earlier today, which reviewed the overall Covid-19 situation, vaccination uptake levels and the existing mask wearing rules.
Dr Holohan has also recommended to the Minister for Health that NPHET be stood down and replaced with a smaller monitoring group.
The Cabinet is likely to consider the recommendations of NPHET when it holds its weekly meeting next Tuesday, a Government spokesperson has indicated this evening.
Minister for Health Stephen Donnelly would then sign the necessary regulations to give effect to the changes after the Cabinet meeting.
The recommendations would be first discussed by the Government party leaders and Minister Donnelly before a memo goes to Cabinet.
The widely accepted view within the Coalition is that the changes advised by NPHET will be both accepted and welcomed.
The fact that it is advocating a widespread lifting of almost all the remaining restrictions suggests the recommendation will be accepted quickly and without the need for extensive debate, according to senior Government figures.
Looks like Cabinet will make a decision on NPHET recommendations about masks and testing next Tuesday. Widespread view in Government already that the changes will be swiftly agreed next week without the need for extensive debate.

— Mícheál Lehane (@MichealLehane) February 17, 2022
NPHET has also recommended changes to the HSE Covid-19 testing system.
It will concentrate more on people in their early 50s and older, as well as those who are vulnerable.
People who are vaccinated and deemed close contacts will no longer need to get a PCR test. This will reduce the demand on the system.
The general advice will be for people with symptoms of Covid-19 to self isolate until they are better.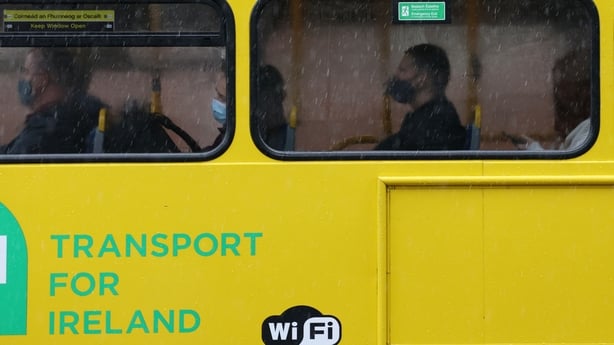 Today, the Department of Health was notified of a further 5,035 PCR-confirmed cases of Covid-19.
There have also been a further 4,406 positive antigen tests logged through the HSE portal.
There are 639 people in hospital with the virus, up eight from yesterday.
The number of people receiving treatment in ICU is now 58, a decrease of four from Wednesday.
In Northern Ireland, one more person who had previously tested positive for Covid-19 has died, the Department of Health said.
Another 3,027 confirmed cases of the virus have also been notified in the last 24-hour reporting period.
This morning there were 443 Covid-19 patients in hospital, 11 of whom were in intensive care.
Earlier, Minister for Transport Minister Eamon Ryan said he hoped the ending of mandatory mask wearing in schools, retail and public transport can be done "straight away".
The Green Party leader told the Dáil this was his personal view and that he was awaiting to hear what advice NPHET would provide.
Asked about NPHET's meeting by Labour Party leader Alan Kelly, the Green Party leader Eamon Ryan said he hopes the mandatory wearing of masks in schools, retail and public transport can be done away with 'straight away' | Read more: https://t.co/u2oDjM3RAd pic.twitter.com/RUnlkgDSBJ

— RTÉ News (@rtenews) February 17, 2022
A consultant in infectious diseases has said she would "suggest very strongly" that people continue to wear masks.
Speaking on RTÉ's Morning Ireland, Dr Cliona Ní Cheallaigh said the Government is discussing mandates, which is different to wearing a mask by choice, which she said she would encourage people to do if they want to avoid getting Covid-19.
"There's still an awful lot of Covid circulating around, so I think if you don't want to get Covid I would suggest very strongly that you continue to wear your masks," she said.
She said unfortunately the vaccine "is not 100% by any means".
Dr Ní Cheallaigh said recent high case numbers are likely due to people with compromised immune systems being infected with Covid-19.
"People whose immune systems don't work at all. They're still getting really, really sick and dying from Covid unfortunately and because there's so much of it circulating, they're being exposed," she said.
Dr Ní Cheallaigh said that pregnant women are particularly vulnerable to infection.
"If there's one group I really implore to get vaccinated, it's pregnant women. Pregnant women do not do well with Covid, so they're still ending up in intensive care and sometimes their babies … are dying, that their pregnancies you know don't go to term, which is very, very difficult," she said.
General Secretary of the National Bus and Rail Union Dermot O'Leary said members have already expressed a number of concerns about possible changes to the mask wearing mandate on public transport.
Mr O'Leary said it would be better if the move could be pushed out until the end of March when there are fewer coughs and colds.
Additional reporting Paul Cunningham and Micheál Lehane