One week on from the lifting of restrictions on indoor gatherings, over 100 old friends were reunited today at a Dublin hotel.
They were attending a postponed Christmas party organised by Friends of the Elderly.
For many it was their first big social gathering since before the pandemic began two years ago.
There was a festive atmosphere at the event at the Bonnington Hotel in Whitehall, north Dublin as group members dusted off their dancing shoes.
Among the party-goers was Tony Dunne, who said socialising with friends again was like getting out of prison.
"It is absolutely fantastic, it's like being born again after all the time I've missed ... two years, it's like meeting your family all over again."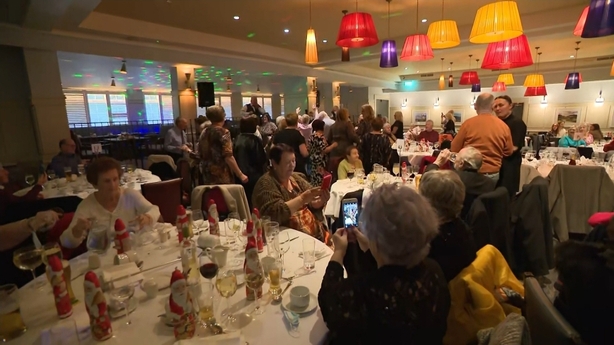 Georgina Clarke said she was delighted to be in the company of her friends again after a long two years.
"At home you feel like you're in jail. I have knitted more baby cardigans and hats for the Rotunda Hospital than they will ever be able to use since this came on."
Many of those attending spoke of the loneliness and isolation experienced during the Covid-19 lockdowns.
Over 100 friends and guests meeting and dancing today for a dinner hosted by @FriendofElderly after two years of missing out on so many occasions such as Christmas parties, for more @KennyAKE @rtenews pic.twitter.com/kARJOykVAD

— Paul Deighan (@PaulDeighano) January 28, 2022
Ellen Byas said the past two years had been very difficult and she was looking forward to brighter days ahead.
"Life was really bad you know. I don't normally suffer with depression but it was getting to me over the latter few months but thank God we're out of it all now. Happy days are here again."
Teresa Gallagher also spoke of the loneliness she felt as the pandemic put a stop to the world as we know it.
"I was feeling very isolated and kind of like I was out on a island on my own," she said.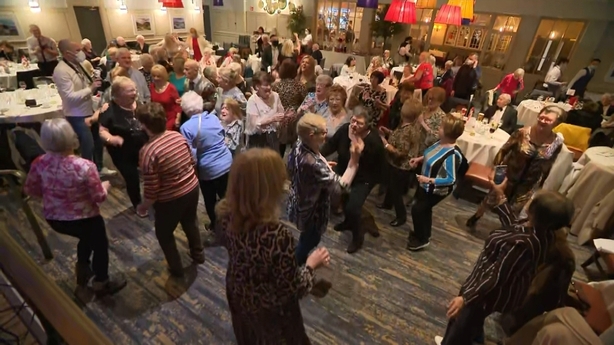 Deborah Costello, Fundraising and Communications Manager with Friends of the Elderly, encouraged older people to venture out and begin to meet their friends again.
"Today is about older people coming out of their homes and not feeling as afraid as they have done through Covid and it's time to live your lives again."
After two years full of uncertainty and isolation, the group is hoping this is the first of many parties ahead during 2022 and beyond.