The Department of Health has been notified of 23,817 additional cases of Covid-19.
It is the highest daily figure to date, following 23,281 cases on Sunday 2 January.
There are now 941 people in hospital with the virus, up 13 on yesterday's figures.
The number of patients in ICU is down four to 90.
Earlier today the Chief Executive of the Health Service Executive Paul Reid said that "there's no doubt that we're still in a very uncertain period of time in terms of the impact of Omicron from a HSE perspective".
Mr Reid said that the HSE remains on high alert and "we are seeing literally persistent stress across the system overall".
He said that there is "absolutely no doubt" that there are "much more" cases than the published daily figures.
The HSE's Dr Colm Henry said that with a positivity rate of 60% with community referral, it "may well be that for every case that we're picking up there could be one or possibly two more cases" that are not picked up.
But Mr Reid said that he wanted to give "some level of optimism across a range of areas".
He said that the Government actions in terms of restrictions have "certainly helped the health service".
Public health actions particularly through Christmas and the New Year have been insightful, he said, adding that there are "early strong indications" that the level of illness with the Omicron variant may not be as severe as the Delta variant.
He said that in terms of the impact that the Omicron variant is having on admissions to ICUs, "we haven't seen the severe impacts certainly to date" as seen in an equivalent period last year with the Delta variant.
But he added: "I qualify all of that level of optimism that we have to balance that in the level of reality that we still have and do have a system under extreme pressure."
Mr Reid said that there are comparisons to be made between this January and January 2021.
He said that in January 2021 there were about 2,020 people in hospital with Covid-19 and 220 in ICU with the virus, but all other health services were suspended. We were in a "complete lockdown", he added.
Mr Reid said that we are in "a very different perspective now with the economy primarily fully open" and society open.
He said that the "draw on our health system overall, is very significant compared to what it was this time last year", adding that this has had a very hard impact on staff.
Mr Reid said there are now at least 8,500 staff out of work due to Covid.
HSE CEO @paulreiddublin says the manual counted number of staff out with Covid-19 is 8,500. But adds, that number could be even double. | More: https://t.co/kLrhY9reqK pic.twitter.com/Zz5GL9kAqN

— RTÉ News (@rtenews) January 6, 2022
Some healthcare settings have gone from 60 people out to over 300 people out over the course of this week. He said that there could be at least a 12.5% impact on staffing levels.
He said that this figure includes over 3,000 nurses and midwives, over 1,500 staff involved in patient and client care and almost 1,500 health and social care professionals.
"This is a real frontline impact on us overall," he added. "We still haven't seen the tap turned off in terms of staff being impacted."
Chief Operations Officer Anne O'Connor said that today 260 people are unavailable for work in the National Ambulance Service.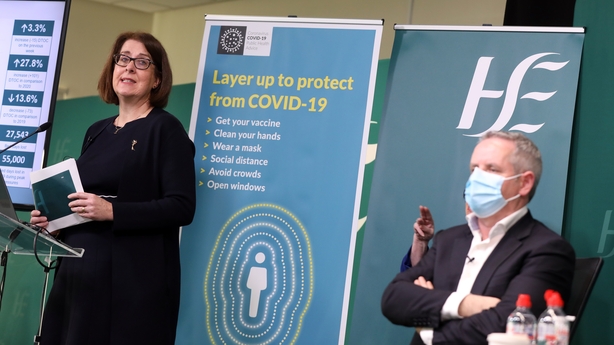 "That's a very significant number at a very busy time of year," she said.
Almost 9.8 million vaccines administered, says Reid
Mr Reid said that almost 9.8 million vaccines have now been administered. In a four-day period prior to Christmas, almost 420,000 vaccines were administered.
HSE's Chief Clinical Officer Dr Colm Henry said even if the Omicron variant proves to be less virulent, the phenomenal number of cases does impact the health system.
He added that 25% of all cases in the past five months have occurred since Christmas Day.
Dr Henry said the big increases of positive cases are among younger age groups; cases in the 19-44 age group are up 200%.
He said the age profile of people in ICU has also shifted - there are more younger people and people under 50 requiring ICU.
Dr Colm Henry said there is evidence of reduced hospitalisations in South Africa, but that it is hard to know if that is due to immunity due to vaccines or the virulence of the Omicron variant.
He said there is some emerging evidence that fewer people who enter hospital need ICU, but that it is not definitive.
Dr Colm Henry says the five-day moving average is 19,259 and says the number of people in hospital is 941. | More: https://t.co/kLrhY9IPii pic.twitter.com/EgkqjBqoFN

— RTÉ News (@rtenews) January 6, 2022
Prof Ross Morgan, Consultant Respiratory Physician at Beaumont Hospital, said the signals on Omicron are somewhat better than previous variants of the virus, but "unfortunately the Covid pneumonia is the same as it looked last year".
Prof Morgan said that "for people who are unvaccinated, the condition of Covid pneumonitis, which is where they got acute lung injury from this virus, which gets down to the lower airway passages and causes a very severe respiratory failure, those patients look the same as the first patients I saw here in March and April of 2020."
He continued: "They have the same level of severity of lung injury, of oxygenation impairment and unfortunately, many of them end up on a high level of respiratory support and ultimately in the ICU."
Mr Reid said the numbers of boosters are lower than before Christmas, but a "massive factor" is the high number of positive cases.
With regard to children registering for vaccinations, almost 6,500 aged 5-11 are completed, and 800 appointments for high-risk children are being worked through today to get them booked in.
Speaking later to RTÉ's Drivetime, Minister of State for Disability Anne Rabbitte said that all high-risk children who have been registered for a vaccine have now received an appointment.
---
---
This week, up to 300,000 PCR tests were completed along with around 350,000 antigen tests being distributed.
Ms O'Connor has said that the weekly trolley count has "gone up significantly" on last week.
But she said that this was expected because coming up to Christmas there tends to be increased capacity in the system as people are discharged just before Christmas.
249 patients were on trolleys at 8am this morning. "We are under pressure in many sites," Ms O'Connor said.
150,000 recent Covid cases may not have been counted
Meanwhile, up to 150,000 cases of Covid-19 could not be counted over the past month or so, data provided to the Government has suggested.
This is due to the high level of community positivity at over 50% and the increased transmissibility of the Omicron variant.
Experts also advised that many people have been doing antigen tests instead of having PCR tests.
The PCR testing system has been under increased pressure in recent weeks, with the Government announcing last week that antigen tests should now be used for some people who are symptomatic.
Under the updated guidelines, people aged between four and 39 who develop symptoms should self-isolate immediately and take regular antigen tests.
The Government has said they should only book a PCR test if they have a positive antigen result.
These rules do not apply to healthcare workers.
The latest projections also say that a larger number of health staff are expected to be out sick due to Covid-19 in the coming days, and redeployment is being utilised and annual leave cancelled.
There were 17,656 cases of Covid-19 reported by the Department of Health yesterday.
Antigen tests should be 'affordable' - Donohoe
The Minister for Finance has said that antigen tests should be affordable for those who need them.
Speaking on RTÉ's Today with Claire Byrne programme, Paschal Donohoe said he accepted that anitgen tests are a cost for those who have to use them regularly.
The Fine Gael TD said the Government will continue to monitor the price levels.
Minister Paschal Donohoe says that Covid-19 antigen tests should be affordable for those who need them and the Government will continue to monitor the price levels | https://t.co/rxIPpzRpWW pic.twitter.com/WqKgkM9yCz

— RTÉ News (@rtenews) January 6, 2022
He added that the HSE does issue them for free where needed.
The minister also said he believes the National Public Health Emergency Team will take the impact that the close contacts rule are having on workplaces within the public and private sectors into consideration when they meet today.
However he said it is a public health decision. He added that the country is in a far stronger place this year compared to last year and this is helping the economy and society stay open.
Aldi says it does not sell Genrui antigen tests
Aldi has said that it has never stocked or sold any of the Genrui Rapid Antigen test kits for Covid-19.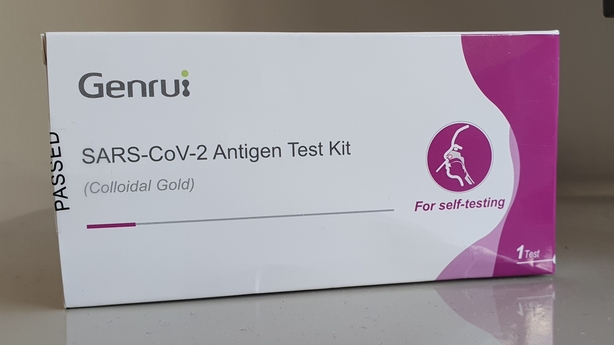 The product is the subject of a voluntary, precautionary recall by some other retailers, following advice from the Health Products Regulatory Authority.
It follows over 550 reports of false positive results with the tests reported in recent days to the HPRA.
The Secretary General of the Irish Pharmacy Union has said he hopes that the recall does not undermine trust in antigen tests.
Also speaking on Today with Claire Byrne, Darragh O'Loughlin said the 550 reports of false positives is "not a huge number" in the context of the millions of self-tests administered in recent weeks.
"The strong likelihood still is if you test positive on an antigen test you are positive and treat yourself as positive until you have had a PCR test," he said.
Additional reporting Fergal Bowers