The Taoiseach has said he does not anticipate that any major changes to the current Covid-19 restrictions will be recommended this week.
Micheál Martin was speaking after the Cabinet held its first meeting of the year today, ahead of a meeting of the National Public Health Emergency Team (NPHET) tomorrow.
"We don't anticipate any major changes to the current set of restrictions but that's a matter for NPHET," he said.
Mr Martin said the public has responded well to the current restrictions, which are set to remain in place until the end of January.
He said that "notwithstanding the exponential growth, it would be much higher if it wasn't for people adapting their behaviour", adding that this is "having an impact".
"I don't want to pre-empt what NPHET will do in terms of its decision on Thursday, but suffice to say they will take a decision," he said.
"It seems that the overall picture right now is that the current set of restrictions that had been in place are effective.
"It remains to be seen whether public health wish to advise any further in relation to that, but the indications are it'll be steady as she goes."
The Taoiseach also confirmed that the Cabinet today agreed that fully vaccinated people will no longer be required to have a negative antigen or PCR test when arriving into Ireland.
The measure had been introduced for all incoming passengers as part of efforts to prevent the importation of cases of the Omicron variant of Covid-19.
On the reopening of schools, the Taoiseach said the public health advice has been "very clear to us that they see no rationale for not opening schools", and he said Chief Medical Officer Dr Tony Holohan was very clear to him on that yesterday.
"There will be challenges, but collectively we will work our way through this."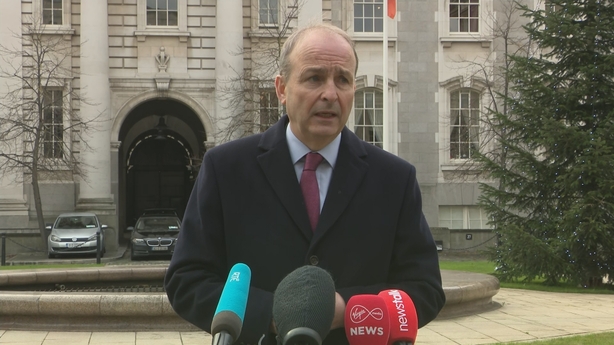 Mr Martin also said "there will be a challenging number of weeks in January".
"The next week or 10 days will give us more evidence in terms of the impact of this variant on the severity of illness," he said, adding that this will inform decisions and the public health advice given to Government "in respect of a broad range of issues, not least the issue of close contacts".
Ahead of this morning's meeting, Mr Martin had said the Government was "fully aware of the challenges" posed by the requirements for close contacts of a Covid-19 case to isolate.
The Government is to ask Chief Medical Officer Dr Tony Holohan to consider relaxing the rules around restriction of movements for fully vaccinated close contacts.
Mr Martin said he expects the number of new cases of Covid-19 to keep increasing in the days ahead, and that there are differing views at this stage on whether the current wave of infection will peak within the next week or so.
He said the peak could be within the next 10 days, but he said the projections continue to be re-modelled.
The Cabinet has agreed to purchase a supply of Covid antiviral pills, the Taoiseach has said.

Antiviral pills are used as a treatment for the disease in people who are high risk | Read more: https://t.co/QBRnAOHCph pic.twitter.com/UtkRzaLh6h

— RTÉ News (@rtenews) January 5, 2022
The Government has agreed to enter an EU joint procurement process to buy treatments for Covid-19.
Ireland is looking to purchase antivirals made by Pfizer, GlaxoSmithKline and Merck.
Ireland is already participating in a separate EU purchase scheme for monoclonal antibody treatments.
A National Therapeutics Advisory Group has been set up by the HSE to evaluate, advise and provide recommendations on the treatments for potential use here for Covid-19.
The group will deal with antivirals and monoclonal antibodies currently awaiting or having received approval from the European Medicines Agency.
A separate body, the Therapeutics Operational Group, will deal with the arrangements for providing the treatments to patients who may benefit from the new drug treatments.
---
Read more:
Covid tests for vaccinated travellers to be dropped
Thousands of teachers 'will be absent' due to Covid
Latest coronavirus stories
---
On his way into the Cabinet meeting earlier, the Minister for Transport and the Environment said he does not think additional Covid-19 restrictions will be recommended this week.
Eamon Ryan said the current virus case numbers are huge but he said "the critical numbers are the numbers in critical care and they've held relatively steady."
Mr Ryan said that while the exact medical facts about Omicron are still unknown, it "looks like it's less virulent and people not getting as sick."
He said with "the numbers being so large, there's still a lot of hospital beds being taken up, but I don't expect further restrictions this week."
Asked about the disruption caused by the current isolation requirements for close contacts, Minister Ryan said reducing the time period "makes sense."
"Part of the problem is that it is very complicated at the moment. All sorts of different rules depending on whether you're a boosted or when you were boosted and so on.
"So, I think it makes sense for us to make it clearer and simpler and I think in some of the cases, those 10 days restriction of movements could be brought down lower and that'll help people manage.
"I think that's more likely next week rather than this week. But I think that would make sense."
The Government is not expecting that further restrictions to curb the spread of Covid-19 will be recommended this week, the Minister for Public Expenditure and Reform has said.

Michael McGrath also said the peak of this wave has not been reached | More: https://t.co/ih4boceuUw pic.twitter.com/i2kvW0y8Tq

— RTÉ News (@rtenews) January 5, 2022
Earlier, the Minister for Public Expenditure and Reform also said the Government was not expecting further Covid-19 restrictions to be recommended this week.
Michael McGrath said the Omicron variant is now rampant in Ireland and the increase in the number of people with the virus in hospital is a concern.
Minister McGrath said any NPHET recommendations that come forward will be carefully considered.
However, he said: "At this point we are not expecting any recommendations involving the imposition of further restrictions."
Mr McGrath also said the peak of the current wave of Covid-19 has not yet been reached.
"We are coming close to the peak. It could be in the next week or 10 days. Nobody knows for sure."
He added: "Thankfully all the indications are that the impact on an individual level is not as severe as Delta but there is no room for complacency and we are watching and monitoring the situation in the hospitals very closely."
Additional reporting by Sandra Hurley