Teachers unions have warned that thousands of staff will be absent tomorrow as schools reopen their doors after the Christmas break.
The Irish National Teachers Organisation also warned that there will be some situations where children will have to learn remotely between now and midterm.
The Teachers Union of Ireland and the Association of Secondary Teachers in Ireland have also called for further safety measures, such as high-grade medical masks and HEPA filters, to be introduced in schools as a matter of urgency.
The Secondary School Students Union has said some students are terrified of returning to the classroom and they've called for a delayed and gradual reopening of schools.
The Minister for Education, Norma Foley, said the reopening of schools will not be without challenges, but a number of measures have been introduced to support schools.
Earlier, the General Secretary of the INTO said around 15% of members will be absent when schools reopen tomorrow.
Speaking on RTÉ's Morning Ireland, John Boyle said that the term ahead, up to mid-term, is going to be an extremely difficult one and there will be situations where children will have to have classes at home.
He added that priority will be given to those children who "don't thrive in the remote learning scenario", particularly younger children and those with additional needs.
He said he was deeply concerned about finding enough teachers to keep the system running and added "there isn't a hope" that there would be enough replacement teachers.
Despite this, he said he is a little bit more upbeat about the situation this morning and that work on the issues had been carried out over the Christmas period.
However, Mr Boyle said there is a lot more to be done and called on the Government to reintroduce contact tracing in primary schools.
"I'm still beseeching Government to have another look at the contact tracing," Mr Boyle said.
"I know they're under pressure at the moment, but at the same time it was abandonment and cannot be allowed to continue. It worked well while we had it."
---
---
One Dublin Primary school has said it will be without one third of its staff as it reopens in doors in the morning.
Caroline Quinn, Principal, Our Lady of Good Hope Killiney, said five of her 16 mainstream teachers will be absent tomorrow, and while she is able to allow all classes to return, her contingency plan is only for the next two days.
"We have two substitutes that we have secured short term. Outside of that we'll be redeploying our support team into the classroom," she said.
"So that's our contingency for the next few days. Our hope is that we don't have further phone calls in the morning because we're running very tight then to cover classes.
"It's been a huge logistical nightmare up to Christmas. We feel that the challenge will probably be greater in the next few weeks.
"We've covered the next two days. What the next week will bring, we really don't know."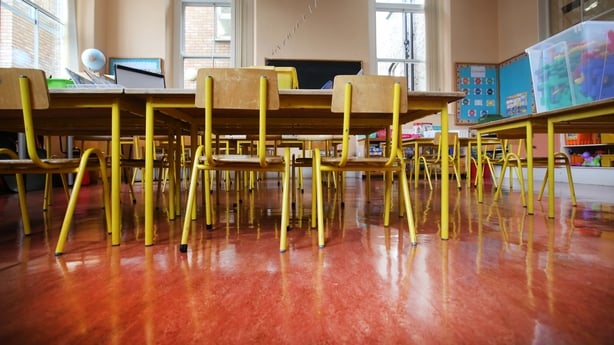 Ms Quinn said she is also concerned about the number of children who may be absent in the coming weeks and is making contingency plans if more than 50% of a given class is missing.
"If we don't have sufficient numbers of children in the classroom, we're very anxious that those children at home are receiving their education the same as everybody else," she said.
"So we're looking at sending a zoom link to the parents and allowing the children to zoom in for parts of the day that are most appropriate, or indeed zoom into their pod if there's some group work going on and that would be coupled with some blended remote learning."
The Irish Second Level Students Union says there is concern among some students about returning to the classroom, as they say no new safety measures have been put in place since December.
ISSU President, Emer Neville, said the group was calling on the delayed and phased return to the classroom.
"Students are absolutely terrified to go back to school. We have had a number of students contact us who are afraid to go back because there's so little in place to protect them," she said.
"We're calling for a phased return to school to allow students more time to recover from Covid-19 if they've already had it.
"It allows teachers more time to recover as well, but it also allows schools more time to assess what is going on at the grassroots and what's going on each individual school and it affords everyone a little bit more time to get prepared for a full return."
Minister for Education Norma Foley has told @MorningIreland she accepts that the coming days and weeks will 'not be without challenges' for the education sector | Read more: https://t.co/M3BDOWxmal pic.twitter.com/nPGS8zj6RN

— RTÉ News (@rtenews) January 5, 2022
Minister for Education Norma Foley said she accepts the coming days and weeks will "not be without challenges" for the education sector.
However, Ms Foley said she will not be seeking derogation for school staff who are close contacts and fully vaccinated.
Also speaking on Morning Ireland, she said schools will do all they can to ensure the maximum number of pupils are in the classroom, but achieving this would not be without its challenges.
A "hierarchy of priority" will be placed on students with additional needs, younger students, and exam students, she added.
The minister said there is the potential for over 2,500 student teachers to be made available to assist schools and a helpline for principals will go live this morning.
Decisions will be made to ensure the maximum number of students are in school when they reopen tomorrow, Minister for Education Norma Foley has told @MorningIreland | Read more: https://t.co/M3BDOWxmal pic.twitter.com/ukfJbqFd8X

— RTÉ News (@rtenews) January 5, 2022
"The Department of Education will work hand-in-hand with the schools on the ground. We have helplines in place, which will be operated over seven days, and our inspectorate will be there to support schools.
"So we will do all that we can collaboratively and co-operatively working together to ensure that the maximum number of our children are receiving an education."
Minister Foley said schools know their own situation best and the decisions will be made to ensure the maximum number of students are in school.
She said she was happy that infection prevention and control measures were reviewed by public health officials over Christmas and believe they are sufficient and that public health will review the issue of medical grade masks because they have been asked to do so by teachers' unions.
The INTO has since said that it was advised at the meeting with the Department of Education yesterday that medical grade masks would be provided to schools. The union has confirmed that should any staff member wish to wear medical grade mask, schools are permitted to use Covid-19 capitation funding to provide these.
In terms of contact tracing, Ms Foley said public health have given the commitment that they will engage with the schools and the school principal is being asked to contact parents through phone or text.
Minister Foley said it will be in place and they will meet any challenges regarding school transportation.
President of the Irish Primary Principals Network Brian O'Doherty said control measures are not foolproof and it is crucial that schools have access to public health advice as soon as possible.
Speaking on RTÉ's Today with Philip Boucher-Hayes, Mr O'Doherty said they know that there will not be enough substitute teachers available and special needs teachers will have to be redeployed.
On filtration in classrooms, he said a one size fits all approach will not work in all classrooms, and although the Department of Education has provided guidance on it, schools will need access to a professional to assess what kind of air quality is needed.
He said that needs to be determined by the boards of management.
Immunologist says three week break 'might be sensible'
Meanwhile, Professor of Experimental Immunology at Trinity College Kingston Mills has said he cannot see scientific evidence to suggest that a virus would not transmit in a school.
He said it would make sense if schools remained closed for a few weeks, until the worst of this Covid peak has passed.
Prof Mills said if someone is infected in a room, it is very hard to stop other people being infected too.
Speaking on Today with Philip Boucher-Hayes, he said that if schools open then significant numbers of Covid-19 cases should be expected in primary school children and teachers.
He said that even fully vaccinated children will still be capable of transmitting the disease, it is the booster that gives the most benefit, he said.
Professor Mills said it would make sense to take a few weeks break before reopening schools in order to allow the numbers naturally decline in the community.
"I know that education is so, so important, but I mean, we've had closures before in much less severe circumstances than we have now. And I think that a three week break might be sensible at this stage to allow the worst of this peak to pass."