The Department of Health has been notified of 21,302 additional cases of Covid-19.
As of 8am, there were 884 people in hospital with the virus, up 80 on yesterday's figures.
The number of patients in ICU has decreased by three to 90 since yesterday.
Chief Medical Officer Dr Tony Holohan said: "For the second January in a row, a significant surge in infection from Covid-19 is having a major impact on essential services across all sectors, including the health service.
"As one of our key essential services - the education sector prepares to restart in-person education this week, it is important that we continue to minimise, as much as we can, discretionary mixing indoors with people from other households.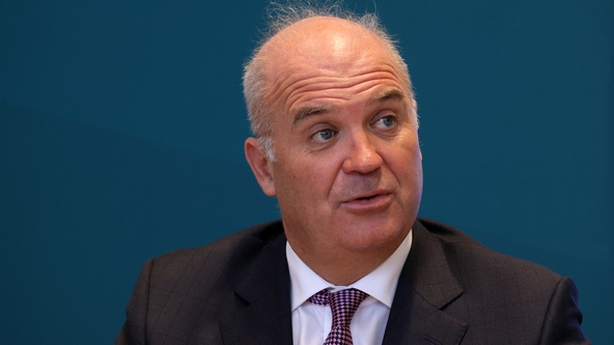 "We saw a significant reduction in incidence of Covid-19 in primary school-going children through December.
"However, given the very high and rising incidence of Covid-19 across all age groups in the community, it is inevitable that children will pick up this infection from household contacts in the days and weeks ahead.
"We also know, as a result, that there will be cases and outbreaks in schools and childcare settings.
"The Irish and international experience of the pandemic continues to give us reason to believe that schools are a lower risk environment for the transmission of Covid-19 and that the majority of children who are infected experience a mild form of this disease," added Dr Holohan.
Earlier today, Health Service Executive CEO Paul Reid warned that there is no indication that Ireland is at the peak of the current wave of Covid-19 cases.
Speaking on RTÉ's News at One, he said: "We have no indications that we are at the peak of this just yet ...that's not what we're all experiencing, what we're seeing in the community. It's not what we're seeing in the daily case numbers.
"We do know, we've put extra capacity in our PCR testing overall and antigen testing, and we do know the significant draw on that. There's no indication that we are at a peak just yet," he added.
The HSE has confirmed that so far, around 50,300 children aged 5-11 years are now registered for Covid-19 vaccination.
Just over 4,000 doses have been administered to date, amongst those children identified as a priority by the National Immunisation Advisory Committee.
The HSE said that vaccination of these children continues, with a number of clinics being held today and tomorrow, with more later in the week.
It expects to begin the vaccination of those outside of this priority group later this week.
---
---
In a letter today to health service senior managers, Mr Reid said that where there are staff shortages in the services to be prioritised, staff must be redeployed to these areas to the maximum extent to support services.
Sharp escalation has placed healthcare systems under great pressure
Managers have also been told to maximise the use of derogations for staff who are vaccinated and have no symptoms but who are restricting their movements, to enable them to attend work.
Mr Reid said that the sharp escalation in Covid-19 cases has placed healthcare systems under great pressure, both from the impact of cases being hospitalised and from staff shortages related to Covid-19 infection or contact.
For this reason hospitals and community care settings have been told to prioritise unplanned Covid-19 care and urgent care for the next 14 days.
"As of now, we can not say how much higher cases will escalate and at what time we will reach the peak," Mr Reid said in his letter.
He said that trends from other healthcare systems in Europe demonstrate case numbers greatly in excess of those experienced in January 2021, as well as rising hospitalisations and staff shortages.
Damien McCallion, Health Service Executive Vaccination Lead, said the HSE is still running capacity of over 300,000 PCR tests a week, but expects challenges to remain.
Speaking on RTÉ's Morning Ireland, he said: "We are still prioritising our clinical referrals and close contacts and we're trying to improve the access as best we can.
"But no testing system is finite and we're seeing this globally at the moment with all testing systems under strain, given the high transmissibility of this particular variant."
Access to PCR testing "remains a challenge", the HSE's head of testing and tracing has told @morningireland.

Damien McCallion said there is huge demand both from clinical settings and from self-referrals | Read more Covid-19 coverage: https://t.co/Jn8JMrG9GD pic.twitter.com/cUQlYm9CGi

— RTÉ News (@rtenews) January 4, 2022
Mr McCallion said some areas are under more pressure than others around the country, but it is hoped that the change regarding antigen tests for four to 39-year-olds will release more PCR capacity.
People in that age cohort with Covid-19 symptoms are being asked to book an antigen test with the HSE rather than a PCR test.
Mr McCallion said he expects that the system will remain under pressure in the coming weeks, adding that there are "definitely higher numbers" of the virus out there than the daily case figure shows.
He said there is a sufficient supply of antigen tests at the moment, but it will require monitoring.
He also said there were 30,000 registrations on the first day that the vaccine portal opened to all children aged five to 11.
He said going by the uptake among the 12-17 age group, the overall uptake for children is slower, adding, "so we would be happy with where that is as a starting point, it reflects where we were with 12-17s."
There were 30,000 registrations on the first day that the Covid-19 vaccine portal opened for all children aged 5-11, according to Damien McCallion. The HSE's vaccination lead said they are 'very happy' with this figure | Read more Covid-19 coverage: https://t.co/Jn8JMrG9GD pic.twitter.com/lmiDs6Bcgb

— RTÉ News (@rtenews) January 4, 2022
The Covid adviser to the Irish College of General Practitioners said she hopes the strain on PCR test service will ease as the peak of the Omicron variant comes in the next week or two.
Dr Mary Favier said that while there are "huge numbers" of Omicron cases, not as many people are getting sick.
She said although less people are being referred to hospital due to Covid-19, "unfortunately nationally the hospital numbers are rising, entirely expected from the Christmas surge".
The Health Service Executive has warned that it expects more hospitals will have to curtail non-essential work in the coming days, because of the high number of staff absences due to Covid-19.
Issues around false positives being investigated
Meanwhile, the Health Products Regulatory Authority (HPRA) has said it has received a number of reports from individuals who have reported false positive results when using the Genrui Covid-19 Rapid Antigen Test.
The test is available in a number of supermarkets and other outlets.
The HPRA said that it is following up with the manufacturer of the test, to investigate the matter further and will also liaise with other European competent authorities on the issue.
The authority said that it does not approve or certify rapid antigen tests for sale in Ireland.
Tests placed on the Irish or European market must conform to the requirements of the relevant European legislation and tests that are appropriately CE marked can be placed freely on the European market.
The HPRA said it would encourage people who experienced a false positive, or negative result, to report the occurrence to it at devicesafety@HPRA.ie.
Additional reporting Fergal Bowers, Vincent Kearney