The Minister for Education, Norma Foley, has acknowledged that the reopening of schools later this week will be "challenging".
The Department of Education earlier confirmed that, following public health advice, schools will resume as planned this Thursday.
Ms Foley told RTÉ News she was "very conscious" that the return of schools will "not be without challenges".
But she said there was "enormous goodwill from school communities on the ground and every support will be offered by the Department".
The minister said the inspectorate will be available to support schools and discuss what measures should be put in place in individual places.
"This will be challenging, difficult and demanding," she predicted. Schools having issues with staffing will be asked to liaise with the Department.
"Where there are specific case by case issues within a school we are asking schools to make direct contact with the Department [which] will support schools in making the best decisions possible and maximising capacity for students attending school."
She said children and young people "are best served by in-person teaching and learning, and this remains a priority".
Ms Foley earlier met public health representatives, the HSE and education stakeholders.
In a statement, the Department of Education said that public health officials advised that there is "no public health rationale to delay the reopening of schools later this week".
The Government's Special Rapporteur on Child Protection, Conor O'Mahony, said today's announcement on schools was welcome but "lacking in detail" on mitigation measures.
"No stone must be left unturned in making schools as safe as possible," he urged.
The Association of Secondary Teachers Ireland (ASTI) expressed its "dismay at the lack of progress on school safety in the context of rising cases of the Omicron variant".
The union said key concerns remain, including schools reopening without provision of medical grade masks and many classrooms are in need of HEPA filtration units.
In a statement, the Teachers Union of Ireland (TUI) said it has insisted on a further meeting as today's meeting "did not engage on the operational details that may need to be applied from Thursday".
The union said that the next meeting will take place tomorrow.
The TUI said at today's meeting that the operation of schools must be kept under constant review, due to concerns around the Omicron variant.
Meanwhile, the Irish National Teachers' Organisation has said it was told at today's meeting that more student teachers will be made available to the primary sector, which the INTO said is "in the midst of a staffing crisis".
Earlier, the three Coalition leaders agreed that schools will return as planned on Thursday.
At the meeting, the party leaders were told that public health advice remains that schools are safe.
The Department of Education said a range of measures recommended by public health are in place in schools to mitigate against Covid-19.
Sinn Féin spokesperson on education, Donnchadh Ó Laoghaire, said the Government must act now to ensure that schools can remain open by introducing key mitigations.
"It should be throwing the kitchen sink at this and doing everything possible to ensure schools do not only reopen this week but remain open.
"That means HEPA air filtration systems in all classrooms, with adequate guidance for principals. That means the HSE being responsible for contact tracing, not principals.
"That means adequate investment in schools to ensure they have enough budget for heating and other vital resources."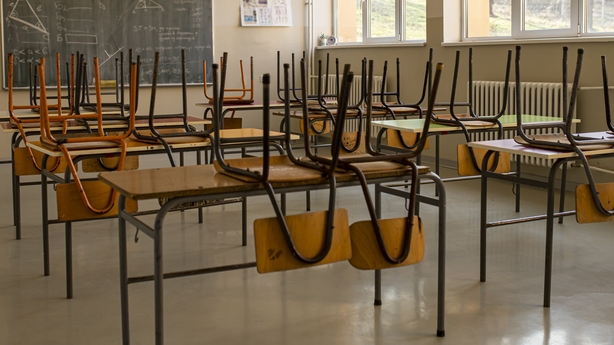 Also at the Coalition leaders' meeting today, no changes were made to the current Government policy on social visits in people's homes with up to four households allowed to gather in one house.
A review of the close contact rules will be undertaken and Covid will be discussed again at a Cabinet meeting tomorrow.
The Chief Medical Officer has advised people to minimise indoor mixing with people from other households.
Dr Tony Holohan said: "We saw a significant reduction in incidence of Covid-19 in primary school-going children through December.
"However, given the very high and rising incidence of Covid-19 across all age groups in the community, it is inevitable that children will pick up this infection from household contacts in the days and weeks ahead.
"We also know, as a result, that there will be cases and outbreaks in schools and childcare settings.
"The Irish and international experience of the pandemic continues to give us reason to believe that schools are a lower risk environment for the transmission of Covid-19 and that the majority of children who are infected experience a mild form of this disease."
Earlier today the Ombudsman for Children Dr Niall Muldoon said closing schools should not be the default response as the negative impacts are wider and deeper than missing a few weeks of classes.
He was speaking after the ASTI had called for a delayed return to school for students not doing the Junior or Leaving Cert exams this year. The TUI, which also represents secondary teachers, had said a one size fits all policy would not work.
Both unions said schools need more assistance on HEPA filters and ventilation of classrooms.
Unions have said that both staff and student absences are expected.
---
---
Dr Muldoon said the Omicron variant was a challenge for everyone in the school community but said that "almost two years into the pandemic, we know the negative impact school closures have, not only on children's learning, but on their social development.
"The negative impacts are wider and deeper than missing a few weeks of classes and we should not be going back to the same measures that were relied on 12 months ago.
"If a situation arises where school closures must be considered, all schools and students should not be treated the same, but I really hope that it does not come to that. Every effort must be made to ensure that Ireland, like most other countries in Europe, reopens our schools."
Union members express frustration over contract tracing rules in Northern Ireland
In Northern Ireland, the National Association of Head Teachers (NAHT) said that the return to school this week will lead to further transmission of the Omicron variant of Covid-19.
While they want schools to remain open, union members said they are deeply frustrated about contract tracing rules and want parents to know that they "can't perform miracles" when it comes to Covid-19 in schools.
"Our experience is clearly that children spread this virus from child to child and we would expect that to be even more noticeable with the arrival of the Omicron variant," a spokesperson said.
They also have concerns about teachers absent due to Covid-19 and said that if staffing levels necessitate a temporary closure or a move to remote learning for some children or schools, then the communities should be understanding.
Northern Ireland's Education Minister McIlveen said it is her priority to keep children in school and added that her department continues to liaise with the Department of Health as well as schools over concerns.
It was noted that guidance has not changed since before Christmas, when a note on remote learning was sent to schools, but contingency plans are being prepared.
Additional reporting: Colman O'Sullivan