The head of the Economic and Social Research Institute's behavioural research unit has said its research suggests there are more unvaccinated people going to pubs and restaurants than one might think.
The ESRI's Professor Pete Lunn said they have found that if you take the proportion of the population each week or each day that visits a cafe, pub or restaurant, the proportion of unvaccinated people going indoors is "a little over half the proportion of the vaccinated".
Speaking on RTÉ's Today with Claire Byrne, he said unvaccinated people are not getting into pubs and restaurants as much as vaccinated people are.
"But they are doing so more than half the amount, and in pubs and restaurants a bit more again," he said.
"Not as much as vaccinated people but not far off, so they're clearly finding places that they can get in."
Prof Lunn said they have consistently found, for a period of two or three months now, that around a quarter to a third of the people they survey who are visiting cafes, pubs or restaurants to dine indoors do not have their Covid cert checked.
He said that has "hardly changed" in recent weeks.
Prof Lunn also cited "strains of research" that are long-standing in both economics and psychology that if you go through an extended period that demands a change in behaviour where everybody is affected and there is a degree of trauma involved, it tends to have a long-term impact.
"So if you look at the economics of the psychology, scientific literatures on large depressions, on wartime, and indeed on previous pandemics, you do find that there is a kind of knock-on effect for people's psychological well-being and how they approach life in the future," he said.
"If you are a young adult at the time, for example, of a very severe recession, it makes you more financially cautious later in life and it changes some of your financial behaviours.
"We know as well that people who have children during war time tend to have a kind of somewhat different psychological outlook in the long run."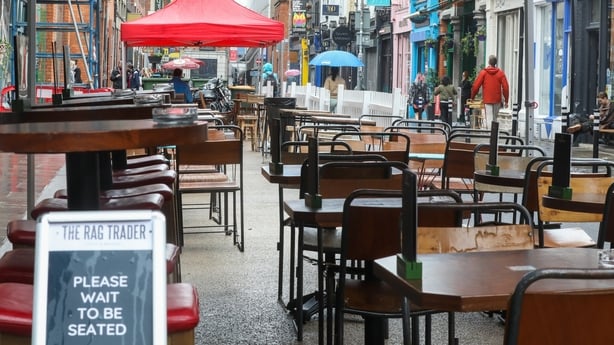 Prof Lunn said these effects are on average, but given how long the pandemic is going on, when one looks at those scientific literatures it would be "quite surprising" if it did not have some kind of long-term scarring effect for those who have lived through it.
He said they can see in their data that there are "very few people" who actually want to return to life before the pandemic, which he said suggests that the large majority of people have found "some positive things" that they would like to change.
"But of course some of it absolutely is likely to be negative," he added. "We've seen very strong effects on people's well-being, particularly low well-being among younger adults.
"Our data actually suggests that younger adults are the most likely people in society at the moment to feel loneliness, more likely than older adults.
"So some of that scarring is bound to be negative, but we do also see positive effects of people not wanting to return to life pre-pandemic because there are some things they found that they definitely want to change."
Prof Lunn said they have found there has been an increase in worry in recent weeks across all age groups, genders and socio-economic groups.
He said this tended to be driven by case numbers in the past, but there was a break in the relationship between how much people worried and how high the case numbers were when the vaccine was rolled out.
However, he added that as hospitalisations have gone up and as restrictions are being reintroduced, they can see the level of concern has gone back up.
"It's back up now at the level that it was when we came out of the so-called Level 5 lockdown in April/May," he said.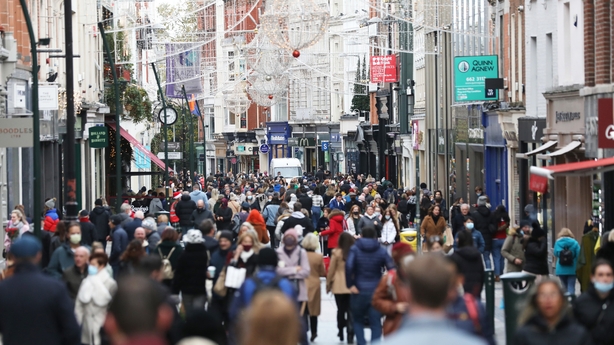 Prof Lunn said they have not seen a large reduction in how much people are leaving their homes or how many people they are meeting, but they have seen a "real increase" in people's caution when they are out.
He also said they have seen a reduction in people visiting other people's homes, which he said is likely to have an impact on infection levels.
"So we have seen some behaviour change," he said. "It's not as big as it might be, but it's definitely there."
Prof Lunn said there has been a "consistent swing in public opinion" in recent weeks where the majority of the population moved to a situation where they did want to see more restrictions brought back in.
He said that by the time of last week's announcement, 90% of the population was expecting new restrictions to be brought back in, as well as the majority supporting them.
Omicron 'clearly increasing very rapidly'
Separately, Professor of European Public Health at the London School of Hygiene and Tropical Medicine Martin McKee said they know "a great deal" about the genetic sequence of the Omicron variant, and that allows them to identify mutations that "unfortunately hit all of the key points that we would be worried about".
Speaking on RTÉ's News at One, Prof McKee said those mutations on their own would make it more transmissible and more likely to spread to other people, and would evade both the antibody mediated immune system and the innate immune system.
He said that what they do not know is what happens when you put all of those together in the actual virus.
He said Omicron is "clearly increasing very rapidly" in South Africa, with a "much shorter" doubling time than previous variants.
It is spreading "rapidly" throughout all of South Africa and other countries, he said, which is "particularly worrying".
He said everything they have at the minute, including accounts of "really quite explosive outbreaks" in a number of places in Europe and elsewhere, leads them to believe that it "could well" become the dominant strain in Ireland.
He said that even if a relatively small proportion of people get seriously ill, if the numbers of cases are much higher, then the "absolute number" of people getting ill will be greater.
"That said, we're really trying to get to grips with this because there seems to be a lot of reports in the media that this is a mild condition," Prof McKee said.
"Yet when we look in much more detail at what we're seeing from South Africa, we're not sure that that is the case."