New York Mayor Bill de Blasio has announced a blanket Covid-19 vaccine mandate for the private sector in the United States' biggest city, starting from late December.
The order goes further than a nationwide mandate set by President Joe Biden for companies with more than 100 employees to vaccinate workers by 4 January that has been stalled by court suspensions.
"As of today we are going to announce a first-in-the-nation measure - our health commissioner will announce a vaccine mandate for private sector employers across the board," Mr de Blasio said on MSNBC, adding that it would take effect on 27 December.
Vaccine mandates have a long history in the US, but have generally been issued by cities or states.
Mr De Blasio cited the emergence of the Covid-19 Omicron variant, cold winter weather and Christmas gatherings as "additional challenges" to tackling the pandemic in New York, which was hard hit by the virus in 2020, with at least 34,000 deaths.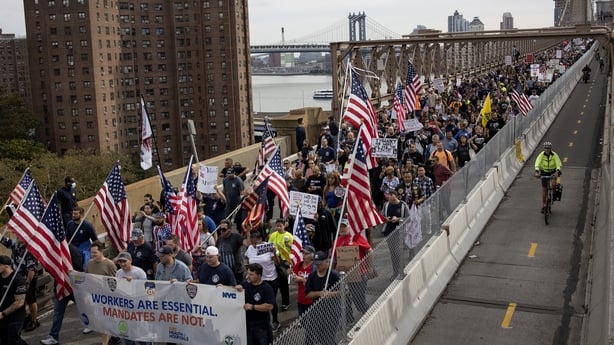 Omicron cases have been confirmed in at least 15 US states since it was first reported in late November, including several in New York, with Mr de Blasio saying he was "very concerned".
"We in New York City have decided to use a pre-emptive strike to really do something bold to stop the further growth of Covid and the dangers it's causing to all of us," he said.
Apart from the mandate, which would cover some 184,000 business and companies, he said there will be other measures to "focus on maximising vaccination quickly so we can get ahead of Omicron and all the other challenges we are facing right now with Covid".
France orders nightclubs to close for four weeks over Covid surge
Nightclubs in France will be ordered to close for four weeks starting this weekend to counter surging Covid-19 cases that have seen hospitals announce emergency protocols as beds fill up, Prime Minister Jean Castex said today.
Stricter social distancing and extended use of face masks will also be required in schools as France faces a fifth wave of virus cases, said Mr Castex, who himself just emerged from quarantine last week after contracting the virus.
"We have all had a tendency to lower our guard" in recent weeks, he said.
But the government held off on imposing stricter measures for the general population or the non-vaccinated in particular, as several other countries have done in recent days.
Instead Mr Castex urged businesses to encourage working from home and called on people to "lift the pedal" on social interactions such as office parties as the year-end holidays approach.
And health passes proving Covid vaccination or inoculation will now be required for eating in reserved zones at outdoor Christmas markets, he said.
"The situation demands an individual as well as a collective effort," he said in a televised address following a cabinet meeting on the crisis.
"But it's no longer the time for lockdowns," he said, citing a French vaccination rate of nearly 90% of the eligible population, while urging non-vaccinated to get the shots, not least in a show of "solidarity" with health workers.
He added that if approved by France's health advisory body, vaccinations could soon be extended to children aged 5 to 12, while people 65 and older will no longer need appointments to get Covid booster shots and can just walk in to clinics or pharmacies.
Italy imposes new Covid-19 rules on unvaccinated citizens
People in Italy unvaccinated against Covid-19 can no longer go to the theatre, cinemas, live music venues or major sporting events under new rules that came into force today.
Only those who have recently recovered from Covid-19 are exempt from the rules, which represent a significant tightening of restrictions in the face of rising infections.
New measures are also being enforced on public transport, with a so-called Green Pass showing proof of vaccination, recent recovery or a negative Covid-19 test now required even on local services.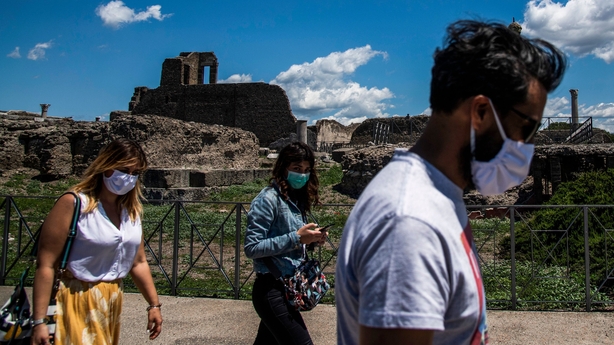 A man in his 50s was fined €400 for not having his pass this morning as he got off a bus near Piazza del Popolo in Rome, according to the Corriere della Sera newspaper.
"I don't have it because I wanted to get vaccinated in the next few days," he was reported as saying.
A record 1.3 million Green Passes were downloaded on Sunday ahead of the change.
Meanwhile in Rome at the weekend, new rules requiring face masks to be worn outdoors in the busiest shopping streets came into effect.
Italy was the first European country to be hit by coronavirus in early 2020 and has one of the highest death tolls, at more than 134,000.
However, it is currently faring better than many of its neighbours, with 15,000 cases out of a population of 60 million reported yesterday.
Almost 85% of over-12s have been vaccinated, a booster campaign is in full swing and jabs will soon be available for younger children.
The Green Pass was introduced in August for access to theatres and cinemas, museums and indoor dining, and extended to workplaces in October - a move that sparked widespread protests.
South Africa readies hospitals as Omicron drives cases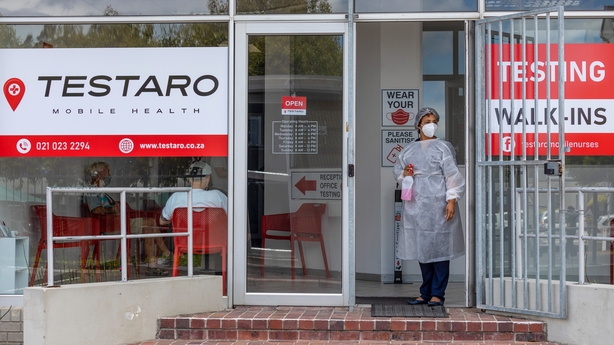 South Africa is preparing its hospitals for more admissions, as the Omicron coronavirus variant pushes the country into a fourth wave of Covid-19 cases, President Cyril Ramaphosa has said.
Omicron was first detected in southern Africa last month and has triggered global alarm as governments fear another surge in infections.
South Africa's daily infections surged last week to more than 16,000 on Friday from roughly 2,300 last Monday.
Mr Ramaphosa said in a weekly newsletter that Omicron appeared to be dominating new cases in most of the country's nine provinces and urged more people to get vaccinated against Covid-19.
Scientists in South Africa and other countries are racing to establish whether Omicron is more contagious, causes more severe disease and is more resistant to existing vaccines.
But some anecdotal accounts from doctors and experts in South Africa are reassuring, suggesting that many infections it causes are mild.
"We are keeping a close eye on the rates of infection and hospitalisation," Mr Ramaphosa said.
Jordan court jails health officials over oxygen deaths
A Jordanian court sentenced five senior health officials to three years in jail yesterday for causing the deaths of ten Covid-19 patients following an oxygen outage in a major state hospital, state media said.
Health Minister Nathir Obeidat resigned hours after the incident and in a public apology, Prime Minister Bisher al Khasawneh said his government bore full responsibility for the incident.
The court found the former director of the state hospital in Salt, a city west of the capital, and four of his senior aides responsible for the deaths, media said.
The patients, who were being treated in the hospital, died in March when staff failed to act after oxygen ran out in a Covid-19 ward for nearly an hour.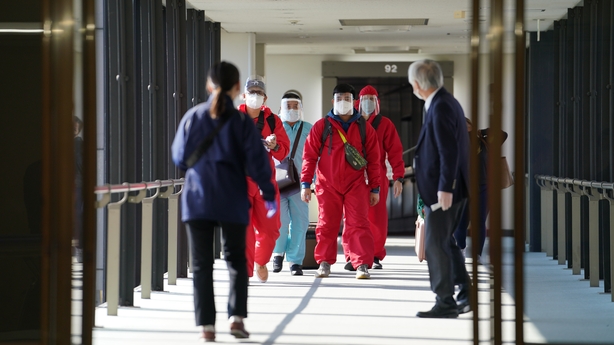 Tougher border controls see boost for Japan's Prime Minister
Japanese voters' support for Prime Minister Fumio Kishida increased after his government enforced tighter border controls against the Omicron variant of coronavirus, the Yomiuri Shimbun daily reports.
Japan took some of the world's strictest steps on 29 November by closing its borders to new foreign entrants for about a month.
A day later, it discovered its first Omicron infection in a Namibian diplomat who had arrived on 28 November.
Support for Mr Kishida's government was 62%, up from 56% a month ago, the Yomiuri poll showed, with 89% of respondents taking a positive view of the latest measures.
The upbeat survey results came despite Thursday's flip-flop on inbound airline bookings, a ban on which had provoked worry and confusion among citizen looking to return home for year-end holidays.