Booster vaccines will be offered to everyone aged 16 and over, following new recommendations from the National Immunisation Advisory Committee.
In a statement, Minister for Health Stephen Donnelly said he has accepted the recommendations, which have also been endorsed by the Chief Medical Officer.
NIAC have recommended a booster dose of an mRNA vaccine - Pfizer/BioNTech or Moderna - firstly for pregnant women aged 16 and over; then for people aged 40-49, followed by those aged 16-39 in descending order.
The booster can be given at least five months after the second dose of whichever vaccine a person received.
However, those people who received a Janssen (J&J) vaccine are eligible for a booster after a minimum three-month interval since their shot.
People who have tested positive for Covid-19 since they were vaccinated should wait for their booster until at least six months after the infection was diagnosed.
---
Read more:
Latest coronavirus stories
---
Mr Donnelly said that nobody in the new cohorts will yet be able to get the jab, as not enough time has passed since their second dose.
"I welcome NIAC's continuous review of all international evidence relating to booster doses," said Mr Donnelly.
"I am accepting and authorising these latest recommendations on the basis that a significant amount of planning will be required to operationalise these booster doses.
"No-one in these newly approved age cohorts has yet reached the recommended gap since the second dose.
"We continue to prioritise boosters because we know that they are having a positive impact on the level of hospitalisation, severe illness and mortality from Covid-19 in those aged over 70.
"I am also accelerating the booster roll-out to those with underlying conditions and those in their 60s.
"I would also like to once again ask all those who are eligible for vaccination but who have yet to receive a primary dose to do so as a matter of urgency given the continuing high rates of infection in the community.
"We continue to see a high proportion of unvaccinated individuals requiring hospitalisation and critical care in ICU."
Tánaiste Leo Varadkar also welcomed the advice from NIAC.
He said the booster programme would take time and it will be spring before some people get their third dose.
140,000 vaccines due in Ireland next month for children
The Health Service Executive's National Lead for the Vaccination Programme said around 140,000 vaccines will be arriving in Ireland next month, which can be administered to children aged five to 11.
Speaking on RTÉ's Today with Claire Byrne, Damien McCallion said: "We have two deliveries coming in, one late this year and one in January. It is a two-dose, with 21 day dose interval."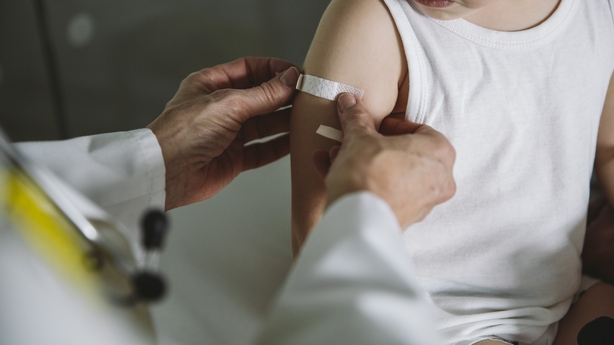 He said they will engage with parents to understand any concerns and address them, and have tried to use the maximum amount of choices for people to date with the rollout of vaccines.
Yesterday, the EU's drug regulator approved the use of Pfizer-BioNTech's Covid-19 vaccine for children between the ages of five and 11.
Mr McCallion said while GPs are under pressure they have responded well to the booster programme with good progress being made.
Boosters for over 50s brought forward to mid-December
Earlier, HSE Chief Executive Paul Reid said booster vaccines for the over 50s will be brought forward to the middle of December.
It was planned that they would begin at the end of December.
Speaking on RTÉ's Morning Ireland, Mr Reid said that from next week, booster vaccines will be given to people who are medically vulnerable, which he said was around 470,000 people.
He said while hospitals remain stretched, actions taken last week to try to mitigate risk across the hospital system is helping by keeping the priority on urgent elective care and Covid cases.
As of this morning, there were 556 people with Covid-19 in hospital, down 32 on the same time yesterday.
There were 126 patients in ICUs with the virus.
Mr Reid also said there has been a massive scale up of testing capacity, which has been expanded with extra centres, extra hours, and private testing.
He said over one million PCR tests were carried out over a six-week period, which breaks down to between 4% and 5% of the population being tested any given week and that over the last seven days more than 210,000 PCR tests were completed in labs.
"We are still having high positivity rates of between 15 and 19%," he said.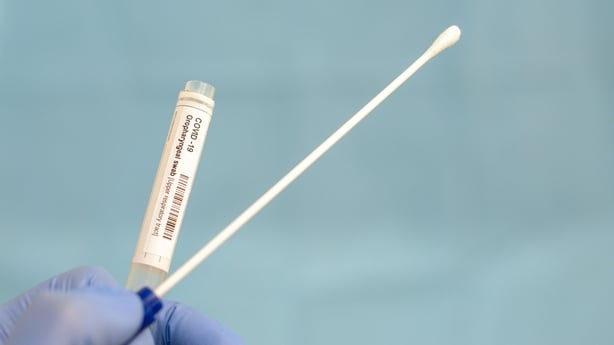 Mr Reid said three further centres will be opened next week and the HSE is also availing of the Defence Forces and redeploying staff to help with testing.
He said the HSE will look at all options in terms of the rollout of vaccines to young children once a decision is made by Government.