A number of GPs have called on the Health Service Executive to open up walk-in PCR community test centres, following increased demands for the service.
Doctors and opposition parties have raised concerned about difficulties people are having in getting timely PCT tests for Covid-19.
The highest number of daily Covid-19 swabs carried out in the community so far during this pandemic was recorded yesterday.
The HSE said more than 26,000 appointments for PCR tests were offered in centres around the country on Monday, the "busiest day to date in community testing".
It said that it has "consistently carried out more than 20,000 tests per day" over the last number of weeks, amid "sustained, extremely high demand".
The community testing service was originally set up to deliver 15,000 tests per day, but this has increased as extra measures have been implemented - including agreements with private testing companies to operate centers on behalf of the HSE at Dublin, Cork and Shannon Airports.
The HSE said it is also continuing to recruit additional staff to the community test centres and working to put additional external resources in place to increase capacity.
As of 11am this morning, there were no appointments for PCR testing available today in 13 counties through the HSE's self referral portal.
These include the larger cities of Dublin, Cork and Waterford.
---
---
Monaghan-based GP Dr Ilona Duffy said walk-in test centres in areas with high levels of Covid-19 must be opened up.
Speaking on RTÉ's Today with Claire Byrne, Dr Duffy said difficulty in accessing PCR tests is creating huge frustration for people with symptoms, who are then relying on antigen tests, which are not always accurate.
She said the delay in accessing PCR tests means it is going to be very difficult to keep people on board with the message that those who are symptomatic should stay home and get tested.
Dr Knut Moe, who is based in Dublin, said the HSE should look at ways of meeting capacity and while the system is coping, it obviously cannot meet the demand that is being required on a same day basis.
The calls come as the 14-day incidence of Covid-19 in Ireland is now over 1,266 cases for every 100,000 people.
We need your consent to load this rte-player contentWe use rte-player to manage extra content that can set cookies on your device and collect data about your activity. Please review their details and accept them to load the content.Manage Preferences
Covid lead for the Irish College of General Practitioners, Dr Nuala O'Connor, said she understands the frustration people may feel when trying to book a test online and the longer waiting times in some areas.
However, she said that any delay in getting an appointment for a PCR test does not affect the way people should behave if they have symptoms.
"If you have symptoms of infection, you should be self-isolating, staying at home and away from work until at least 48 hours until after your symptoms resolve, or longer if you turn out to be Covid positive."
"So if there's going to be a day or two delay in getting a PCR test, what you do yourself doesn't actually change."
She said the testing availability varies from region to region.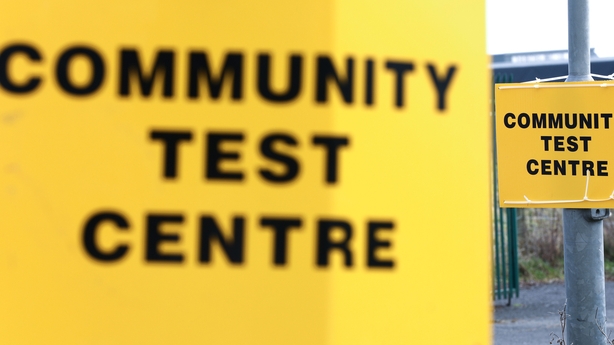 "In Donegal, there's loads of tests available today. It was a hotspot a few weeks ago. Cork happens to be a hotspot today, there's a lot of Covid circulating in Cork, like many counties, and that's why the delay is there", she said.
Dr O'Connor said there has been a big increase in people looking for telephone advice or to be seen in person for respiratory symptoms - a lot of which is not Covid - because "there are loads of other viruses circulating".
She said this wave of the pandemic is different due to the protection afforded to people from vaccination and that the infections are not translating into as much serious disease.
Dr O'Connor said that people should take action to protect themselves.
"If we want to be able to have a nice Christmas, we all need to be careful about who we meet, the number we meet, and try to reduce the number of social contacts. The only way this virus spreads is when we get together."
No tests in Dublin for 'love nor money'
Meanwhile, the Sinn Fein Leader Mary Lou McDonald has called on the Minister for Health to come before the Dáil to explain the major difficulties around PCR test capacity and delays in rolling out antigen tests.
People Before Profit TD Richard Boyd Barrett called for walk-in PCR tests and he said you cannot get a test in Dublin for "love nor money".
The counties with the highest incidence are Westmeath with 1,792 cases for every 100,000 people; Louth has 1,757 cases per 100,000 people and Carlow has 1,709 cases per 100,000 people.
Latest data is from the Health Protection Surveillance Centre, shows that overall, the average age of cases is around 33.
Of the 60,309 cases over the two week period, the source of transmission is still under investigation in 40,362 or almost 67% of cases.
Additional reporting Fergal Bowers