Ten countries in the 27-member European Union face a Covid situation of "very high concern", the bloc's diseases agency said, warning the pandemic was worsening across the continent.
Ireland was one of 13 countries listed in the second category of "high concern", alongside Austria, Germany and Iceland.
"The overall epidemiological situation ... was characterised by a high and rapidly increasing overall case notification rate and a low but slowly increasing death rate," the European Centre for Disease Control said.
"Case notification rates, death rates, and hospital and ICU admissions are all forecast to increase over the next two weeks."
In its latest weekly risk assessment, the agency listed ten EU countries in its highest category of concern -- Belgium, Bulgaria, Croatia, Czech Republic, Estonia, Greece, Hungary, Netherlands, Poland and Slovenia.
"Countries with lower vaccination uptake continue to be the most severely affected," said the agency.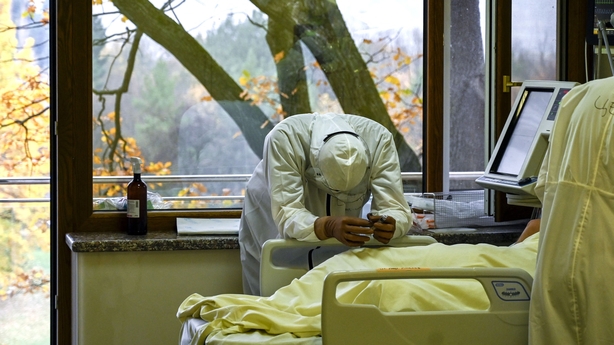 Cyprus, France and Portugal were listed as of "moderate concern", while Italy, Malta, Spain and Sweden were of low concern.
The agency said four countries had been raised into a higher category since the last assessment, while Ireland was one of five countries that had been lowered.
The number of cases and deaths is expected to increase by about 50% over the next two weeks, the agency added, reaching a weekly rate of 300 new cases and 2.7 deaths per 100,000 population.
The assessment looks at the 27 EU nations, as well as Norway, Iceland and Liechtenstein.
Netherlands returns to partial lockdown amid virus surge
The Netherlands will return to a partial lockdown from tomorrow after the government ordered restaurants and shops to close early and barred spectators from major sporting events in an effort to contain a rapid surge in Covid-19 cases.
Caretaker Prime Minister Mark Rutte said in a televised address that restrictions the Dutch people had thought had ended for good were being reimposed for three weeks from tomorrow.
"We are bringing a very unpleasant message with very unpleasant and far-reaching measures," Mr Rutte said.
"The virus is everywhere and needs to combatted everywhere."
Austria plans lockdown for those not vaccinated
Austrian Chancellor Alexander Schallenberg has said he wanted to introduce a nationwide lockdown for those not vaccinated or recovered from coronavirus.
The country is now struggling with rapidly rising cases.
The new rule will take effect with a four-week transition phase to incentivise people to get jabbed, Mr Schallenberg said.
"The aim is clear: we want on Sunday to give the green light for a nationwide lockdown for the unvaccinated," he told a press conference this afternoon.
"No one wants to split the society, but it is our responsibility to protect the people in our country."
The EU member of almost nine million people recorded more than 9,300 new daily cases today, a fresh record for this year.
---
---
Besides considering hospitals' ICU units filling up faster than expected, tourism-dependent Austria also fears being backlisted by other countries because of the rapid virus spread.
Some 64% of the population is fully vaccinated, which is below the EU-wide average of some 67%.
Under the new rules, a negative Covid test will also no longer be sufficient for services with close contact such as at the hairdressers, and only those vaccinated or recovered can attend gatherings of 25 people or more.
Yesterday, the capital Vienna announced a similar rule due to come into effect next week.
The country has recorded 1,450 Covid-19 deaths so far.
Norway to reinstate national measures as virus surges
Norway will reintroduce nationwide measures to stem surging coronavirus cases, including authorising towns to use health passes, the government announced.
The Nordic country, which had lifted all Covid-19 restrictions in late September, will also propose a third vaccine dose for people over 18, but will not impose a new lockdown, Prime Minister Jonas Gahr Store told a press conference.
"The government wants to introduce new national measures to contain contagions," he said.
"However, we are not talking about confinements or measures as strict as we saw earlier in the pandemic."
The new measures include a requirement for adults who have been in contact with a positive case to be tested, and unvaccinated health workers will have to be tested twice a week and wear masks.
Local restrictions had reappeared in recent days in Norway, with daily cases at around 1,500 in a country of 5.4 million people.
Iceland introduces tighter restrictions
Iceland has also tightened its Covid rules for the second time since the start of the month, after it hit new records in daily infection rates earlier this week.
As of midnight, public gatherings will be limited to 50 people instead of the previous 500 on the island of some 375,000 inhabitants.
Swimming pools and sports halls will only be allowed to operate at 75% capacity.
Around 89% of Iceland's inhabitants aged over 12 have been vaccinated.
Around 36,000 of those have received a booster shot, and the government hopes to give 160,000 more people a third jab by the end of the year.
Russia to introduce health passes
The Russian government has submitted two bills to parliament that will introduce mandatory health passes to access restaurants and public transport, amid a new wave of coronavirus cases.
With more than 8.9 million cases registered since the start of the pandemic, Russia is one of the worst-hit countries in the world and a devastating wave this autumn has seen infections and deaths reach new records.
The new legislation is aimed at boosting the country's sluggish immunisation rates amid strong anti-vaccination sentiment.
Russia has rolled out several homegrown vaccines, including Sputnik V, but only about a third of the population is fully inoculated.
From 1 February, those wishing to visit public places like bars and restaurants will have to prove they have been inoculated, have recovered from the virus or have medical conditions that prevent them from getting vaccinated.
The measure will be in place until 1 June next.
Health passes will not be required to visit pharmacies and essential shops.
From 1 February, Russians wishing to travel by plane and train will also have to present QR-codes, according to a second bill submitted to parliament. Foreign travellers will also have to present health passes.