The Netherlands will return to a partial lockdown from tomorrow after the government ordered restaurants and shops to close early and barred spectators from major sporting events in an effort to contain a rapid surge in Covid-19 cases.
Caretaker Prime Minister Mark Rutte said in a televised address that restrictions the Dutch people had thought had ended for good were being reimposed for three weeks from tomorrow.
"We are bringing a very unpleasant message with very unpleasant and far-reaching measures," Mr Rutte said.
"The virus is everywhere and needs to combatted everywhere."
Restaurants, bars and supermarkets will close at 8pm and non-essential retailers at 6pm.
Social distancing measures will be reimposed while there should be no more than four visitors to a home.
People are being advised to work from home as much as possible.
Mr Rutte also said the government was exploring ways to restrict access to indoor venues for people who have not been vaccinated against the virus.
It is a politically sensitive measure that would require parliamentary approval.
Schools, theatres and cinemas will remain open.
The surge in Covid-19 cases is putting pressure on hospitals across the Netherlands.
New infections have topped 16,000 for the second day in a row, beating the previous record of just under 13,000 confirmed cases in a day set last December.
Around 200 protesters gathered outside the justice and security ministry during Mr Rutte's press conference, throwing stones and fireworks at riot police and setting up barricades.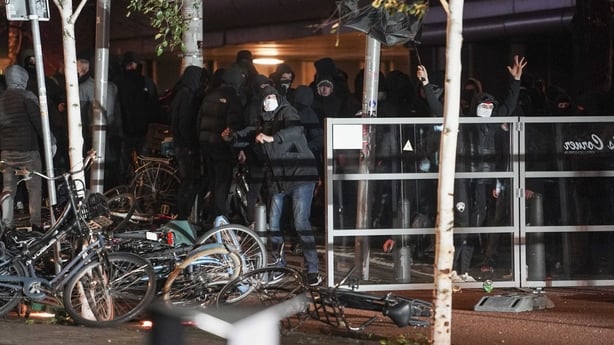 Police used water cannon to disperse the demonstrators, as loud bangs and chants echoed through the centre of The Hague and mounted police rounded up the stragglers.
Police said on Twitter they had taken action to "restore public order".
The Netherlands suffered its worst riots for four decades in January after the government imposed a night-time curfew to curb a previous Covid-19 surge.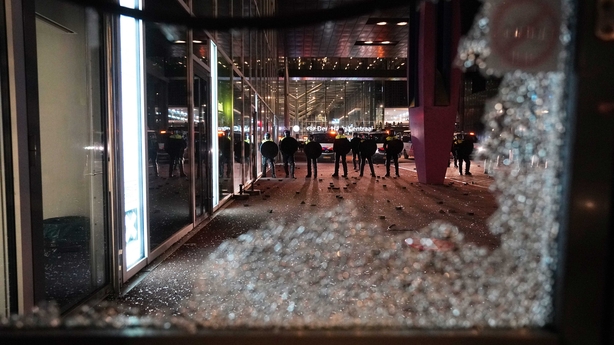 Today's announcement marks a big change of policy for the Dutch government, which until last month had thought that a relatively high vaccination rate would allow it to further ease measures towards the end of the year.
Nearly 85% of the adult population has been fully vaccinated.
Since the start of the pandemic, the Netherlands has recorded 2.27 million Covid-19 cases and 18,695 coronavirus-related deaths.