Covid-19 infection in Ireland is now growing at a rate that is concerning NPHET, according to the Chief Medical Officer Dr Tony Holohan.
Speaking at a NPHET briefing, Dr Holohan appealed to people to continue with the basic health measures such as handwashing, using masks, staying away from crowds, and using ventilation.
This comes as the Department of Health was notified of 1,631 new cases of Covid-19.
There are 503 patients in hospital with the virus, down ten on the same time yesterday.
Of these, 101 people are being treated in ICU, an increase of four from yesterday.
There has been a total of 5,436 deaths related to Covid-19 notified in Ireland. This includes 67 deaths newly notified in the last week.
Dr Holohan said NPHET had a "substantial concern" about the number of ICU beds being taken up by Covid-19 patients.
He said the knock-on effect is that those beds would normally be taken by ordinary people who cannot get access to surgeries or interventions.
---
Read latest coronavirus stories
---
Dr Holohan warned fully vaccinated people that there are still risks involved with getting Covid-19 "even if those risks are substantially reduced".
"Just because everything is open doesn't mean we all have to do them or that we all have to do them at the same time," he said.
Chief Medical Officer Dr Tony Holohan says Covid-19 is "growing at a rate that is concerning" but that he is hopeful the infection rate will turn a corner if public health advice is followed and that further measures won't be necessary | Read more: https://t.co/JhRXJq2rY2 pic.twitter.com/G115ctrbCm

— RTÉ News (@rtenews) October 27, 2021
Dr Holohan said he does expect the Covid-19 virus to continue to surge at times, despite most of the adult population being vaccinated.
He said that is how the virus will be present "for the foreseeable; there is no magic way out of it".
Responding to a question on the recent phase of reopening, the Chief Medical Officer said it would "be sensible" for people who were in nightclubs at the weekend to stay away from vulnerable people in the following days.
Chief Medical Officer Dr Tony Holohan has suggested the public conduct personal risk assessments before engaging in higher risk activities | Read more: https://t.co/JhRXJq2rY2 pic.twitter.com/thr1dO43nY

— RTÉ News (@rtenews) October 27, 2021
He added that thousands of hospitalisations and hundreds of deaths and ICU admissions that would have occurred in this wave were prevented by virtue of the high levels of vaccination across the country.
Trajectory for coming weeks not good - Glynn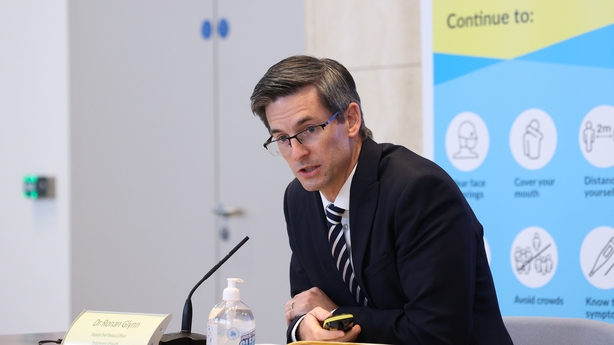 Also speaking at the briefing, Deputy Chief Medical Officer Dr Ronan Glynn said the trajectory for Covid-19 infection in Ireland in the coming days and weeks is not good.
Dr Glynn said there have been increases in numbers of people positive with the virus across all counties, but with Kerry, Waterford, Carlow and Longford particularly high.
He said that although 42% of cases in ICU were fully vaccinated people, the key point is that 58% of people in ICU are not vaccinated.
In terms of Ireland's trajectory of numbers of cases, Dr Glynn said although today's figures might seem like an improvement, it is not unexpected due to the bank holiday weekend and that there may very well be a significant increase in cases in the coming days.
Deputy Chief Medical Officer Dr Ronan Glynn has said that 58% of people currently being treated in ICU with Covid-19 are not fully vaccinated | Read more: https://t.co/JhRXJq2rY2 pic.twitter.com/lX9e1e1RCo

— RTÉ News (@rtenews) October 27, 2021
The growth rate, he said, is roughly 1% and 3% per day, but with the caveat around that due to the bank holiday.
Dr Glynn added that the country is not currently in the position to enforce localised county-wide lockdowns, despite high figures in some counties, but encouraged people partaking in higher-risk activities, to analyse their day-to-day activities.
"If you're going to a nightclub, think about think about the other activities that you're engaging in in the days after that," he said.
"If your children are going on playdates or engaging in sport, think about all of the other activities they're engaging in and just see do they need to be engaging in everything that they're engaging in, given how high incidence is in the country at the moment."
Asked about Halloween activities, particularly in terms of children socialising, Dr Glynn said people can trick or treat, but advised against doing it every day over the weekend.
"It's not a message we want to be sending, or one parents want to hear," he said.
The Deputy Chief Medical Officer said there has not been a significant change in the rate of death from Covid-19 in recent weeks, but added that is not to say that the death rate they are seeing is not significant.
Research shows increase in risk-taking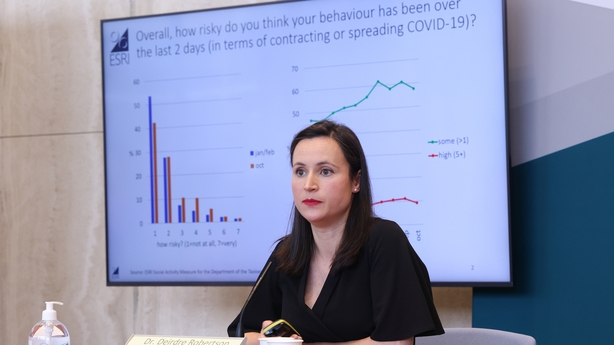 The proportion of people who have moved from saying they are taking no risk at all to saying they are taking some risk in terms of contracting or spreading Covid has changed.
Research from the ESRI shows that there is recognition from people that their behaviour has become a bit more risky in terms of contracting and spreading the disease as restrictions eased and social activity increased.
Dr Deirdre Robertson of the ESRI's Behavioural Research Unit said people who have been to outdoor locations give a high rating of safety, compared to people who have been to events or colleges, who feel that those are less safe locations.
Dr Robertson said the main message is that people do perceive a change in risk.
"The population are quite good at recognising that meeting more people and going to different types of locations increases the risk of spreading and catching Covid-19," she said.
"The data suggests they are less likely to recognise that taking precautionary measures like wearing masks and keeping socially distanced decreases the risk, and those preventive behaviours have been gradually decreasing since the start of the year."
Professor Breda Smyth, Director of Public Health at HSE West, said it was really important to extinguish local outbreaks and that public health measures are the defence.
She said there has been a considerable increase in cases in the west region.
Prof Breda Smyth, Director of Public Health Medicine with HSE West, says she cannot reiterate enough the importance of staying at home and self-isolating if you have symptoms of Covid-19 or another respiratory illness | Read more: https://t.co/JhRXJq2rY2 pic.twitter.com/zfFdVmmcFD

— RTÉ News (@rtenews) October 27, 2021
"A particular concern is for environments with vulnerable people, such as nursing homes, hospital and care environments and long-term residential facilities," she said.
"High community transmission poses a substantial risk to this population. A combined effort to reduce incidence is needed to protect the most vulnerable."
We need your consent to load this rte-player contentWe use rte-player to manage extra content that can set cookies on your device and collect data about your activity. Please review their details and accept them to load the content.Manage Preferences
Concern about transmission in children aged five to 12
On the high incidence in children aged between five and 12, Dr Holohan said they were concerned about the rate of transmission in that age group and it has been rising quickly in that group.
He said that age group is not currently part of the vaccination programme and so the virus has more opportunity to transmit there.
Director of Public Health HSE West Prof Breda Smyth said the rise in transmission and incidence in that age group is concerning and they are keeping a close eye on it.
She said it was an evolving situation and it is under close observation to see what their next steps will be.
Dr Glynn said the numbers of children in hospital with Covid-19 is very small and the bigger concern for NPHET is that children were admitted to hospital with RSV (Respiratory syncytial virus) in the last couple of weeks.
Speaking later on RTÉ Radio 1's Drivetime, Prof Sam McConkey said they have seen a lot of infection in children between five and 12 in the last four or five weeks, and while the vast majority do not get ill, they are vectors of the disease.
However, the consultant in infectious diseases said he hopes that when there has been widespread infection in that age group, there will be "very few" left who are getting the disease.
"Those folk are partially immune from getting it again, at least in the six or eight weeks after they've got in," he said.
"There has been very widespread infection in the under 12s and essentially there aren't many more under 12s to get it.
"When an under 12 has Covid and meets other under 12s, they've mostly had it already in the last couple of months, so they're no longer susceptible and they don't get it."
Six deaths reported in Northern Ireland
In Northern Ireland, 1,291 Covid cases have been reported in the last 24 hours. An additional six deaths have also been reported.
Earlier, the Minister for Health Stephen Donnelly said Ireland's 14-day incidence rate is currently at around 500 cases per 100,000 of the population.
A consultant in intensive care medicine has said an increase in the number of Covid patients in ICU who are vaccinated does not necessarily mean that vaccines are not working.
Speaking on RTÉ's News at One, Dr Catherine Motherway said vaccines protect people from serious illness and death.
However, there are a group of patients, particularly those in older age groups or with weakened immune systems, who may not benefit as much from the vaccine and may require a booster.