Taoiseach Micheál Martin has said he believes people will continue to be patient if all the planned easing of restrictions on 22 October do not go ahead.
Speaking this afternoon in Cork, he said he would not pre-empt which restrictions would be removed and which would remain ahead of the Government receiving expert public health advice.
Mr Martin described data presented to Government this week on rising case numbers as a cause for concern.
However, he said the public had been "exceptional" in terms of accepting restrictions since they were first imposed.
"I think people have been patient," the Taoiseach told RTÉ News.
"I think people understand this pandemic now. They know there has been - and will continue to be - twists and turns in relation to the disease.
"The key point is that we are in a much different position now to where we were because of vaccination - it transforms the environment totally."
So, will #COVID19 restrictions be relaxed in #Ireland from next Friday, or are they set to continue. Here's Taoiseach @MichealMartinTD speaking this afternoon in #Cork… @rtenews pic.twitter.com/nSOqKvnqb3

— Paschal Sheehy (@PaschalSheehy) October 15, 2021
Earlier this week, Micheál Martin said he cannot guarantee that the 22 October phase of reopening will proceed as planned.
The proposed phase of reopening on 22 October would see the majority of restrictions lifted, including requirements for physical distancing and mask wearing outdoors and in private indoor settings.
Measures that are to remain in place include isolating while feeling symptoms of Covid-19 and mask wearing in healthcare settings, indoor retail and on public transport.
Minister for Foreign Affairs Simon Coveney has said he still believes there will be a significant removal of Covid-19 restrictions at the end of next week.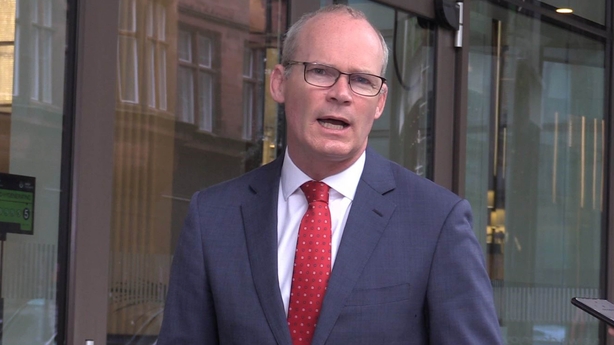 ---
---
He added that the Government wanted to move ahead with the removal of restrictions but he said rising case numbers were a concern.
"I don't think the Government will abandon plans to remove restrictions at the end of next week, but whether or not we are able to (relax restrictions) as much as we would have liked is the question," he said.
"We are watching very closely the number of people in hospital, the pressure on the health system and, of course, the continuing presence of Covid across society," added Mr Coveney.
"We have seen a 12% increase in the number of people testing positive in the last week - of course that is a concern. It's not a big surprise, but it's something we need to watch.
"The Government will do what we always do when we make a decision in relation to Covid. We will take public health advice, we will look at the science and we will make an informed decision.
"I think the likelihood is that there will be a significant removal of restrictions at the end of next week, but whether we will be able to go as far as we would have liked or as far as we had announced would be the case remains to be seen."
Speaking in Cork at a function to mark the 50th anniversary of Down Syndrome Ireland, Minister Coveney said the Government would make a decision next Tuesday, so people would have clarity in advance of the weekend.
Sinn Féin TD Matt Carthy said that speculation by members of Government on plans for the next stage of reopening has caused "huge consternation" for business owners waiting to open their doors next week.
Mr Carthy told RTÉ's Today with Claire Byrne that public health advice is needed to "put a route to reopening in place" for all those who have kept their side of the social contract and followed all public health guidance during the pandemic.
He said that the National Public Health Emergency Team had predicted the current scenario and that it has exposed the ongoing failure of the health service to deal with demand.
The Cavan–Monaghan TD added that the advice from the National Immunisation Advisory Committee on the booster programme is needed quickly and that if required, its roll-out needs to happen soon.
Mr Carthy also said that while there is an ethical issue about allowing developing nations get vaccines before booster programmes begin, he said that the Irish Government's first focus must be on Irish people.
The Department of Health was today notified of 1,914 new cases of Covid-19.
There are 413 people being treated in hospital with the virus, which is down two since yesterday, 73 of whom are in intensive care, up three.