Health Service Executive CEO Paul Reid has said the threat posed by the Delta variant is the "last big hurdle to cross" in relation to Covid-19.
Mr Reid was speaking at the executive's weekly update on the coronavirus pandemic.
He said the variant - which accounts for 90% of cases - has "potential impacts through the rest of this month and into August and September".
But "we should go into it with a level of confidence due to the vaccine programme giving even more protection every day", he added.
Mr Reid said that no one wants to see the "loss of strong progress" of the vaccination programme with two in every three adults now fully inoculated.
He said confidence should be also taken from the continuous scaling up of the testing programme and the "vast majority of the Irish public will again do the right thing" in relation to public health measures.
Mr Reid said the five-day moving average of cases is up 95% on last week, and the seven-day average has risen by 93%.
The five-day moving average is up 160% compared to a fortnight ago, he added, and the 14-day incidence rate has increased by 66% compared to last week.
Mr Reid said that 95 people are in hospital with Covid-19, including 23 who are in intensive care units.
He warned that "we haven't seen the worst impact of what we've seen modelled in the coming weeks. We're in the early stages" but this is "coming off a low base".
Admissions of people for reasons other than Covid-19, but who test positive after admission, "take up more resources than non-positive patients," he added, as these patients "need additional resources, isolation, infection control measures etc".
Mr Reid urged young people to be mindful of the date on which their vaccination takes effect.
"We have seen instances of people getting vaccinated, travelling away very quickly and coming back with Covid."
Speaking at the HSE briefing, @paulreiddublin said the five-day moving average is up 95% and compared to last week the 14-day incidence rate is up 66% | Read more: https://t.co/y7XvdVhJNz pic.twitter.com/DXpHmwVYql

— RTÉ News (@rtenews) July 22, 2021
Mr Reid said that demand for testing continues to rise but this is being met.
Testing volumes are up 10% on last week while the positivity rate for community testing, walk-ins and self referrals is 10.5%.
Overall the positivity rate in the last seven days is 8.8% and some sites are seeing positivity of 25%, he added.
Mr Reid said that testing sites in Dublin, Donegal, Louth, Galway and Meath are particularly busy and additional capacity has been put in place.
Close contact workload is up 88% on last week and close contacts are at 3.7 per person, he said.
Mr Reid appealed to those who are being contacted by tracing teams to give all of their close contacts.
He said that 10% of cases last week came from those with travel history in the prior 14 days.
Mr Reid said there is swabbing capacity in the community for between 20,000 and 22,000 people per day and if demand continues to rise, it is likely at the end of next week that the HSE will begin to utilise antigen testing for close contacts.
HSE CEO @paulreiddublin says there have been one million Covid-19 vaccines administered since the start of July. He adds that two in every three adults are now fully protected | Read more: https://t.co/y7XvdVhJNz pic.twitter.com/XvnUfHb1kU

— RTÉ News (@rtenews) July 22, 2021
The HSE's Chief Clinical Officer said "well over 90% of cases" involve the Delta strain and "it is now the dominant variant in our country".
Dr Colm Henry said that even for those who are fully vaccinated, Delta poses a risk.
"The harm is pushing towards older more vulnerable people all the time, even those who are fully vaccinated," he warned.
Dr Henry said: "What really matters is what proportion of the vaccinated population can catch Covid. We know the vaccines we use are at least 90% effective against the most serious aspects of Covid ... so a much smaller proportion of individuals are going to be admitted."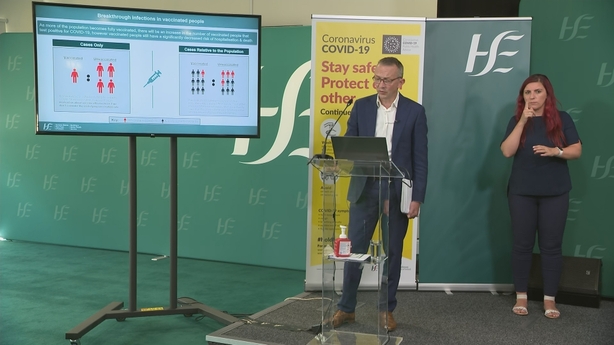 He explained that if there is a high enough level of cases of the coronavirus in the community, vaccinated individuals will be affected and the "flood walls breached" but "we are seeing levels far beyond what we hoped for" in terms of vaccine take up.
Dr Henry said the average number of new hospital admissions for Covid-19 over the past five days is 15-16, which is up from single figures a few weeks ago, and the disease is "prevalent in our communities".
75% of cases are in people under 35 and 25% are among 19-24 year olds, where he said the disease is "thriving". 2.9% are in people aged over 65.
---
---
Dr Henry said there have been three outbreaks in acute hospitals, including "one particularly large one".
He added that of the 26 patients admitted to ICU who were at least partially vaccinated, almost 90% had an underlying condition.
There were 70 deaths confirmed between 13 May and 13 July, of which 41 were among unvaccinated people (59%), 17 among partially vaccinated (24%), and 12 among fully vaccinated (17%).
Dr Henry said of the fully vaccinated people who have died, all were aged over 65. Two people died more than 14 days after being fully vaccinated.
Speaking on RTÉ's Drivetime, Dr Henry urged people who are vaccinated, as well as those who are not, to continue to adhere to public health guidelines.
He said people should have confidence in the level of protection against Covid-19 that the vaccination provides.
However, he said "there will be breakthroughs in infections as levels of community transmission rise".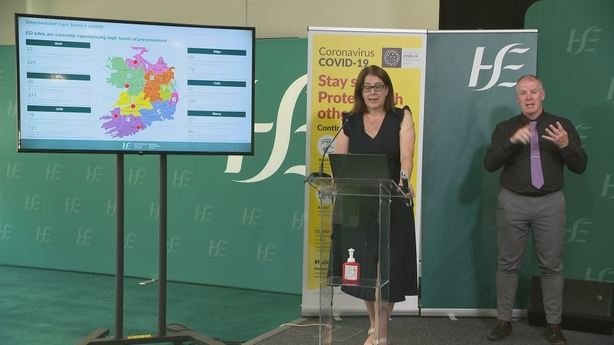 The HSE's Chief Operations Officer said that 94% of services affected by the cyber attack on the executive have been decrypted.
Anne O'Connor said the outpatient waiting list has grown considerably, to over 647,000, up 9% on last year.
Inpatient day case numbers have not been as impacted, she said, with 77,000 on inpatient and day case lists, but she said these figures have improved since January.
Ms O'Connor said 200 people on trolleys today, up 77 on last year. She said Galway and Limerick are the busiest hospitals.