The Dáil has passed the Government's legislation on the reopening of indoor hospitality.
It will allow bars, restaurants and cafés to resume indoor service for those who are fully vaccinated against Covid-19, or who have recovered from the disease in the last six months.
The Health (Amendment No.2) Bill 2021 was voted through tonight by 74 votes to 68.
However, because the margin of victory was less than 10, the Sinn Féin health spokesperson David Cullinane asked for, and was granted, a physical vote on the bill.
That proceed by roll-call and confirmed the same result as the earlier electronic vote, 74 to 68.
The Government's legislation on the reopening of indoor hospitality has now passed all stages and will go for consideration to the Seanad.
Minister for Health Stephen Donnelly earlier told the Dáil that the Government is taking a "sensible and balanced approach" to reopening indoor hospitality.
He said the hospitality legislation was an opportunity to get people back to work safely, and that it is an act of solidarity to support them to do so.
"Let's get people back to work ... we need to take that opportunity. Primarily, it's about trusting people to do the right thing", he said, while noting that the bill does provide for enforcement of the new rules.
The legislation passed tonight will also extend the system of hotel quarantine until 9 October, with an option for a single additional extension of a further three months.
Mandatory quarantine for passengers arriving in the State from specified countries was signed into law in March.
Tánaiste Leo Varadkar signalled to his parliamentary party at a meeting this evening that the Health Amendment Bill will be reviewed in September - well ahead of its expiry date of 9 October.
He told his Fine Gael colleagues that the plan is to "weather the rising Delta wave across the country".
Minister Varadkar said the Coalition would "speed up the vaccination programme, leave some restrictions in place and re-emphasise the public health messages."
Earlier, he told the Dáil that the Government's plans to reopen indoor dining are "imperfect" but better than the only two alternatives.
Mr Varadkar said the alternatives are either to reopen indoor dining without restrictions, or keep it shut until there is herd immunity from Covid-19.
It is "a middle path - a safe path", he said, and is the "best opportunity" to reopen indoor hospitality for the summer.
---
---
The Government's approach is similar to what Denmark and Germany have been doing, and what other countries including France are moving towards now, Mr Varadkar added.
"This isn't about catching any one out," he said, but noted that the bill provides for enforcement measures if they are needed.
"We're certainly not going to see compliance officers going table to table checking peoples' passes," he added.
"If things go well, we may not have to use this system for very long," and it could be used "for other sectors currently closed," he said.
The bill was criticised by Opposition TDs, with Sinn Féin health spokesperson David Cullinane saying he is "deeply uncomfortable" with the legislation as it is "discriminatory and unfair".
"This isn't about Government versus Opposition," he insisted, noting the "almost universal opposition to this, from within the Opposition".
Labour Party leader Alan Kelly said the legislation has "changed everything", and will "break social solidarity" and "is really going to cause havoc".
"It's a shambles," he said. "It's reactionary. But most of all is discriminatory".
"I am deeply uncomfortable with it - I think you are too," he said to the Tánaiste.
"What we are doing here is crossing a line - a line that shouldn't be crossed. Where we isolate - treat people differently," Deputy Kelly said.
Mr Cullinane said he cannot support the bill. "It is not in me to do it...It's all these contradictions that people can see," he said.
He said the Government has made "an absolute pig's ear" out of its reopening plan and branded it a "farce."
There has been no training for hospitality staff who will have to police the passes, his party colleague Pa Daly said. "Light touch regulation will only increase the unenforceability of it," Mr Daly added.
Meanwhile, there was a large protest outside the Convention Centre in opposition to Government Covid-19 policy.
Some protesters said that they felt society was being divided, measures were being imposed on them and they did not have a voice.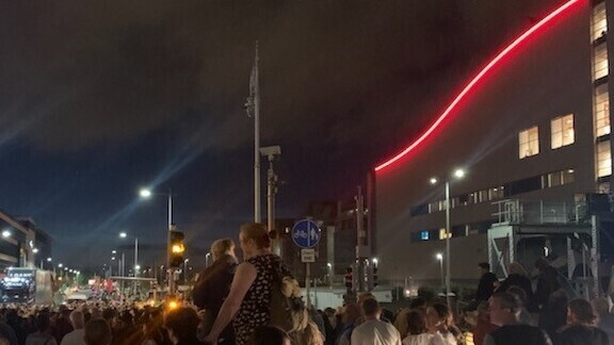 'Understatement' to call plan imperfect
Social Democrats co-leader Róisín Shortall said that to call the measures imperfect is "quite an understatement".
"It was a serious mistake to try to force this legislation through," she said, and accused the Government of misjudging political sentiment, noting there had been far more consultation with the opposition in the previous administration.
This crisis needed a national effort, she said, but the Government had squandered the opportunity to work on a cross-party basis.
"It's a very delicate balance between the generations at the moment - and I think this works against it," Ms Shortall said.
She warned that "fundamental principles" are being breached by the measures, which include passing personal data to random people in public settings.
Solidarity-People Before Profit TD Gino Kenny said the Government's "discriminatory" measures are causing polarisation, and are open to abuse.
Dismissing the measures as "ludicrous", he warned that by September Ireland could have 2,500 Covid-19 cases a day.
"Hospitality has to close until September," Mr Kenny insisted, and said the measures were "a sop" to vested interests.
"The cert itself is easily forged," he said, adding that someone could "print out thousands of them and just give them 'round to people".
People Before Profit TD Richard Boyd Barrett proposed that the legislation be amended so that it ceases to operable from 9 October, rather than retaining a provision for it to be rolled-over by the Oireachtas.
He argued the Government legislation is creating a two-tier system and is discriminatory.
Aontú leader Peadar Tóibín said the Government has taken "the most extreme path of any Government in the EU" on this issue.
He said when it came to banning religious services, Ireland was on a par with North Korea and Saudi Arabia.
Mattie McGrath, the leader of the Rural Independent Group, said the measures will "pit brother against brother, father against son and mothers against daughters".
"What have you got against the hospitality industry?" he asked the Minister for Health, calling on him to withdraw the bill, saying it was a "smash and grab for more power".